Why Marco Rubio Is Noticeably Absent From The State Of The Union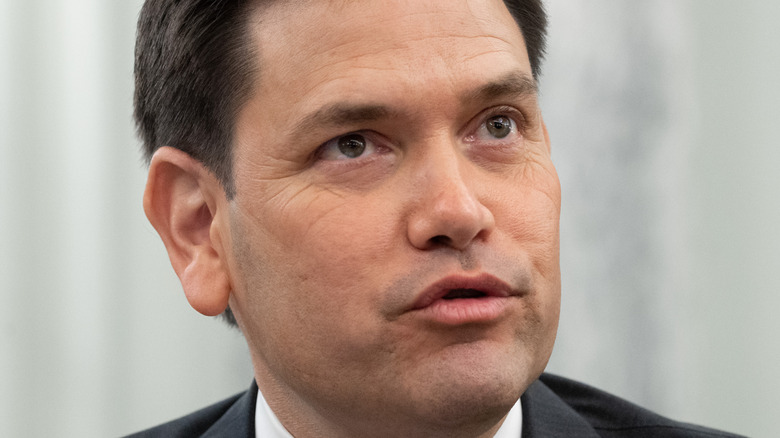 Bloomberg/Getty Images
Things were both familiar and yet still strange at the State of the Union address on Tuesday night. Lawmakers and dignitaries mingled with one another mostly without face masks for the first time in more than two years. With the CDC relaxing mask guidelines for areas with "low to medium risk" for contracting COVID-19, Congress chose to make the State of the Union a mask optional event. House Speaker Nancy Pelosi announced on Tuesday morning she'd go maskless, according to The Hill.
As the evening began, NBC News reporter Garrett Haake tweeted that he barely saw a mask in the House chamber, saying, "First two things you notice in the chamber are the lack of masks. The Office of the Attending Physician said over the weekend that they would be optional going forward, and I don't see a single member wearing one."
That didn't mean that all COVID mitigation protocols were nixed — anyone entering the House chamber first had to present a negative PCR test, and this stipulation apparently kept Senator Marco Rubio away from the speech.
Marco Rubio refused to take a COVID test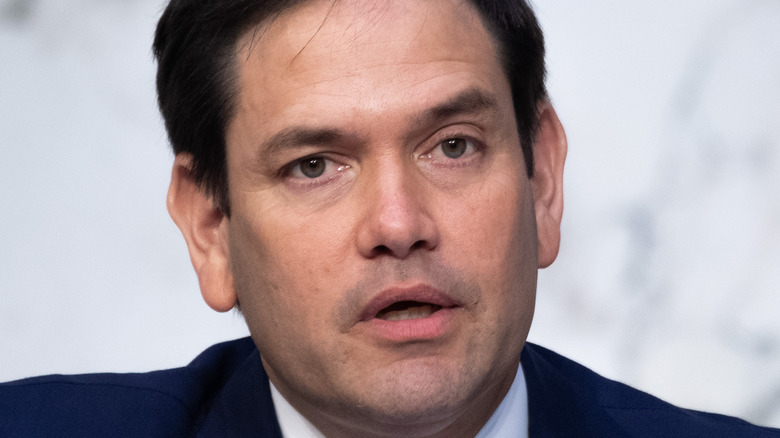 Pool/Getty Images
When Florida Senator Marco Rubio learned he would have to take a COVID test to take part in the State of the Union address on March 1, he passed on attending. Rubio said he would rather not attend if he had to test negative before stepping into the House chamber.
"I don't have time to go take a COVID test today. I only take a test if I'm sick," the senator told Huffington Post reporter Igor Bobic (via Twitter).
Rubio had already complained about the test requirement days earlier when he spoke at the 2022 Conservative Political Action Conference (CPAC). "For the first time in American history, you now have people having to produce paper to go in somewhere, to sit somewhere, to go to the State of the Union," Rubio told an audience (via The Daily Beast).
With the chamber having quite a few empty seats, others may have skipped the speech for the same reason, but Rubio seems to be the only lawmaker who made his decision and his reason public.