How Much Does A Tummy Tuck Cost?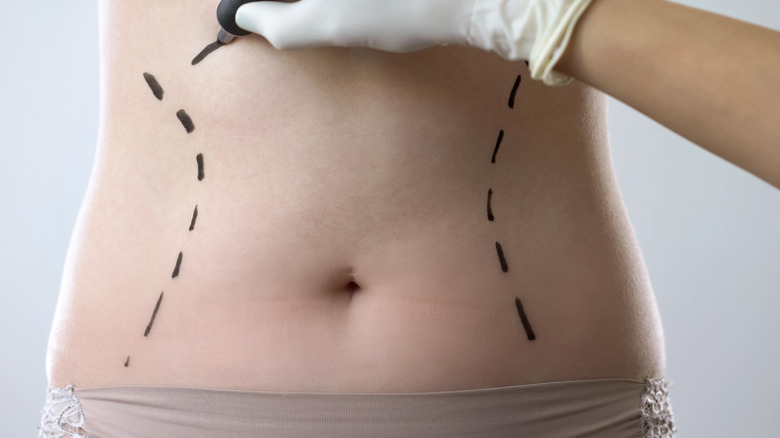 Motortion Films/Shutterstock
Known medically as an abdominoplasty, the more commonplace term "tummy tuck" is defined by Cleveland Clinic as the tightening of muscles, and removal of excess skin and fat in the abdomen. One of the most common plastic surgery procedures, the tummy tuck naturally counts celebrities among its fans, including HGTV star Mina Starsiak, who opened up about her tummy tuck and other procedures in 2021.
But not all plastic surgery patients have TV money to throw around. And when simply saving up for a nip/tuck isn't an option, people turn to more creative finance solutions, like medical credit cards, loan agencies that specialize in medical financing — or even dipping into one's own retirement funds. People have even crowdfunded for tummy tucks.
"But what about insurance?" you might be asking. Most plans won't cover a tummy tuck procedure unless it is deemed medically necessary due to a patient being in extreme pain or "unable to participate in normal activities, or at risk of developing a skin condition," according to AEDIT. As such, people will likely have to come out of pocket for the procedure. Here's how much that tummy tuck could cost.
Tummy tucks do not come cheap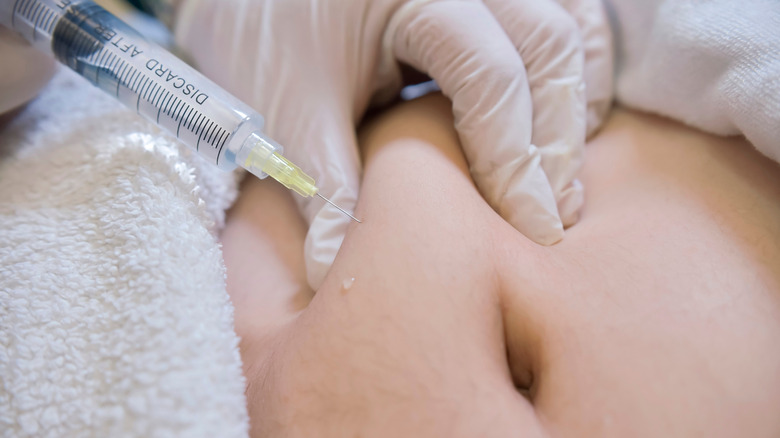 MDV Edwards/Shutterstock
You should expect to spend anything between $3,000-$15,000 when considering a tummy tuck, WebMD explains. The American Society of Plastic Surgeons also pegged the average cost of the procedure in 2020 at $6,154 (not including additional expenses for anesthesia, prescriptions, after-care items, testing fees, facility charges, and more). The full cost actually depends on a number of factors, like how intricate your surgery is expected to be, the surgeon's rate based on expertise and experience, as well as your location, per Real Self. 
A more affordable option to consider is a mini tummy tuck which costs $4,000-$5,000. Bear in mind, however, that there is a difference between this and the full tummy tuck. Board certified surgeon Dr. Stephen Bresnick, M.D. says that whereas a mini tuck only addresses loose skin and excess fat below the navel, a full tummy tuck tightens the muscle in the entire abdominal area. Also, the incisions of a mini tummy tuck are a lot shorter than a full tummy tuck, making the recovery time shorter.
No doubt, a tummy tuck procedure is expensive but most patients report full satisfaction after the surgeries, writes Dr Shaun Parson Plastic Surgery & Skin Center. The surgeries also have a 96% "worth it" rating based on nearly 8,000 Real Self reviews.