Evan Rachel Wood's Portrayal Of Madonna Has Everyone Talking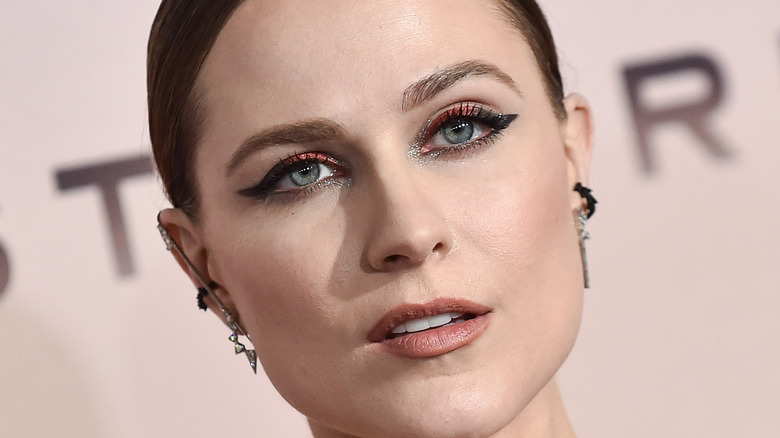 DFree/Shutterstock
Like most entertainment platforms, Roku decided to invest in original programming last year (via The Wall Street Journal) as an alternative to depending on streaming rights deals with production companies. Of the 50 planned originals, one is a biopic starring Danielle Radcliffe and, now, Evan Rachel Wood.
Wood, who's known for her role as Dolores Abernathy in HBO's "Westworld" will be portraying Madonna, and potentially her stunning transformation, in the new original, according to a photo shared by the Roku Instagram account. Even without a caption, it's clear she's portraying the iconic pop star. She wears black lace, fingerless gloves, and a melange of bangles: a look that's reminiscent of Madonna's role as Susan in "Desperately Seeking Susan." Underneath, she seems to be wearing a sheer white dress along with crucifix earrings and pearl necklaces, possibly a nod to Madonna's outfit in her "Like a Virgin" music video. Here's what fans are thinking of her portrayal so far.
Wood is playing Madonna in Weird Al Yankovik's biopic
Evan Rachel Wood will be transforming into Madonna for Roku's "Weird: The Al Yankovic Story," a biopic about one of the biggest comedic artists in the world, Weird Al Yankovik. Yankovic is known for parodying musicians, with one of his best known works being "Like a Surgeon," a parody of Madonna's "Like a Virgin," which was released in 1985 (via Deadline). This probably gives Madonna's appearance as a character, and Wood's costume, more context.
We're not entirely sure what the storyline with the Queen of Pop is going to be, but Roku's Colin Davis did tell Deadline that it's "the ultimate combination of talent, creativity, and friends, coming together to make something genuinely funny." Considering that Daniel Radcliffe will be playing Yankovik, we're mainly excited to see any interaction between Wood and Radcliffe as their characters. Fans on the Roku Instagram post seem to agree. One commenter said, "Great choice! Can't wait to see if/who is playing Michael Jackson." Another summed up what we were all feeling: "When!" with a fire emoji and a praise hands emoji. Another simply said, "I love her," with a red heart emoji and a watery eyes emoji.
The project doesn't have a premiere date yet, but it has us hyped either way.