The Heartbreaking Death Of Wings Star Farrah Forke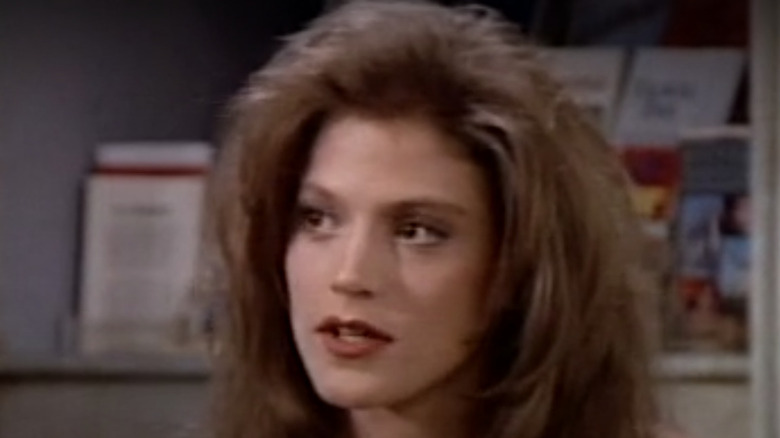 NBC
Farrah Forke, who is best known for her role in NBC's 1990s sitcom "Wings," died from cancer complications at her home in Texas on Friday, February 25, 2022, according to NBC News. She was 54.
A family friend confirmed news of her death in a statement, reports People. "Farrah was fierce, tender, loyal, loving, strong, funny, smart, protective, kind, passionate and utterly irreplaceable," the statement began. "She brought a light so great to the world that even after her passing, the light remains." Variety reports that her family asked for people to donate to the American Cancer Society in her honor instead of buying flowers.
Forke's work on "Wings" as helicopter pilot Alex Lambert and attorney Mayson Drake on "Lois & Clark: The New Adventures of Superman" made her one to watch. Her acting credits also included voice work, and she kept it in the superhero family by lending her voice to DC's animated TV series "Batman Beyond" and "Justice League Unlimited" as Big Barda.
Fans respond to Farrah Forke's death on Reddit
On March 2, Farrah Forke's former "Wings" co-star Steven Weber posted a heartfelt tribute to the late actress on Instagram. "Farrah Forke has passed," his caption started out. "She was every bit as tough, fun, beautiful and grounded as her character 'Alex' on 'Wings.'" According to The Hollywood Reporter, Forke starred opposite Weber (who played pilot Brian Hackett) as his love interest in 35 episodes of the long-running series. The charisma and chemistry behind their on-screen romance made them a fan-favorite couple.
Fans commented on the impact of Forke's acting career in a dedicated Reddit thread. One user praised the energy she brought to her role on "Wings" as pilot Alex, writing, "Oh this is very sad. Loved her character on 'Wings,' she was a really good addition to that cast. I always hoped they would bring her back on the show before it ended. RIP."
Another user lamented her character's exit on "Wings" and deemed her departure as the missing piece the show needed. They also highlighted her work on the films "Disclosure" and "Heat" as well as the TV show "Lois & Clark: The New Adventures of Superman", writing, "I've never been a Superman fan but I know fans of that were fond of her too and she had lots of smaller roles in big movies of the 90's like 'Disclosure' and 'Heat.' Was actually watching 'Wings' (not an Alex episode) when I saw this. Very very sad. Praying for her and for her family and loved ones in their time of grief and loss. Rest in peace/soar in spirit Farrah Forke," via Reddit.