The Surprising Thing John Cameron Mitchell Learned From Playing Joe Exotic - Exclusive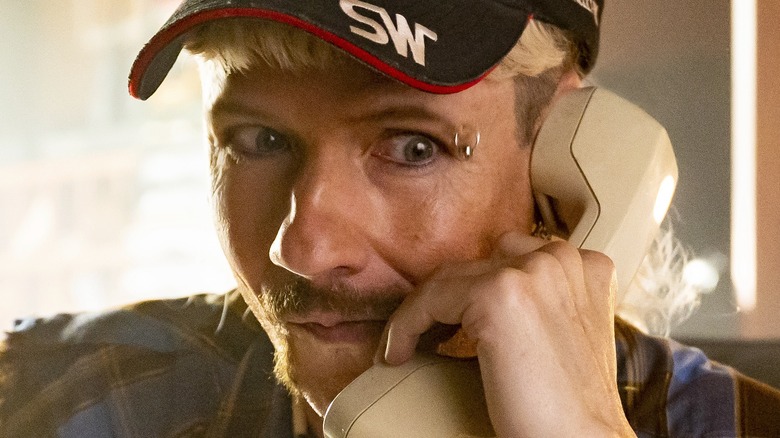 Mark Taylor/Peacock
From the Tiger King's feud with Carole Baskin to his upbringing alongside some of the world's fiercest felines, the story of Joe Exotic is a surprising one. Now, in the new scripted series "Joe vs. Carole" on Peacock, viewers are able to learn a whole lot more about his backstory.
In order to portray the role properly, actor John Cameron Mitchell spent an entire month watching old footage of the Tiger King. 
"Every one of the Joe Exotic TV videos, trying to find Joe in different settings," he explained during an exclusive interview with The List. "He had a lot of different accents and a lot of different voices for different environments."
And, after endlessly studying everything possible about Exotic — his body language, his voice, and his life story — Mitchell learned something very surprising. "I realized as I got into it that I had a lot more in common with him than I thought," he admitted.
Keep reading to find out what Mitchell discovered he had in common with the Tiger King, Joe Exotic.
John Cameron Mitchell learned that he has a lot in common with Joe Exotic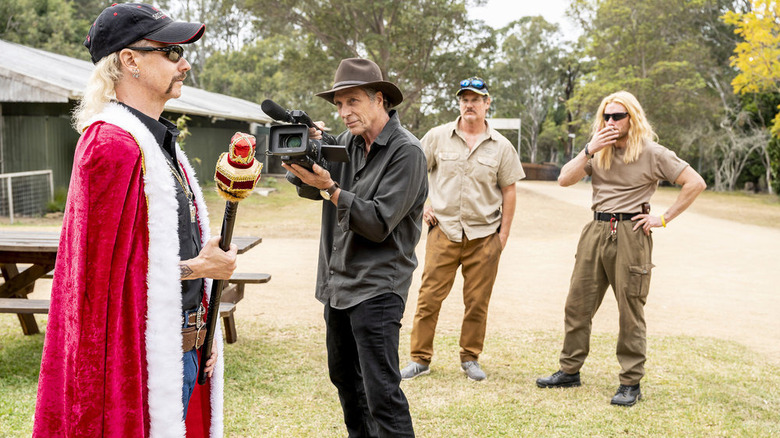 Mark Taylor/Peacock
Though not many people have spent their lives surrounded by tigers, there's a quality about Joe Exotic's work with them that struck a chord with actor John Cameron Mitchell while shooting the series "Joe vs. Carole." 
From Exotic's traveling shows with his animals to the way he carried himself, "he was a showman," Mitchell told The List. "He was as much of an actor as I am."
It turns out that their pasts aren't too different, either. They were born only a month apart, and "we were always militantly openly gay when it wasn't cool," the actor said, which made it easy to relate to Exotic's struggles growing up in the '60s and '70s. "We had our self-hatreds," he said. "We worked through them."
What makes it even wilder is that Mitchell once lived only an hour away from where the Tiger King's Oklahoma zoo once stood, which helped Mitchell perfect Exotic's accent. "I haven't been there in a while, but I know it," he told us. "If I had stayed, I might be a little Joe-ish, you know?"
Today, Exotic is serving a prison sentence after being convicted of hiring hitmen to target Carole Baskin — who's played by "Saturday Night Live" star Kate McKinnon in the show — so it turns out there's one major difference between Exotic and the actor who portrays him. 
"He became an attempted murderer," Mitchell laughed, "which I haven't yet."
All eight episodes of "Joe vs. Carole" are available to stream now on Peacock.