These Are Natasha Denona's Best-Reviewed Products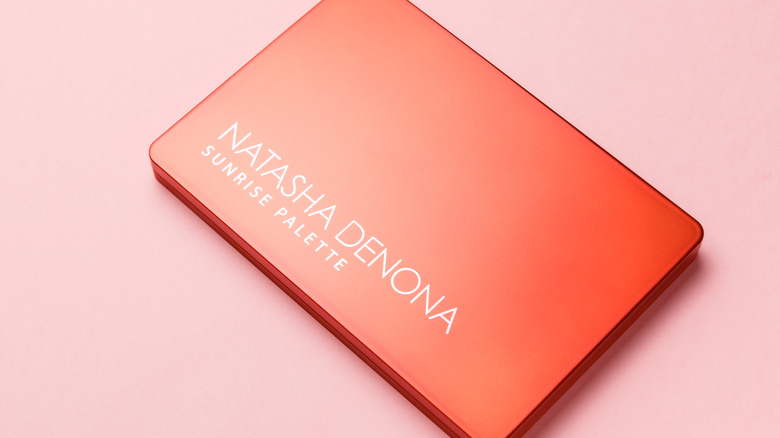 svetlichniy_igor/Shutterstock
If you are a fan of luxury lines of trend-setting makeup, you must have heard of Natasha Denona. The namesake brand of acclaimed makeup artist Natasha Denona has risen to cult status for its high quality and richly pigmented palettes. This must-have, professional grade makeup is used worldwide by makeup artists for major events and everyday looks. Whether you are a professional or just a makeup enthusiast, it is one brand you want in your vanity.
Ariana Rose, a StyleSeat cosmetologist and makeup artist, is a fan of the eyeshadow palettes because the colors stories are beautiful and can create personalized looks (via Byrdie). All the shadows are richly pigmented, highly blendable, and easy to use. The eyeshadows are described as "super soft and smooth," and fans are impressed by her products' colors and long-lasting quality, per Daily Vanity. Most people rave about the eyeshadow palettes, but the brand also makes quality makeup equally worth trying for the face and body.
This must-have brand gained a following for the smooth texture, universally flattering colors, and groundbreaking formulas. Honest Brand Reviews considers it worth the hype because every product is hand-designed by the artist herself, and they are cruelty-free, paraben-free, and vegan. But don't just take our word for it. There is a reason it is a favorite of beauty editors and influencers.
Natasha Denona eyeshadows are totally worth the investment
Natasha Denona makeup products are a go-to for celebrity makeup artists and major makeup fans because they are highly pigmented and made with quality ingredients that look and feel expensive.
Allure recommends the Natasha Denona Sunset Eye Shadow Palette, which sold out within one hour(!!!) of its initial launch. This 15-pan palette has a gorgeous range of shades from warm browns and burnt oranges to rich gold and bronze. The colors can create both flattering every day looks and dramatic ones that can go from day to night. It includes the brand's classic formula in their signature chroma crystal, matte and metallic finishes and works exceptionally well on tan and dark skin. For fans of warm-toned eyeshadows, Byrdie recommends Natasha Denona Bronze Eyeshadow Palette, another of the brand's best sellers. These 15 shadows go beyond your typical gold, copper, and bronze shades with unexpected pops of metallic pink duochromes, purple, and red that look amazing on all skin tones. They are effortless to mix and match and can be used for both subtle and dramatic looks.
If you truly love a black smoky eye, you are in luck. The Natasha Denona Blackest Black Eyeshadow is available in both a matte and luminescent finish, so you can pick and choose your favorite. Daily Vanity loves these eyeshadows because they are richly pigmented and buildable, so you can customize a look just for you. The velvety texture feels super smooth and lasts without fading.
There's more noteworthy Natasha Denona makeup to add to your collection
There is more to Natasha Denona's makeup than just the eyeshadows, which are worth every penny. Makeup aficionados will not regret trying these other products, too.
The Kardashians made nude lips the hottest accessory. If you want to partake in the trend, the Natasha Denona I Need A Nude Lipstick comes in 21 shades of nude, which makes it easy to find a perfect shade. These creamy lipsticks are comfortable to wear with saturated colors that range from warm rose (Susanna) and mauve (Averyl) to medium warm beige (Sami) and deep chocolate (Lala), which are super inclusive of all skin tones. Temptalia enjoyed the shade Amorosa, a neutral pink lipstick, which boasts a semi-matte, hydrating finish that lasted four hours.
For fans of a beautiful flush, The Beauty Book recommends the Natasha Denona Bloom Cheek Palette, a gorgeous product with two creams and two powders that provide a stunning glow. The colors range from a natural peach and deep cherry red with a bronze shine to nude champagne and vibrant coral with golden champagne shimmer and are nicely pigmented. 
Meanwhile, Daily Vanity loves the Natasha Denona Face Glow Foundation, a lightweight foundation with medium coverage that stays flawless all day. It has silicones to provide nutrients to the skin while creating a smooth and immaculate finish. Plus, it is available in 12 shades. This brand is totally worth the big bucks, so splurge a little. You deserve it.