Katy Perry Once Carried Locks Of Hair In Her Purse, And You'll Never Guess Who They Belong To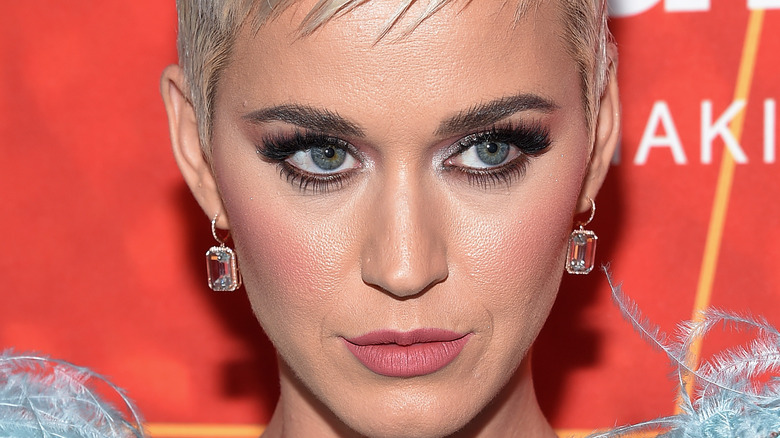 DFree/Shutterstock
For years, one of the biggest feuds in pop music was between singers Katy Perry and Taylor Swift (via Glamour). However, the pair started out as friends after meeting in 2009, with Perry even joining Swift onstage for a rendition of her song "Hot N Cold" during Swift's Fearless Tour. But a few years later, relations between the two went south when three of Perry's former dancers exited Swift's Red Tour early in order to join Perry for her Prismatic Tour.
The bad blood between the pair of pop stars would only get, well, worse, when Swift penned "Bad Blood," and while Swift didn't name names, she also didn't make pains to hide it was about Perry. "It had to do with business," Swift revealed. "She basically tried to sabotage an entire arena tour. She tried to hire a bunch of people out from under me" (via Glamour).
Perry didn't hide her dissatisfaction with the interview, tweeting, "Watch out for the Regina George in sheep's clothing..." It took a few more years — and lots of barbs back and forth — but finally, in 2017, the two put their beef to rest after Perry sent Swift a literal olive branch. Perry then appeared in the video for Swift's song "U Need to Calm Down."
And it's a good thing Perry and Swift reconciled, for the good of the pop world at large, and also because Perry, at one point, carried around a lock of Swift's hair.
Perry's unique approach to friendship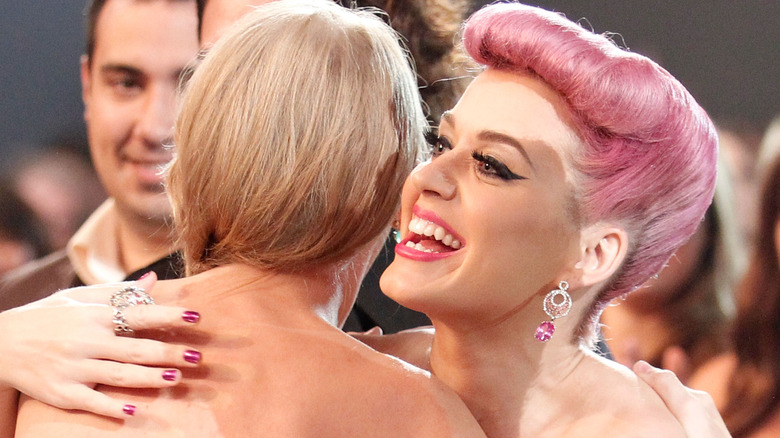 Christopher Polk/ama2011/Getty Images
Back in 2013, prior to Katy Perry and Taylor Swift's long feud and during an iHeartRadio listening party for "Prism," a fan innocently asked Perry what she kept in her purse (via E! News). Certainly, they didn't expect Perry's answer to be "locks of hair of two fellow pop stars," but, alas, that was the answer Perry gave.
"One of the first times I went to the Grammys, I got to share a dressing room with Miley Cyrus and Taylor Swift," Perry explained, "and I asked them for a lock of their hair from each one of them, which is totally creepy, but awesome." Perry took things one step further, finding a way to differentiate between the two locks of hair. "I put little bows on them individually and put them in my purse. And that was my little secret and I'm a freak!" Perry added.
As for Perry and Cyrus, the pair's friendship appears to be going strong. "She's been a friend of mine for a really long time," Cyrus said in 2017 (via Vanity Fair). "We were actually just realizing the other day that next year, we'll have been friends for 10 years." According to Cyrus, Perry even wrote her breakthrough hit "I Kissed A Girl" about her.
Given the number of songs Perry, Swift, and Cyrus have inspired in each other, we can only hope the three will collaborate on a track — and that Perry will reveal where those locks of hair are now.