The Real Reason Jack McCoy Wins So Many Cases In Law & Order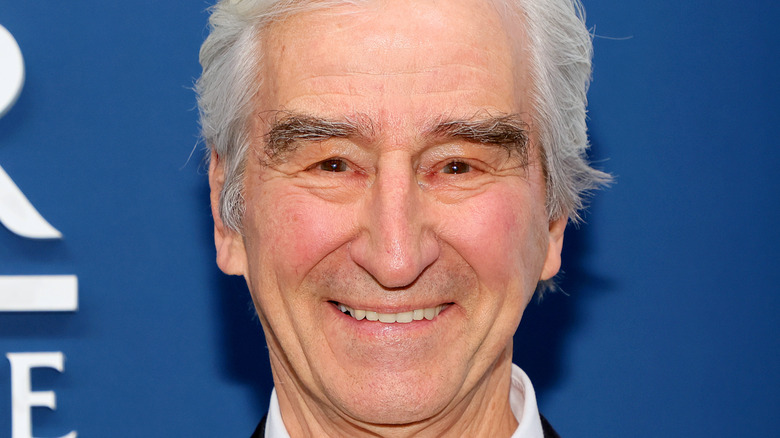 Dia Dipasupil/Getty Images
In February, after being off the air for over a decade, "Law & Order" returned to much fanfare. The series, which follows detectives and lawyers as they seek justice in complex cases in New York City, first premiered in 1990 and concluded its first run in 2010, per Variety. When the show was canceled in 2010, millions of loyal fans were heartbroken and angry to part ways with the show after its 20-year tenure. "I've been thinking about 'Law & Order' coming back since the day it was canceled," Dick Wolf told Variety. "There's no better time than now to bring the show back. There are very few things in life that are literally dreams come true. 'Law & Order' returning is mine."
From Season 5 to Season 20, Sam Waterston portrayed one of the most popular characters on the series — District Attorney Jack McCoy. In the show's revival, Waterston returns as the beloved district attorney with an impeccable case record. "Since day one, Sam has had perfect pitch when it comes to Jack McCoy as a character who both reflects and expands our ability to understand the law," Wolf told Deadline. "He is the ultimate conscience of the show and I look forward to him emulating the career of New York District Attorney Robert Morgenthau, who served until he was 90."
In honor of McCoy's recent return, we are examining why it is that the fictional district attorney wins so many cases on "Law & Order."
McCoy wins so many cases on the show out of sheer earnestness
In 2012, Overthinking It analyzed the results of hundreds of court cases that played out over the course of 20 years on "Law & Order." According to the research conducted by Overthinking It, at least 80% of the episodes end in wins, whether that is through a guilty verdict, plea bargain, or victories of other kinds. As you might imagine, this percentage is far better than real-life court cases.
Many of these cases involved District Attorney Jack McCoy, portrayed by Sam Waterston, who possessed such earnestness and dogged nature that pursuing moral justice was always the first thing on his mind. In fact, this was so much the case throughout his time on the show that he would often bend the law to ensure that justice was served. In an article published in the ABA Journal, Waterston spoke about the reasons behind his character's many wins on "Law & Order." "McCoy as the assistant district attorney was the man who confronted the villains in court, the man who got the criminals to 'face the music,' who ultimately put the bad guys on the spot, where they couldn't lie their way out, and told us in his summations how to think about it," Waterston said in the article. "The action required of him each week neatly fit his nature: eager to confront, eager to win, usually insensitive about other opinions, until his nose is rubbed in them."