Here's How Tall Kristen Bell Really Is
Tinseltown/Shutterstock
When Kristen Bell is on screen, it's hard to not notice her beaming smile and charmingly nerdy demeanor. The blonde actress is known just as much for her roles in hit series like "Veronica Mars" and "The Good Place" as she is for her relatable personality and #goals marriage with actor-comedian Dax Shepard.
When not flexing her acting skills or delighting us with her jokes and all-around sweetness, Bell can be found showing off her new line of CBD skincare or relaxing at home with her family, both of which are regularly featured on her Instagram account. And when scrolling through Bell's photos, many fans have noticed her height in comparison to Shepard and her two daughters. Shepard often towers over Bell in photos, while her 8-year-old daughter already surpasses her shoulder. So, how tall is Kristen Bell, exactly, and is she actually as petite as she seems in photos?
Kristen Bell's big personality exceeds her height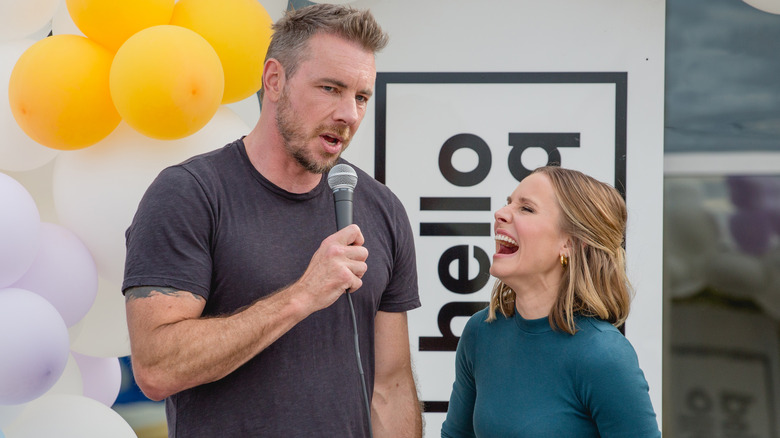 Rick Kern/Getty Images
Kristen Bell may be just as petite as she seems. According to the website Celeb Heights, Bell is only 5 foot 1 inch tall. And while that might not make her among Hollywood's shortest celebrities, the actress is still shorter than the average height for American women, which is around 5 foot 4 inches according to Healthline.
Even if Bell is on the shorter side, her presence is never small. Despite often being shorter than others in photos or on screen, she still finds ways to grab people's attention. That's exactly why she's been cast to play a variety of roles, from a smart detective in her breakout hit "Veronica Mars" to a psychologically disturbed woman in Netflix's "The Woman in the House Across the Street from the Girl in the Window." No matter her stature, both directors and fans know Bell consistently leaves a big impression.