John Cameron Mitchell Reveals What It's Like Working With Kate McKinnon - Exclusive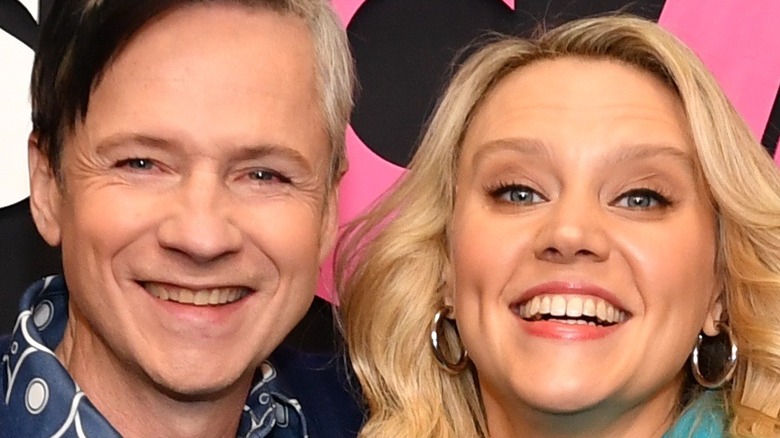 NBCUniversal
We've watched the comical Kate McKinnon star in "Saturday Night Live" since 2012. Now, we all get to see her embrace a more dramatic side after creating the scripted series "Joe vs. Carole."
The new series showcases the famous feud between Tiger King Joe Exotic and animal rights activist Carole Baskin (played by McKinnon). From how these two became arch nemeses all the way through Exotic's imprisonment after wanting her dead, "Joe vs. Carole" shows these real-life characters in a way we haven't seen yet on screen — all thanks to the actors chosen to portray them.
When it came to casting the part of Baskin's enemy Exotic, actor John Cameron Mitchell couldn't wait to tackle the role alongside his co-star McKinnon. "I love her deeply," Mitchell said during an exclusive interview with The List. "We've become fast friends and will be working together in the future." He also told us exactly how they worked together to create the iconic tiger lovers we all know and admire.
Together, they decided to portray their characters in a very specific kind of way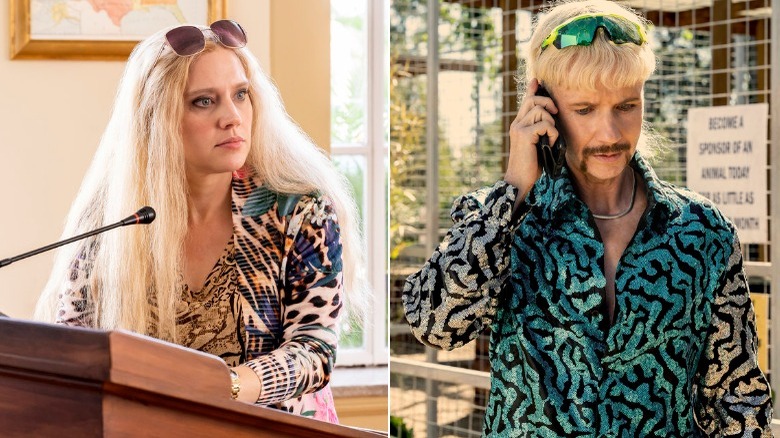 Mark Taylor/Peacock
When John Cameron Mitchell and Kate McKinnon first sat down to study their real-life characters, there was one thing they both chose to do in "Joe vs. Carole." "We both decided with the agreement of our showrunner Etan [Frankel], who we love, that we're not going to impersonate the characters," Mitchell told The List.
Though Joe "Exotic" Schreibvogel and Carole Baskin are two very real people, it didn't make sense for Mitchell and McKinnon to portray them so precisely. Instead, the two successful actors opted to not cage their emotions and to take some creative liberties instead. "Once in a while you have to take the leash off and just feel what they might have felt, to go there and not feel trapped in them," Mitchell explained. "Imagine what they might be like when they're alone with their lovers, because we never saw that." After all, no one really knows what truly happened to the these two feline fanatics except for what they claim to have happened.
Still to this day, there are so many things missing from the famous story, too — which the show's writers took into consideration when structuring their own scripted story. Does Carole Baskin really know what happened to her missing husband? What did cause the car crash that completely changed the course of Joe Exotic's life? It seems as though all us cool cats and kittens will never know.
All eight episodes of "Joe vs. Carole" are available to stream now on Peacock.