Are Sugarbear Hair Vitamins Worth It?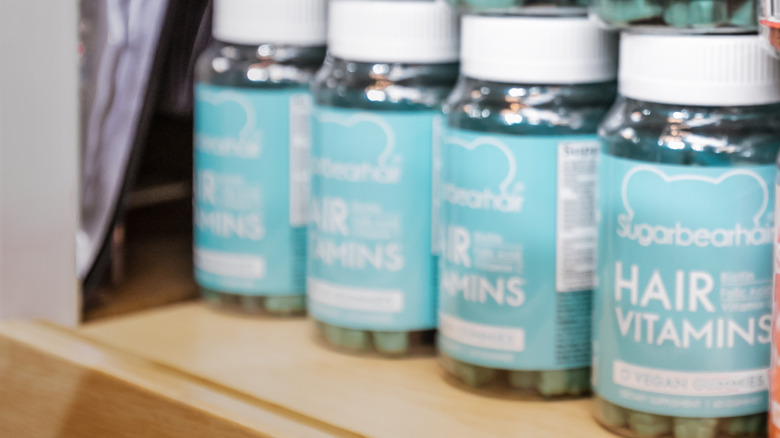 frantic00/Shutterstock
Everyone wants thicker, stronger, and healthier hair — and whenever you see someone with impossibly gorgeous-looking hair, you can't help but wonder what their secret might be. You might even go and ask them themselves! But as it turns out, there's not *one* secret to glowing, healthy hair. For starters, you can plump up your locks with thickening or volumizing hair products. As Beauty Lab Chemist Danusia Wnek tells Good Housekeeping, "Shampoos and conditioners [that are] labeled volumizing or thickening usually contains fewer conditioning ingredients, so they don't weigh hair down." In short, these products can help make your hair look thicker, but they don't necessarily make them thicker.
Genetics play a significant role in the kind of hair you have, and factors such as lifestyle and diet can also lead to thinning or damaged hair, per Byrdie. To achieve healthy, strong hair, you should treat your hair with kindness by reducing overcoloring and heat styling. Try eating a diet that's rich in healthy fats and vitamins, especially B7. According to Healthline, vitamin B7, or biotin, can help promote the production of keratin, which may help to increase hair growth. You may have also noticed that there are plenty of biotin supplements available on the market that promise better hair. Sugarbear Hair Vitamins are one of the more popular hair supplements, but are they legit?
Sugarbear Hair Vitamins have mixed reviews
Sugarbear Hair Vitamins are cute and come in a baby blue bear shape. According to Sugarbear's website, the vitamins are a vegan hair supplement with nine ingredients, including biotin and zinc, to support hair health and growth for all hair types. A bottle of 60 gummies (or a 30-day supply) is available at Ulta for $29.99. 
Honest Brand Reviews considers the gummies worth trying due to high customer ratings. In fact, the only concern these consumers had about the vitamins was their price point — because you have to take them for around three to six months before beginning to see results. However, Good Housekeeping remains on the fence about Sugarbear. Not only are the gummies not FDA-approved, but there's "no way of knowing if what you think you're taking is exactly what's in the bottle, since there's no regulation surrounding the ingredients and supply chain," as Nutrition Director at the Good Housekeeping Institute, Jaclyn London, tells the outlet. Furthermore, Good Housekeeping points out that eating a diet that's rich in biotin and other vitamins might actually work better for hair growth than taking supplements. Though biotin supplements have led to increased hair growth in some cases, there's no scientific proof that taking biotin will reduce hair loss, per WebMD. Instead, the outlet recommends consuming natural, biotin-rich foods like eggs, fish, and nuts to strengthen hair follicles. Overall, getting biotin from food appears to be a much cheaper and more reliable source than Sugarbear Hair Vitamins.