Here's How To Replicate Vanessa Hudgens' Braid From The 2015 VMAs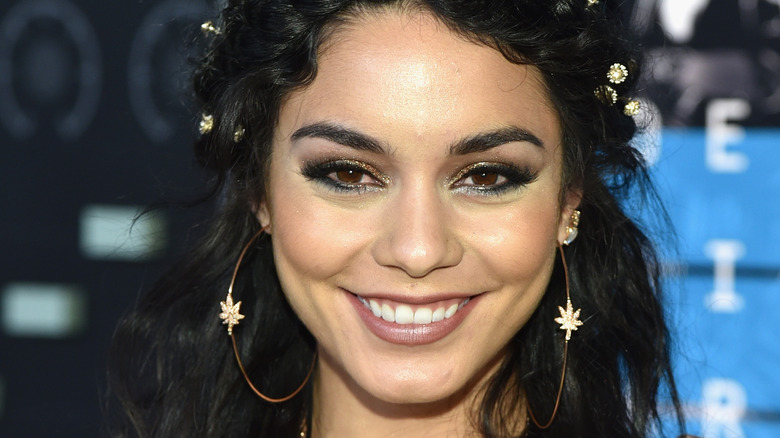 John Shearer/Getty Images
Vanessa Hudgens has rarely made a bad hair choice. The actress and singer loves to mix up her hair looks with different cuts and color, and experiments with her look so often that you never know what you're going to get at her next red carpet appearance. Over the years, Hudgens has had a colorful hair evolution, and incorporated bits and pieces from various eras into her hairstyle catalog. Name the trend and she's already tried it. Teen Vogue dubbed her the queen of beachy waves and festival-approved braids.
Vanessa Hudgens' hair versatility earned her the Matrix/ULTA Beauty SOCOLOR Cult Icon award at the 2018 ULTA Beauty General Manager Conference, per American Salon. It was there that "The Princess Switch 3" star stressed how beauty trends can be a vehicle for self-expression. "We all know the importance of being able to express ourselves freely," she started in her acceptance speech, "so I am thrilled to be a Cult Icon, because what better way to express yourself than by changing your hair color?"
If we could relive one of her best hair moments, we would time travel to the 2015 MTV Video Music Awards (pictured above), where Hudgens had her creative style on full display. Her braided crown, complete with floral jewels, was truly a major hair moment. Here's how to copy her look at home.
You are 5 steps away from Vanessa Hudgens' dreamy braided look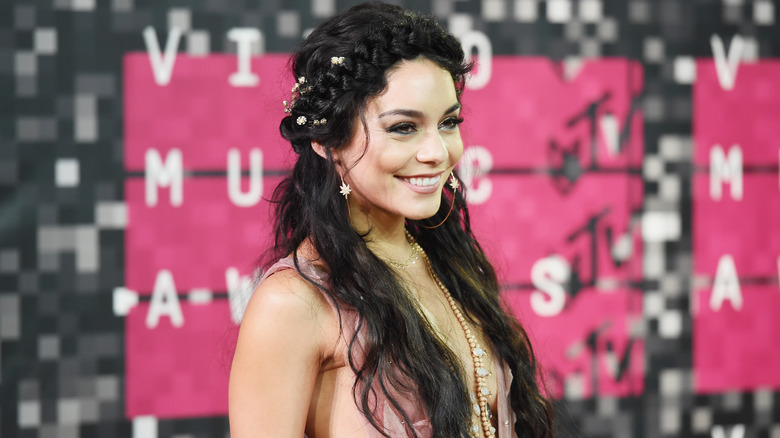 Jason Merritt/term/Getty Images
Popsugar crowned Vanessa Hudgens a "bridal goddess" because of her divine braided hairstyle at the 2015 VMAs. Lifestyle blog Hispana Global credits Schwarzkopf celebrity hairstylist Richard Collins as the mastermind behind the look, and recreating the iconic hairstyle is shockingly simple. Pravana's global creative advisor and braid and bridal hair expert Sherri Jessee walked hair magazine Estetica through the styling process, and pointed out that it holds best on hair with volume and texture. 
To get the look, wet your hair, then apply Nevo Full Volume Volumizing Mousse for more hold and bounce. Mousse applied, gently use your fingers to detangle and style your strands as you blow-dry your hair. This method is known as rough drying and is the quickest way to get professional salon results, per Vogue. Jessee recommends giving your hair volume by curling different sections of your hair with a 1¼-inch curling wand, via Estetica.
To get her Dutch crown braid, Hispana Global suggests braiding a section of hair on either side of your face and then pinning it. Wrap the ends of your braids around until they form a crown, and then secure them in place. For extra hold, the lifestyle blog recommends applying hair shine spray. Pin tiny flowers (real or silver) in your cascading waves for the perfect finishing touch.