Brittney Griner's Wife Speaks Out About The WNBA Star's Detainment In Russia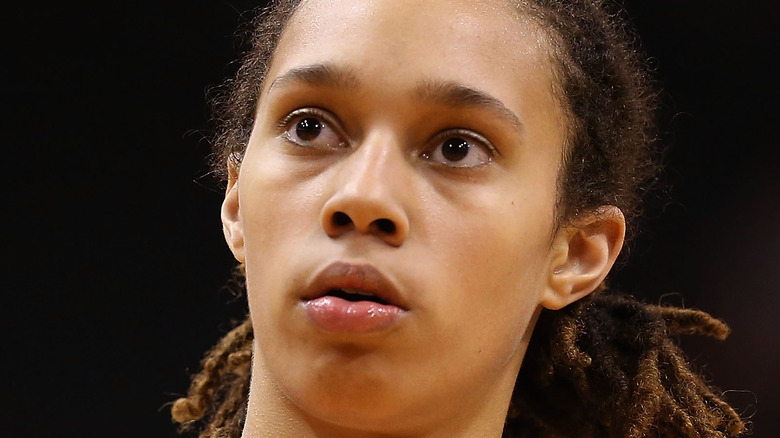 Christian Petersen/Getty Images
The ongoing conflict between Russia and Ukraine is having a ripple effect around the world. The BBC reports that Russia's leader, Vladimir Putin, invaded their neighboring country in late February 2022, and declared that his reason for doing so is because Russia could not feel "safe, develop and exist" next to Ukraine.
Recently, news broke that Women's National Basketball Association player, Brittney Griner, was detained in Russia (via NPR). Questions arose almost immediately with the American public wondering why an American citizen was in Russia during this time. While Griner is a member of the Phoenix Mercury, during the WNBA offseason, she plays professionally in Russia.
Secretary of State Antony Blinken made it clear that he was going to help get Americans out of Russia, stating, "There's only so much I can say given the privacy considerations at this point," adding, "Whenever an American is detained anywhere in the world, we, of course, stand ready to provide every possible assistance, and that includes in Russia."
Now, Griner's wife has spoken out about her partner's experience in Russia.
Brittney Griner's wife posted a heartfelt message on Instagram
Brittney Griner was detained at a Russian airport when trying to leave the country and come back to the United States. She was arrested for having a vape cartridge with cannabis oil in her luggage, per Marca. The basketball player could face up to ten years in a Russian prison if charged.
According to BET, Texas Democratic Rep. Sheila Jackson Lee has called for the release of Griner in a press conference and the United States is hoping to work with Russia to bring her home.
Griner's wife, Cherelle Griner, took to Instagram to share the impact this has had on her life. "Thank you to everyone who has reached out to me regarding my wife's safe return from Russia. Your prayers and support are greatly appreciated. I love my wife wholeheartedly, so this message comes during one of the weakest moments of my life." She continued, "I understand that many of you have grown to love BG over the years and have concerns and want details. Please honor our privacy as we continue to work on getting my wife home safely. Thank you!"