Here's Who Queen Elizabeth Met With For Her First In-Person Meeting Since Having COVID-19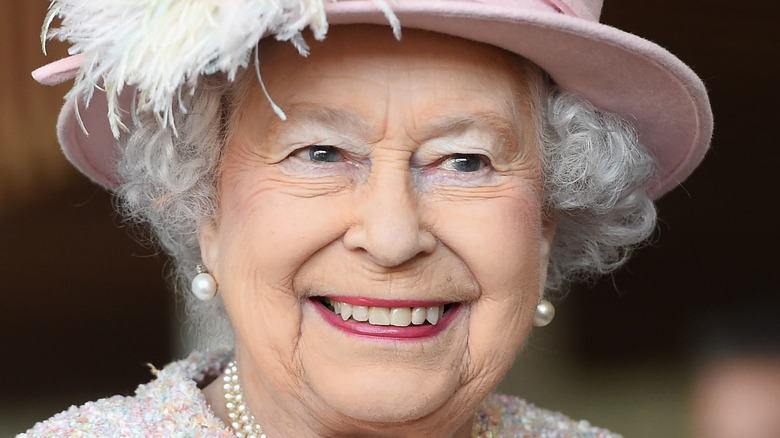 Stuart C. Wilson/Getty Images
The COVID-19 pandemic remains a threat internationally, with people around the world continuing to fall ill from the virus. 
Recently, one such person was Queen Elizabeth, who, despite her royal status, is clearly not immune (via NBC News). In fact, given the Queen's age of 95, she is particularly at risk.
On Feb. 20, 2022, Buckingham Palace announced that the queen "is experiencing mild cold-like symptoms but expects to continue light duties at Windsor over the coming week... She will continue to receive medical attention and will follow all the appropriate guidelines."
The queen's COVID diagnosis came after a rough year for the ruler, who lost her husband, Prince Philip, in April 2021 (via BBC). Not long after that, Queen Elizabeth was forced to strip her son Prince Andrew of his royal and military titles and loan him millions to pay his settlement to Virginia Giuffre, who accused the prince of sexual assault (via People). 
And then there's the drama with Prince Harry and Meghan Markle...
But, just as the queen has weathered scandals and health scares during her 70 years on the throne, she's gotten through this one as well, having seemingly recovered from her bout with COVID-19 (via Vanity Fair). She's since entertained Prince William and Kate Middleton and their children as well as Princess Beatrice and her daughter at Windsor Castle.
Queen Elizabeth also met with this global leader for her first in-person meeting since recovering from COVID-19.
Queen Elizabeth met with Canadian Prime Minister Justin Trudeau in person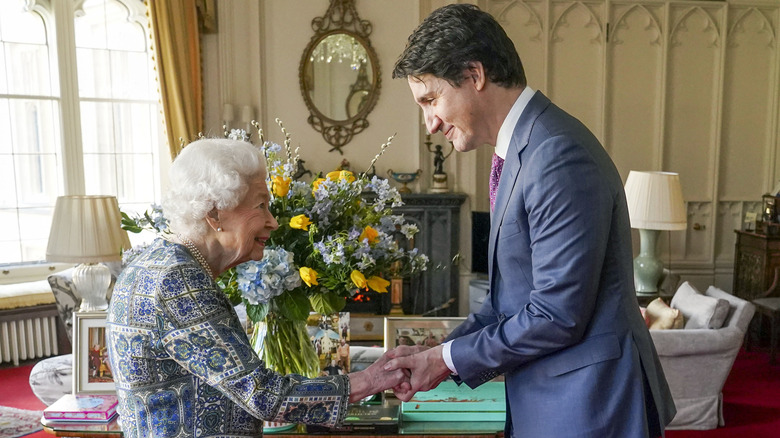 Wpa Pool/Getty Images
Now that Queen Elizabeth is on the mend, she's already back to having in-person meetings with her fellow heads of state (via People). First up on her agenda? Canadian Prime Minister Justin Trudeau.
The pair met at Windsor Castle, where an arrangement of blue and yellow flowers — seemingly a show of solidarity with Ukraine — was prominently displayed in the background.
In another marked shift for the queen, she recently decided that she will now permanently reside at Windsor Castle, having long called Buckingham Palace home (via Marie Claire). While the move is motivated in part by practicality — Buckingham Palace is set to undergo extensive renovations to the tune of £369 million — it's also a sentimental choice for the queen.
Windsor is where Queen Elizabeth and Prince Philip retreated during the early days of the pandemic. While there, she "rediscovered the happiness of their early years together," per The Mirror.
"Windsor is the place she loves," royal expert Hugo Vickers explained. "She has her memories with Prince Philip there, she has her ponies there and family nearby. It makes sense."
The move to Windsor was meant to be temporary, yet the queen has decided to stay indefinitely.