Here's Who Queen Elizabeth Reportedly Reminded Barack Obama Of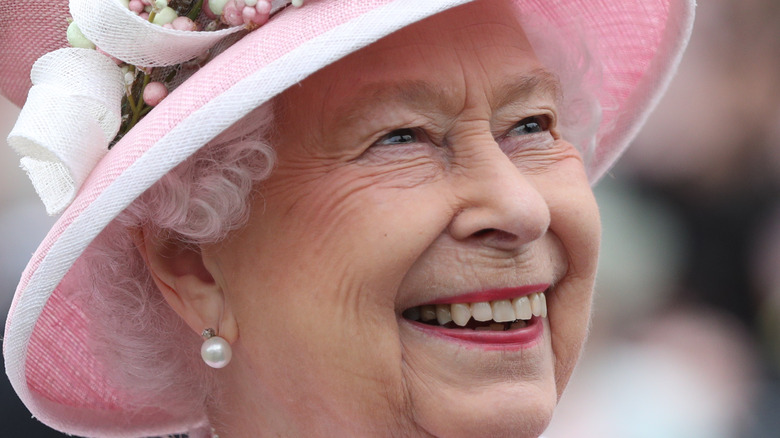 Wpa Pool/Getty Images
A new book has revealed that Barack Obama believes Queen Elizabeth II shares personality traits with someone who was quite special to him.
The book, "Queen Of Our Times: The Life Of Elizabeth II," is by Robert Hardman, and according to Newsweek, it talks about a time the then-president and his wife, Michelle Obama, visited the United Kingdom in 2011. After a banquet, the queen was tired and asked George Osborne, the Chancellor of the Exchequer at the time, to essentially let Obama know that she was ready to go to bed.
"I could see Obama with a drink in hand, and I was thinking: What do I do? I couldn't just interrupt and say, 'Oh, the Queen wants you to go to bed,'" Hardman recalls Osborne saying. Thankfully, someone else helped, the queen was able to go off to get some shut eye, and Obama hosted some of his staff members in his room for a drink.
Still, she left Obama with a big impression, and it's one he hasn't forgotten.
Barack Obama gave the queen the highest form of praise
More specifically, Newsweek reports that "Queen Of Our Times: The Life Of Elizabeth II" features what Barack Obama told Ben Rhodes, his senior speechwriter, about Queen Elizabeth II. "I really love the Queen," Obama supposedly said at the time. "She's just like Toot, my grandmother. Courteous. Straightforward. All about what she thinks. She doesn't suffer fools."
Obama's grandmother helped raise him and helped him get through private school in Hawaii. In 2008, while he was running against John McCain for president, he took a couple of days off of campaign work in order to say his final goodbye to her. Madelyn Dunham — better known as Toot, which is short for "tutu" and means "grandmother" in native Hawaiian — died at the age of 86 from cancer. She died on November 2, 2008, the day before the election, per Reuters.
Reuters also wrote that Obama and his sister, Maya Soetoro-Ng, released a statement at the time, saying, "She was the cornerstone of our family and a woman of extraordinary accomplishment, strength, and humility." So, in short, the queen received the highest of praise from the then-president, as he compared her to Toot, someone he loves so dearly.