Dolly Parton's 2022 ACM Awards Opening Has Twitter Reeling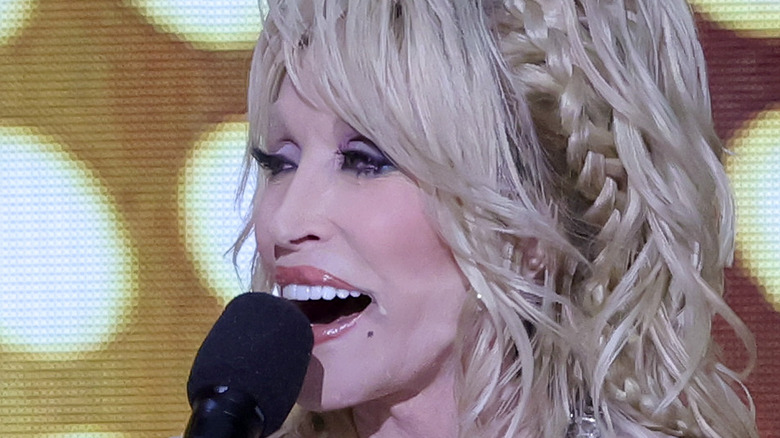 Kevin Winter/Getty Images
We may receive a commission on purchases made from links.
The 57th Academy of Country Music Awards opened with a flash thanks to superstar host Dolly Parton. Now, when it comes to flash, let's take a minute to talk about that stunning outfit. The ever-fabulous Parton took the stage with her wavy blonde signature hairstyle and a body suit that reflected all the stage lights, showing her incredible figure in an outfit that looked like a collage of tiny mirrors. Folks, this wasn't Photoshopped but authentic Dolly — just like her opening.
Parton is known for avoiding politics. In fact, HITC reports the "Jolene" singer has never publicly disclosed her political beliefs. So, when Parton opened the 2022 streaming awards show, fans were left reeling when the apolitical singer brought up the topic of Ukraine. While surprised at the topic, many appreciated the content. 
Twitter user known as @Morgan2 even tweeted, "[Dolly Parton] addressing what's happening in Ukraine in true Dolly fashion is exactly why I love her."
Dolly asked fans to pray for peace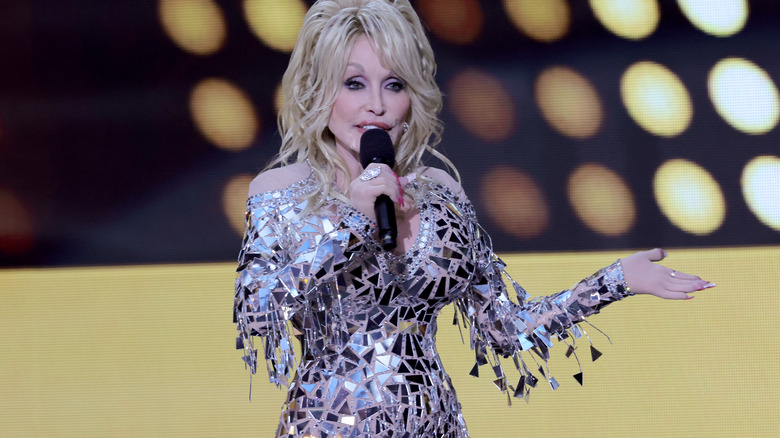 Kevin Winter/Getty Images
In true Dolly Parton fashion, the country music and cultural icon asked fans for peace in her Academy of Country Music Awards opening. "I don't want to be political and this is not. I'd rather pass a kidney stone than do that. I want us to send our love and hope to our brothers and sisters in Ukraine," Parton said.
If Twitter wasn't already talking about Parton, they definitely are now.
While many people have simply retweeted the "9 to 5" star's quote, others have added their support. "[Dolly Parton] opened the #ACMAwards show with what is on everybody's hearts and mind. Thank you #Dolly for dedicating the award show to the people in #Ukraine. #PrayForUkraine #PrayForPeace," one fan wrote on Twitter. Another fan shared, "[Dolly Parton] opened the show asking that we all pray for Ukraine, & dedicated the show to the people of #Ukraine. This is another reason why we love you, #DollyParton!"
Even ACM Award winners Old Dominion thanked Parton for bringing up Ukraine in her opening as they accepted their award for Vocal Group of the Year. Guitarist Brad Tursi mentioned that it felt "weird" to be at an awards show when "there are people fighting for their lives right now." He concluded his acceptance speech by thanking Parton for saying something, and clearing the air. 
And while there may be some people who aren't fans of Parton's policies or her points of view, the majority of tweets seem highly supportive of the host's message of hope and peace.