The Sweet Nickname That Alexandria Ocasio-Cortez's Family Calls Her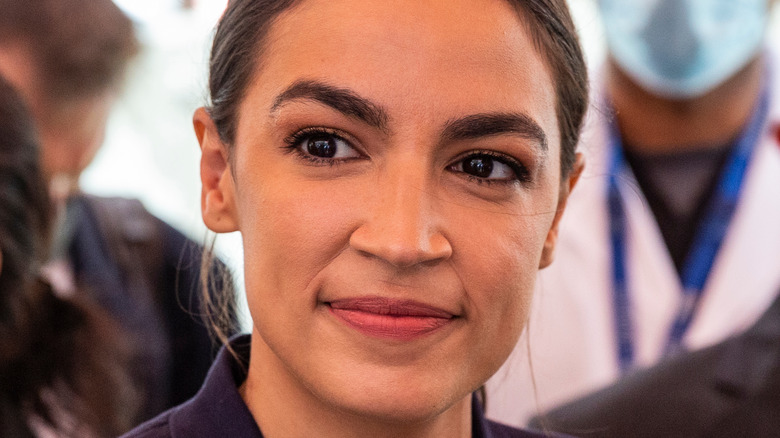 Lev Radin/Shutterstock
Alexandria Ocasio-Cortez is a politician and activist who needs three names to convey just how groundbreaking and space-taking she is. With her name often abbreviated to just AOC, the New York Representative has made waves for her passionate and progressive work in office. She's accomplished a lot in the last few years, including promoting employment through the Green New Deal, securing housing for those struggling to pay rent, and introducing more amendments than 90% of new lawmakers (per AOC's 2020 and 2021 YouTube videos). She's also done it all while impressing us with her statement-making fashion sense and beauty.
Despite her public persona and powerful accomplishments, Ocasio-Cortez has a different, humbler identity when in the company of family and close friends. In fact, she goes by neither Alexandria nor AOC when spending time with those who know her best. Ocasio-Cortez has a sweet, yet surprising nickname when away from her role in Congress.
Alexandria Ocasio-Cortez goes by Sandy in private
Alexandria Ocasio-Cortez is known for her long name, so it's no surprise that her family gave her a shorter nickname less likely to leave people tongue tied. Instead of a name like Alex or Ally, they chose a less common nickname for Alexandria: Sandy.
Political opponents started using Sandy to refer to Ocasio-Cortez once her private nickname became public, often in an attempt to question her upbringing and racial identity (via Business Insider). They claim that the fact that she went by Sandy in her yearbook while attending school in Yorktown, New York (where she moved to after spending her formative years in the Bronx) isn't aligned with the image she presents of her past while in office.
If anything, her nickname is just a small piece of her identity and a reminder of how far she's come since her humble early years. Even if we call her AOC now, she's still Sandy from the Bronx.