George W. Bush Reveals What The Queen Is Like When The Cameras Aren't Rolling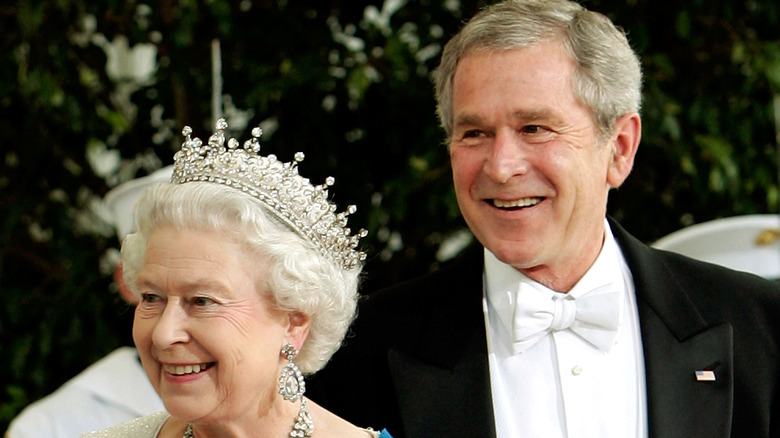 Win Mcnamee/Getty Images
There are jobs we take voluntarily, and then there are jobs we are born into. Queen Elizabeth II has been working the same job for over 70 years as the longest-reigning monarch in British history (via CBS).
Since she's the only British monarch most of us have known in our lifetimes, Queen Elizabeth's life and personality continue to fascinate us. According to biographer Robert Hardman, the question, "What is she really like?" has been asked by many people throughout the queen's lifetime (via Daily Mail).
We know from her own words that the queen remains devoted to her job. "I look forward to continuing to serve you with all my heart," she wrote in an official statement on Feb. 5, 2022, reiterating her speech when she took the throne in 1952. 
Through ups and downs, Queen Elizabeth continues to be known for her calm, unruffled demeanor. "The Queen has always lived by the doctrine 'This too shall pass,'" said Sir John Major (via Daily Mail).
Perhaps another secret to the queen's success is the balance she brings to the role. Hardman wrote that he believes "she genuinely enjoys being Queen," per the Daily Mail. 
"She takes her duties seriously, but she doesn't take herself very seriously," said Justin Welby, the archbishop of Canterbury (via BBC). "She laughs in private, she has an absolutely superb sense of humour."
What did former President George W. Bush have to say about the queen's demeanor when the cameras aren't rolling? Read on to find out.
George W. Bush remembers meeting the queen when he was younger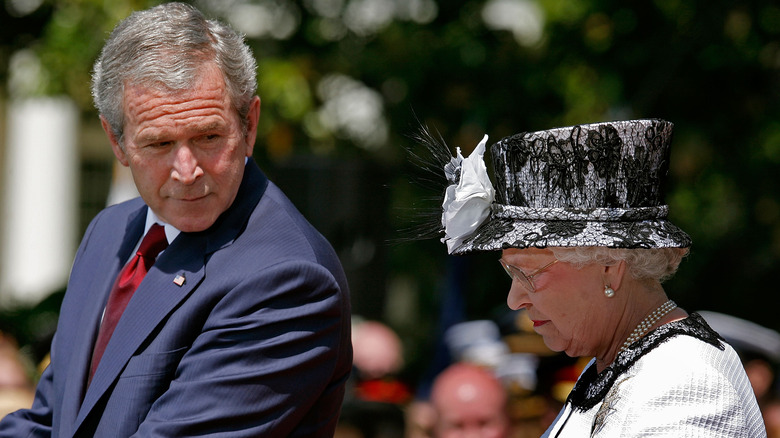 Mark Wilson/Getty Images
George W. Bush is one of the 14 U.S. presidents who have served during Queen Elizabeth's lifetime. Since her reign began, the queen has met every president since Eisenhower, except for Lyndon Johnson, per CBS. 
As the son of a president and as president himself, Bush has had several opportunities to meet the queen. In 1991, Queen Elizabeth and Prince Philip visited the White House for a state dinner and a tree-planting ceremony in honor of the queen's father (via White House History). Part of the visit also included a private lunch with former President George H.W. Bush and his family. 
For his first meeting with the queen, Bush, who was around 45 years old at the time, remembers he was sporting some "rather gaudy cowboy boots" (via Daily Mail). His mother, First Lady Barbara Bush, questioned the appropriateness of his fashion choice, and she told the queen that she would seat her son "far away" at the table. 
The queen asked Bush, "Are you the black sheep?" He responded with a polite, "I guess you can say that, Your Majesty." 
Summing up the exchange, Bush recalled that the queen seemed to appreciate the first lady's sense of humor.
Queen Elizabeth is known for a public zinger every now and then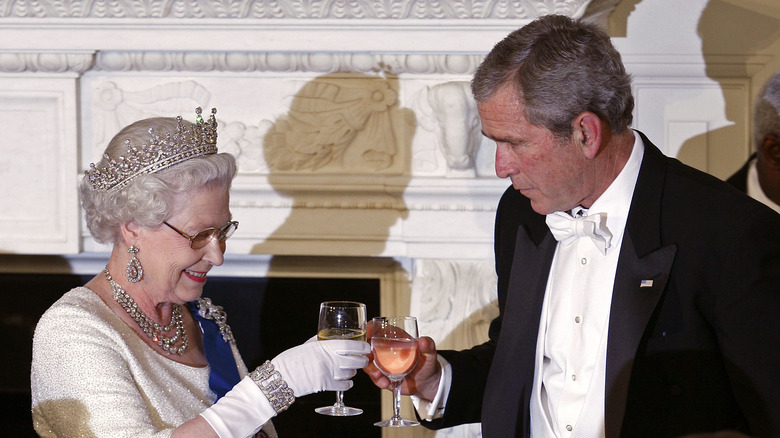 Pool/Getty Images
During his presidency, George W. Bush and Queen Elizabeth also experienced some entertaining public exchanges. In May 2007, the queen appeared alongside Bush as he delivered a public speech during her visit to the White House.
Bush mentioned some of the queen's earlier visits saying, "You helped our nation celebrate its bicentennial in seventeen-sev... in 1976." After his mistake, he looked to the queen to see her reaction. She looked back at him with "the look that only a mother could give a child," Bush joked to the live audience (via YouTube).
Later that evening, the queen got her own zinger in as she toasted the president at a formal dinner, per The Guardian. She brought down the house by saying, "I wondered whether I should start this toast by saying, 'When I was here in 1776...'" Bush showed his appreciation by answering, "Your Majesty, I can't top that one." 
After serving eight years as president, Bush is now enjoying his retirement. "I was happy to serve and I was happy to get out and try to regain a sense of normalcy. She's a woman who must have an iron will," he said about the queen. 
Reflecting on her 70 years of service, he remarked (via Daily Mail), "She has a duty to something greater than herself. It's timeless."