The Tragic Story Of Leighton Meester's Birth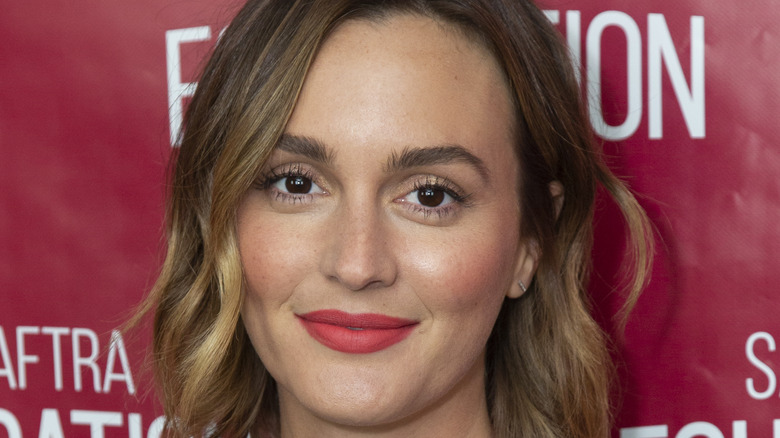 Vincent Sandoval/Getty Images
Leighton Meester is best known for her role as Blaire Waldorf, the queen B of Constance Billard, an affluent school on Manhattan's Upper East Side in the CW series "Gossip Girl." But before landing the role in 2006, the actress was known for her work ethic, and she auditioned endlessly to meet her goals (via GQ). 
Meester first began acting in community plays, then, at 10 years old, moved from Florida to New York to pursue acting full-time. At 14, Meester flew out to Hollywood for pilot season and hustled in auditions and guest star spots until she landed the role of Blaire Waldorf at 21 years old.
Despite her success, the level-headed star has acknowledged that her family had a rocky start and that her childhood was high-stakes. But she also shared that growing up wasn't all bad and that her family's struggles shaped her into the person she is today. The actress told Cosmopolitan in 2009, "My mom lived through a lot before I was born, and I can't judge her on that. She and my dad are good people."
Her family has a patchy history
Leighton Meester's mother was incarcerated when she was pregnant in 1986. Though Meester was born in a hospital, her mother would serve three more years in federal prison for marijuana trafficking charges while her father was serving time. Meester was sent to halfway houses before settling with her grandmother, though she was also involved in the smuggling ring. The actress told Marie Claire in 2012, "My family has a crazy history. Probably the craziest I've heard of." This statement holds, especially considering her mother's sister, who was sentenced in the drug bust, broke out of prison, becoming the first woman ever in the U.S. Marshals' 15 Most Wanted List (via Social Gazette).
But Meester has processed her past and taken her struggles in stride, joking with Cosmopolitan in 2009, "Look, I could've turned out a lot worse." Meester married fellow actor Adam Brody and has two kids with the O.C. star. Her acting career keeps her booked and busy, but the multi-talented star is also an indy pop singer and has released two solo albums. As Meester told Marie Claire, "You can take what is handed to you and use it as an excuse to mess up. But I've always handled what was given to me by life. I consider myself lucky."