Here's What Happened When Camilla Met The Actress Who Portrays Her In The Crown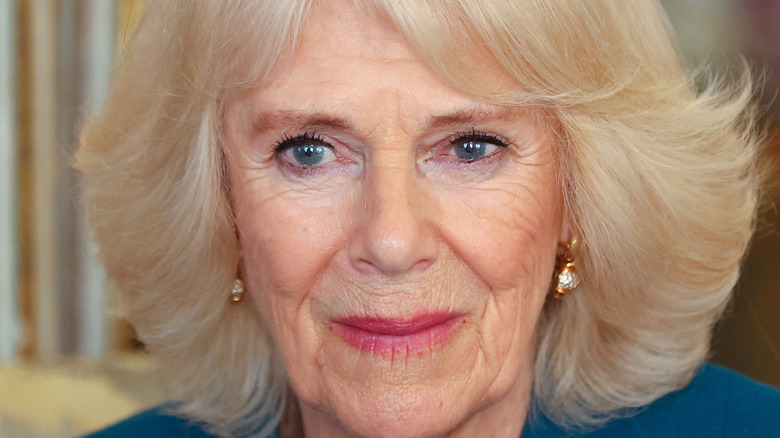 Chris Jackson/Getty Images
Camilla Parker Bowles has been in the news a lot lately. It started with Queen Elizabeth stating that when her son, Prince Charles, takes over as king, Camilla will become queen consort (via The Cut). While many fans of the late Princess Diana were upset by this decision, it was clarified that Camilla would not take on the role of the queen as we currently know it. A queen consort is the spouse "whose main duty is to provide support and companionship during their reign," reported the Mirror. "Unlike the king or queen, they do not have a formal position or set tasks and responsibilities."
The root of the issue fans have with Camilla is the affair she had with Prince Charles while Princess Diana was still alive and married to him, and this animosity was heightened by the Netflix series "The Crown" (via NewsHub). Camilla faced a lot of backlash from viewers who flooded the royal family's social media accounts with hate directed at her. For instance, one comment on an Instagram post read, "Camilla: The world hates you. Princess Diana forever."
Recently, Camilla ran into the actress that portrayed her on the show, and now we know how the encounter played out.
Camilla enjoyed meeting the actress who played her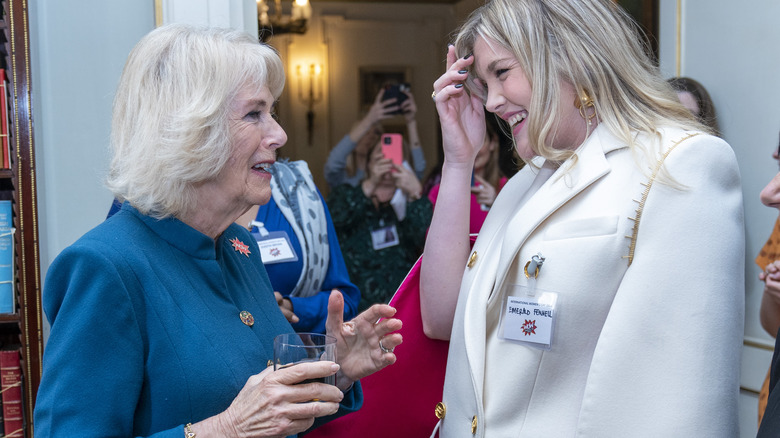 Wpa Pool/Getty Images
At an event to celebrate International Women's Day, Camilla Parker Bowles ran into actress Emerald Fennell, who portrayed her on "The Crown" (via the New York Post). The actress and the future queen consort joked with each other.
On meeting Camilla, Fennell joked, "I was nervous I might be thrown in the Tower — but so far, so good," adding, "[Camilla] has been in the spotlight for a long time and has always weathered it with grace."
She shared that she was happy to meet Camilla, saying, "It was fittingly nice to meet her today on International Women's Day because she does so much for so many particularly female-centered charities." However, she wouldn't open up about what the pair talked about (via HuffPost UK). She remarked, "I'm going to be very discreet because if I've learned anything it's 'loose lips sink ships.'"
Camilla had jokes of her own. On meeting Fennell, she said, "For me, it's very reassuring to know that if I should fall off my perch at any moment, my fictional alter ego is here to take over." She continued, "So, Emerald — be prepared!" We're just glad the meeting went well, especially after the backlash Camilla received after her character's debut in "The Crown."