Is Jeffree Star Cosmetics Magic Star Concealer Worth It?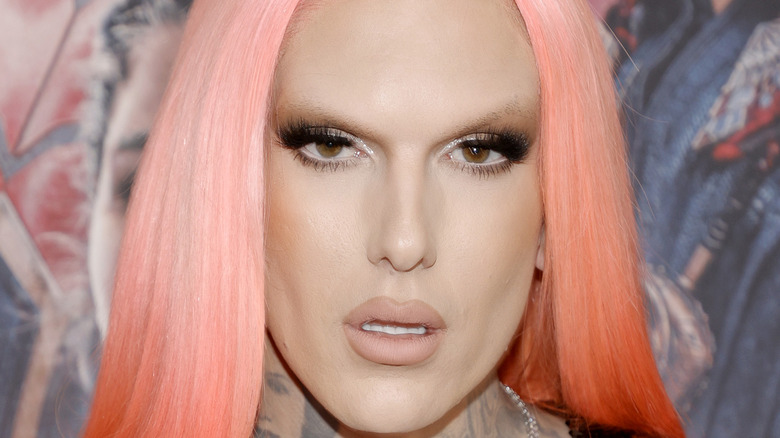 Amy Sussman/Getty Images
It's hard to imagine life without concealers; nothing's worse than awful zit that came out of nowhere. That's when the magic of concealers comes to the rescue, hiding your blemishes and helping you look well-rested. Whether you couldn't get enough beauty rest or genetics is punishing you with dark circles, eye creams can only help so much. 
Whatever your skin tone or skin type, there is a perfect concealer out there for you. When choosing a concealer, it is essential to consider the shade, which should be slightly lighter than your skin. You can choose from liquid, cream, and powder, whichever is the most suitable for your skin type, per Good Housekeeping. 
Celebrity makeup artist Erika La' Pearl told Byrdie, "You want a concealer to give the skin a bit of brightness while eliminating any dark circles, concealing redness, and covering up any dullness on the face." In addition, cream concealers of a lighter shade can also work as a highlighter. A little concealer can go a long way.
Most concealers will camouflage your raccoon eyes, but if you are looking for a full-coverage concealer that can also cover tattoos, you may want to check out Jeffree Star's concealer.
Jeffree Star Magic Star full coverage concealer can even hide tattoos
Jeffree Star Magic Star concealer is a liquid concealer with amazing coverage. It has 20% more pigment than most concealers, so it is powerful enough to seamlessly cover tattoos. According to the product page, it has anti-aging properties to diminish the appearance of fine lines and wrinkles over time. The concealer is long-lasting and has a self-setting effect, so it stays put for hours without reapplications. With 48 shades available, there's probably a color in the line for everyone. Plus, it has six shades of color corrector in green, peach, lavender, pale yellow, yellow, and orange to neutralize unflattering undertones and dark spots. It retails for $22 and is available at Jeffree Star Cosmetics.
A reviewer at Influenster raves about this natural-looking concealer with buildable coverage because, for the price, it is considered "better than most high-end ones." It provides a light luminous finish, and the packaging is fabulous. Glamour N'Glow loves this concealer for its powerful ability to cover all face and body tattoos without any signs. Reviewers at Makeup Alley are fans because this full-coverage concealer does not settle in under-eye creases, so you don't have to worry about it looking cake-y despite the thick formula. It's a buildable product, so you can use it for lighter or heavier coverage as needed.