Hayden Panettiere Shares How Her Ukrainian Family And Friends Are Doing In Passionate Video
Jamie Mccarthy/Getty Images
Ukrainians are currently struggling to escape their war torn country where Russian troops have been attacking civilians since Russian President Vladimir Putin issued an invasion into the democratic country over two weeks ago (per BBC). Ukrainian President Volodymyr Zelenskyy has attempted to negotiate with Putin, and is receiving help from around the world, both from other nations and from private charities. The United Kingdom is sending more troops to assist the Ukrainians, and China pledged more than $790,000 to help the country (via CNN). The Red Cross is doing its part to treat wounded civilians and keep people safe amid the conflict.
Now, "Nashville" alum Hayden Panettiere is also asking for help to aid her friends and family who live in Ukraine. The actress has started her own organization, Hoplon International, to provide needed relief. In a video on the organization's YouTube page, Panettiere put out a passionate plea to help Ukrainians as they battle the Russian army. She also described the dire situation in the country and spoke poignantly about the effect it's having on her family and friends. Panettiere went on to outline the ways in which she plans to bring relief and aid to Ukraine through Hoplon International. 
Hayden Panettiere speaks out against Putin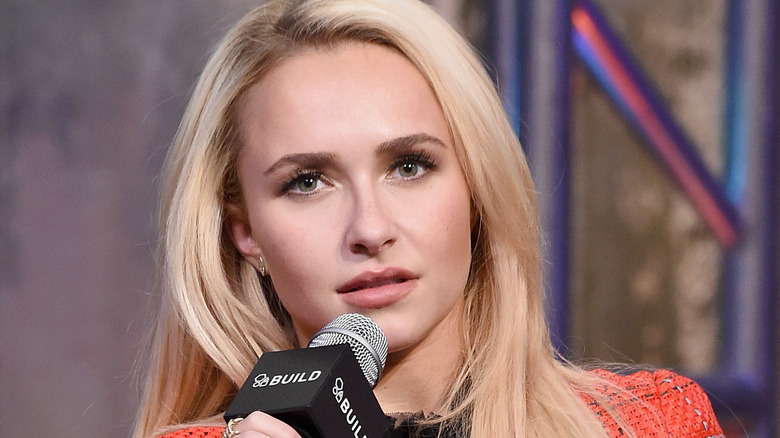 Jamie Mccarthy/Getty Images
Since Vladimir Putin's invasion of Ukraine on February 23, 2022, Hayden Panettiere, who hasn't been acting much following a string of personal issues, has been speaking out against the war and Putin. She took to her Instagram on February 25 with a strong message for the Russian leader. The passionate post featured a lengthy caption, reading: "I have personally witnessed the strength of the Ukrainian people who fought so hard for their independence and have continued to passionately defend their country over the years. What Putin is doing is an absolute disgrace!" (via Instagram).
Panettiere went on to say that this frightening moment in history sends a message to the world that "it's okay to violate the rights of free people and allow autocrats like Putin to take whatever they please." She added that she was praying for the family members and friends of hers who live in Ukraine, and how she was committed to supporting and helping them however possible. Two weeks later, Panettiere put her words into action by establishing Hoplon International. 
The goal, according to the organization's official website, is to provide international support, medical supplies, body armor, and other crucial items to the Ukrainian people. Panettiere's ex, Wladimir Klitschko, is Ukrainian and has been assisting the actress with Hoplon International, in addition to joining the Ukrainian resistance (via People).
Hayden Panettiere pleads for help for Ukrainians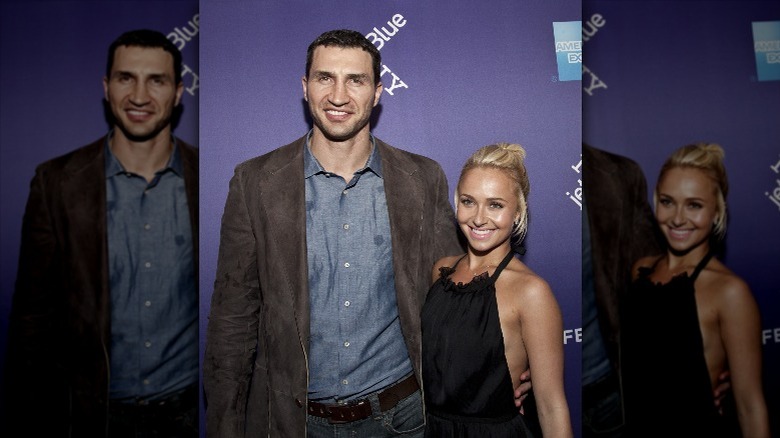 lev radin/Shutterstock
Looking somber and emotionally drained, Hayden Panettiere spoke for the people of Ukraine in a video for her organization, Hoplon International. "There are no words to describe what it's been like to watch the war on Ukraine unfold," she said (via YouTube). "It's gut-wrenching knowing that the people of Ukraine, and people I call my friends and family, are desperately trying to defend their way of life and the country that they love."
Panettiere then discussed how Hoplon International can bring help to the Ukrainian people. "I created Hoplon International to bring relief and aid directly to Ukrainians on the front lines. I can't continue to sit on the sidelines just watching as this disaster rages on," she said. The actress then requested donations, which can be made through the organization's website, to help provide the relief, supplies, and support needed to make a difference on the ground. Wladimir Klitschko, Panettiere's former partner and the father of her daughter, Kaya, has also filmed videos for the organization outlining the dire situation in Ukraine (via YouTube).