How Did Charcuterie Boards Get So Popular?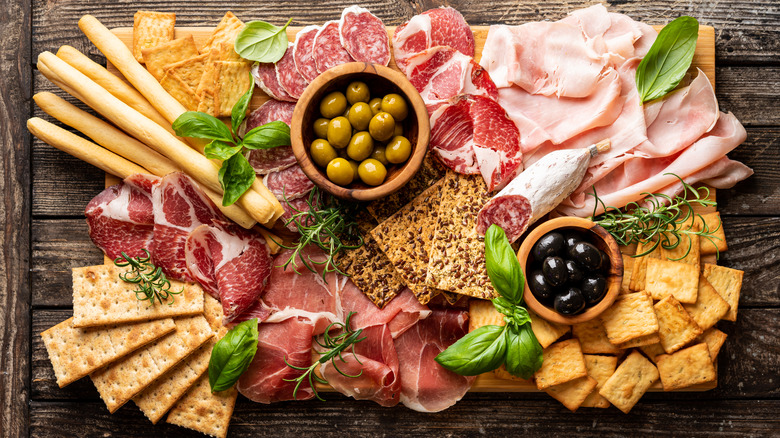 Goskova Tatiana/Shutterstock
Today, charcuterie boards — meats and cheeses arranged on a chic wooden platter — make for a pretty and popular food option. However, the history of charcuterie shows that what has become a hot trend actually began as a necessity instead of a luxury.
According to Deli Business Magazine, "charcuterie" refers to the "culinary art of preparing meat products" in French. Back in the day, shop owners — called charcutiers — would hang cured meats in their windows as a form of advertising. Additionally, before refrigerators were invented, meat may have been hung near the fire. Smoke helped to preserve it so it lasted longer. As an added bonus, the process imparted new and interesting flavors to the meat.
What was an essential way of life has transformed into a cultural phenomenon as people are loading up their favorite platters with cured meats and other tasty treats. There are eating establishments that serve dishes inspired by charcuterie boards (via Entertainer Magazine), sections of shops that offer an array of meat and cheese options, and Instagram accounts dedicated to this culinary art form (per Mashed). Why are charcuterie boards currently trending, though?
Charcuterie looks great and tastes great — it's kind of a no-brainer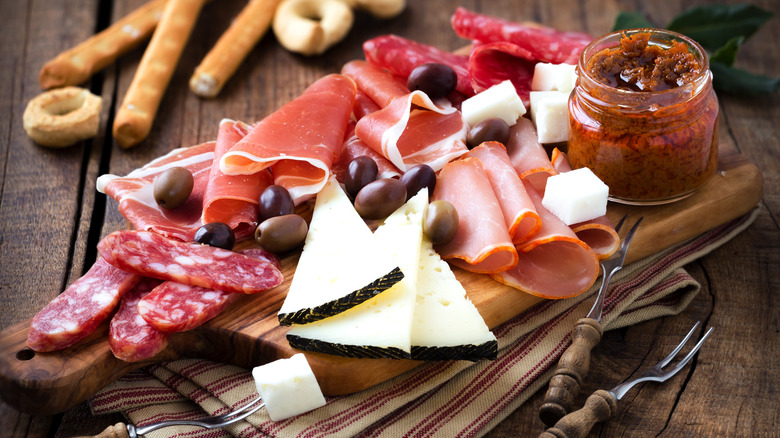 kuvona/Shutterstock
Charcuterie boards aren't just appealing in terms of flavor; they're also aesthetically pleasing. Effectively combining food and art, these eye-catching arrangements are not only in-person showstoppers but also big drivers of engagement on social media. Speaking with Business Insider, University of the Pacific professor Ken Albala credited charcuterie's popularity to "the rise of the interest in do-it-yourself artisanal craft food." He also noted how "photographical" and "Instagrammable" these customizable boards are, since "you can arrange things in fun patterns."
But it's not all for the 'gram. Charcuterie boards also provide useful versatility. As noted by Deli Business Magazine, charcuterie makes it possible to create a spread with something for everyone. You can dress your board up for a big party or keep it simple for a quick dinner for one. It's also possible to make your charcuterie board healthy. To do so, Eating Well suggests selecting lower-sodium meats and healthier cheese options, as well as increasing the amount of fruits, veggies, and nuts. 
Another reason for the rise of charcuterie is — believe or not — the pandemic. People were stuck at home, but building a beautiful, delicious board was easy and entertaining and felt more elevated than, say, takeout. "We expect charcuterie demand will keep growing at a steady pace," Emanuela Bigi of Veroni USA, told Food Business News, "as it remains on trend for high-quality, flavorful, convenient meal solutions suitable for snacking, sandwiches, and easy at-home entertaining."