The Touching Photo From Harry And Meghan's Wedding Charles And Camilla Have In Their Home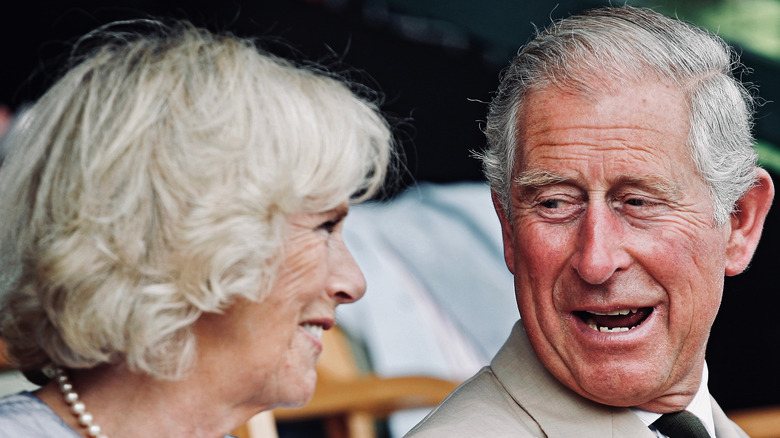 Peter Rhys Williams/Shutterstock
Prince Charles and Camilla Parker Bowles' relationship has weathered some storms. Though there have been scandals surrounding the couple, Jo Elvin — a royal expert and host of the Mail Plus show "Palace Confidential" — is of the opinion that the Duke and Duchess of Cornwall share "one of the greatest love stories of modern times." Elvin added that, "They've clearly been in love all this time."
Additionally, the couple has provided one another with a lot of support over the years, according to People. While Charles allegedly experiences what a royal insider referred to as "Eeyore moments," Camilla is reportedly always there to help him out. "There will always be some backlash but you can't please everybody all the time," the source told People about their relationship. "There will be people from certain constituencies who might complain." 
When Camilla and Charles were first married, she was disliked by the public (via Showbiz Cheat Sheet). However, over time, fans of the royals have warmed up to the future queen consort. The pair has supporters just like other prominent members of the royal family. And a look inside of the couple's home has people gushing over the touching family photos on display. In particular, one that seems to be from Prince Harry and Meghan Markle's wedding has sparked a conversation.
Princes Charles and Camilla Parker Bowles have a special photo in their home from Prince Harry and Meghan Markle's wedding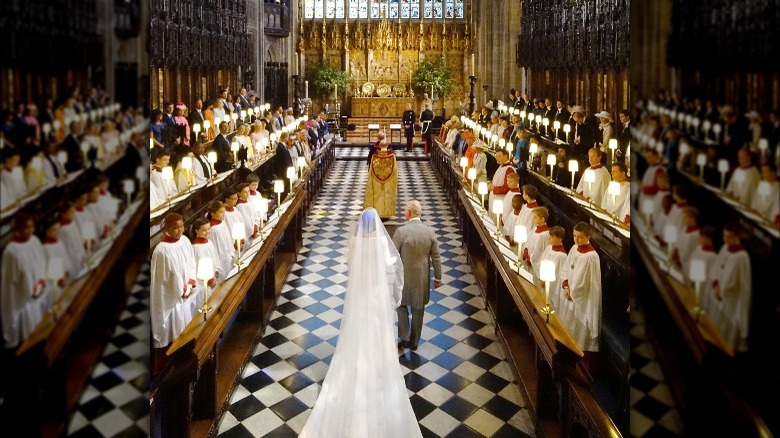 Wpa Pool/Getty Images
Rumors regarding Prince Charles and Camilla Parker Bowles' feelings towards Meghan Markle and Prince Harry have been swirling since the couple began dating. Royal writer Tom Bower alleged that Camilla was "suspicious" of Meghan's intentions with Harry (via The U.S. Sun). However, it seems like any of the issues they may have faced have been pushed to the side. At least, that's judging by the decor on display in the Duke and Duchess of Cornwall's home.
According to People, fans got a rare glimpse into the home of Charles and Camilla when they invited rowers Kat Cordiner, Abby Johnston, and Charlotte Irving to Clarence House. The royals hosted the athletes after they rowed across the Atlantic to raise money for cancer charities.
When they were visiting, fans of the royal family saw Camilla and Charles' living rooms. People noted that a touching photo from Harry and Markle's wedding appeared to be proudly on display. The picture showed Charles walking Meghan down the aisle during the 2018. Also seen was a solo snap of Prince Harry from 2014. Perhaps there are not the ill feelings between the royal family that many assumed.