Jill Duggar Lets Fans In On What's Getting Her Through COVID-19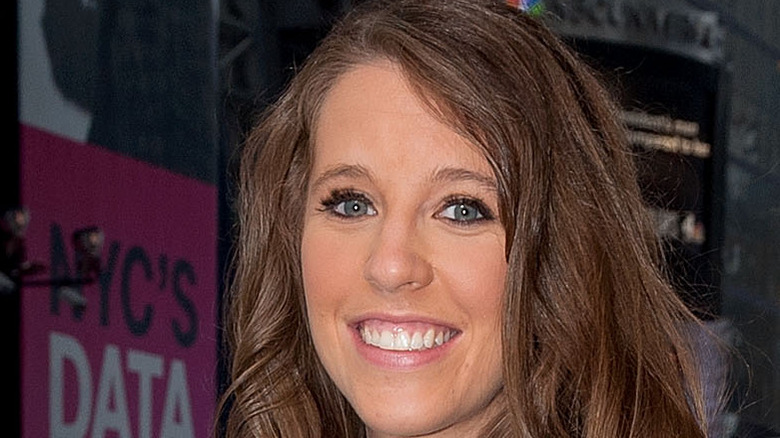 D Dipasupil/Getty Images
Jill Duggar first rose to fame along with her family in the TLC show "17 Kids and Counting" in 2008, and she also starred on the spinoff show "Counting On" alongside her husband Derick Dillard, who she married in 2014 (via US Weekly). They now run the Dillard Family website, where they give updates on their lives. An update this February revealed the exciting news that they're expecting their third child in July 2022, a rainbow baby after a miscarriage last fall. This month brought some less exciting news to their family.
Duggar posted a photo of her holding a mug of tea and Dillard holding a tissue box on Instagram with the caption "Give me all the hot liquids and cough drops please!! Derick [and] I tested + for covid for the first time and it's not fun!" She also wrote "Prayers appreciated for quick recoveries and for baby to stay healthy too!" Shortly after the diagnosis reveal, Duggar posted a pic of homemade chicken soup along with the hashtags #covidfood and #covid2022.
Jill Duggar turned to chicken noodle soup after COVID diagnosis
It looks like Jill Duggar is using a classic comfort food to help her feel better while getting through COVID, posting that she was "enjoying some homemade bone broth chicken noodle soup with kale & carrots!" Duggar also outlined the recipe that she used to make the yummy looking soup. Into 6 to 7 quarts of bone broth, she added baby carrots, kale, olive oil, garlic, egg noodles, chopped rotisserie chicken, and apple cider vinegar.
According to nutritionist Liz Voosen, "One of the very top foods for keeping people healthy, and for helping people who are not so healthy, is broth [...] We've been cooking it for thousands of years to maintain our health" (via Life & Thyme).
Pregnant women are at higher risk of getting sicker with COVID compared to someone who isn't pregnant, and those with COVID during pregnancy face more potential complications (via CDC). The two have previously confirmed that they aren't anti-vaxxers and said in 2020 that they have vaccinated their kids (via US Weekly). Duggar hasn't confirmed her COVID vaccine status, but Dillard did post a photo of himself in line for a free "vaccination" burrito at Chipotle in July 2021.