The Law & Order: SVU Episode You Forgot Starred Cynthia Nixon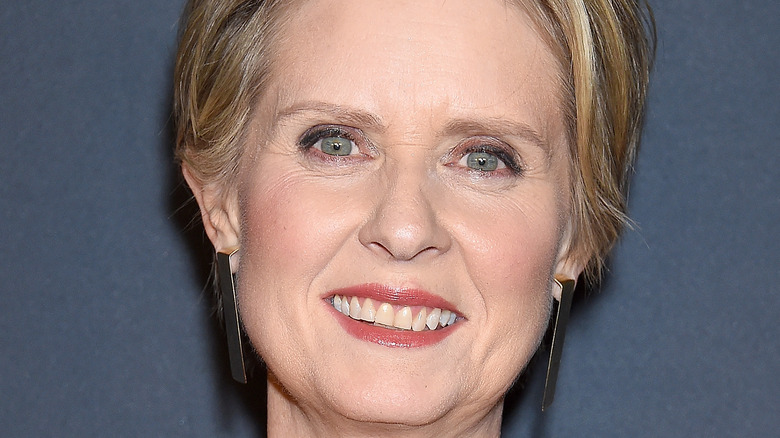 Gregg Deguire/Getty Images
Cynthia Nixon is a Broadway veteran, passionate human rights activist, an in-demand producer, director, and writer. However, for a whole generation of fans, she'll always be Miranda Hobbes. The beloved TV star played everybody's favorite cynical lawyer throughout six successful seasons of "Sex and the City" and in two spinoff movies, before reprising the role for woke reboot "...And Just Like That." 
However, it's worth noting Nixon isn't someone who rests on her laurels. As a profile in Harper's Bazaar points out, she started working around the age of 11 or 12, but Nixon is still discovering challenging new roles even today. "For me, the number one goal was always to work with talented people and do interesting roles, ideally roles that were different than [ones] I had tried before," she opined. 
The "SATC" star is so prolific, some of her most interesting roles have slipped through the cracks — remember when Nixon played one of the prospective nannies for demon children Wednesday and Pugsley, in "Addams Family Values"? — including those for which the actor was awarded by the industry. Chief among them is an attention-grabbing performance in "Law & Order: SVU" you may have forgotten about. 
Cynthia Nixon earned an Emmy for her performance
Business Insider confirms Cynthia Nixon appeared in the "Law & Order: SVU" Season 9 premiere "Alternate." In a role far removed from the tightly-wound Miranda Hobbes, Nixon played a woman named Janis Donovan, who struggled with Dissociative Identity Disorder. As a result, the character required Nixon to portray a whole plethora of different identities, from an adult man to a teenage girl. She rightfully won an Emmy Award for her performance.
As The Hollywood Reporter notes, Nixon appeared on the show three times overall, starting in 1990, when she played the victim of a violent assault who claims self-defense after shooting two young Black commuters on the subway. Just a few years after winning an Emmy in 2008, for Janis (who actually turns out to be faking her condition, FYI), the "SATC" breakout returned for the final season of "Law & Order: Criminal Intent." This time, the character was Miranda adjacent, as Nixon played a stressed-out Broadway director opposite living legend Patti Smith.
Nixon's latest role is Ada in "The Gilded Age," the younger sister of Christine Baranski's outspoken Agnes. In an interview with Harper's Bazaar, the veteran performer acknowledged people typically think of her as Miranda, "outspoken and opinionated and not afraid to be confrontational." However, she argued, "I'm as much Ada as Miranda. I'm incredibly domestic; I'm a homebody like Ada is. My brain is maybe more like Miranda's but I think my heart is more Ada."