Kele And Christina Of Mash Up Our Home Share Tips For Blending Decorating Styles - Exclusive
Choosing a new look for your home can be daunting. After all, your home is the biggest and most visible reflection of your personality, lifestyle, and values, so you want to make sure you get a look that's exactly right for you.
The wrong choices can be not only disappointing but downright uncomfortable to live with. Nothing can get your day off to a bad start more than waking up to a house full of ugly, awkwardly placed stuff that you hate.
But beauty is in the eye of the beholder, and what one person considers hideous may well be another's idea of perfection. And, if these two people are married or living together, that can be a big problem. Short of drawing a line down the middle of the house and letting each decorate their half as they wish, how can couples and families manage conflicting style preferences?
This is the challenge taken on by married designers Kele Dobrinski and Christina Valencia on the new HGTV show "Mash Up Our Home." They help clashing couples create a unique look that incorporates both of their tastes. In an exclusive interview with The List, Dobrinski and Valencia shared some of their best tips for blending decorating styles.
To mix styles effectively, look for commonality, say Kele Dobrinski and Christina Valencia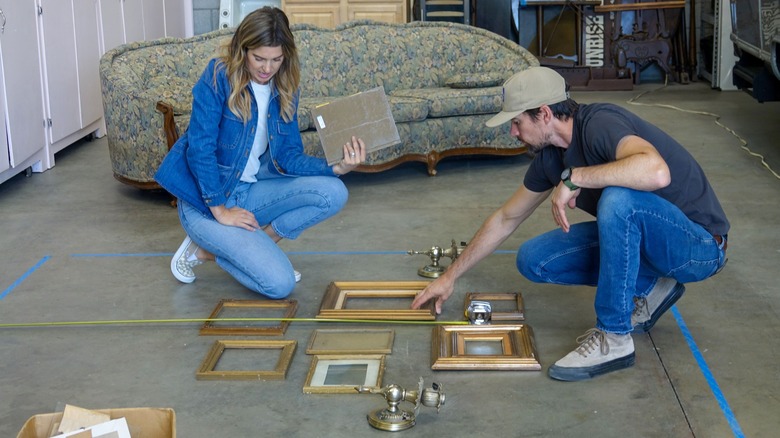 HGTV
A big stumbling block for couples or families wanting to blend styles is the tendency to get hung up on labels. Is the overall look going to have a Victorian aesthetic or a mid-century modern vibe? 
The best answer may be: none of the above. Instead, on "Mash Up Our Home," Kele Dobrinski and Christina Valencia talk to everyone involved and try to discern what specific features resonate with everyone. The end result may be a one-of-a-kind look that doesn't check any conventional style boxes. 
Dobrinski points to one of their past projects as an example. "We ended up in this place where you don't have something like mid-century, or you don't have farmhouse, some type of style that is clear and cut and dried," he said. "It was developing an interesting concept that felt like we were bringing these two homeowners together through a feeling."
Valencia agrees that research is critical for identifying a common style. "I think the big thing is that we try to dive a little deeper than the surface level to find commonalities," she said. 
"If you start to talk to someone and the first five minutes, they're like, 'Oh, their style is just so wildly different. I can't figure out how to justify where that commonality is.' But they're living together for a reason. They have a shared relationship for a reason. So our goal is to really spend a lot of time listening at the beginning to find where that commonality lies."
A willingness to compromise is definitely required when blending aesthetics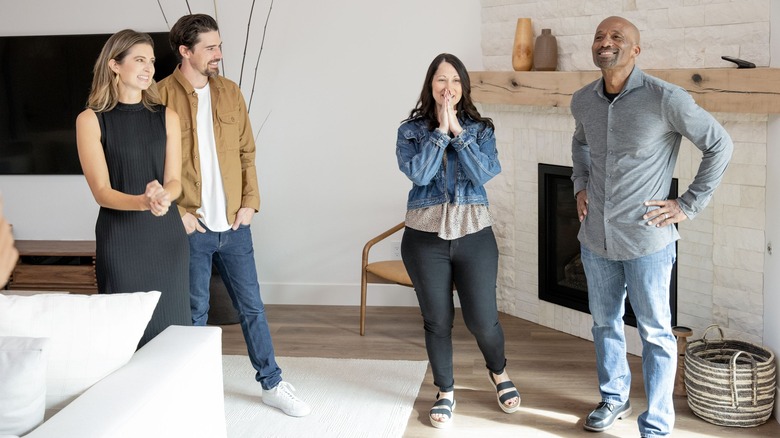 HGTV
By definition, a blended style means that no one gets exactly what they originally wanted. That means each must be willing to accept decorating options that may delight their partner but may not be their own first preference. 
Kele Dobrinski and Christina Valencia of the HGTV show "Mash Up Our Home" know this from their experience decorating their own home. Valencia prefers more color and texture, while Dobrinski is fond of cleaner, more modern looks. The key, they said, is in understanding which battles are worth fighting. 
"It is figuring out — I really, really, really want this tile on this backsplash, but maybe I can give in a little bit for something else and have really clean lines in another space," Valencia said.
Finding a good blended style also means being able to identify and eliminate features you don't like and understanding how you like to interact with the items in your home. 
"I think anyone can also look at their own lives and look at the things that may bring them stress or anxiety," Dobrinski said. Eliminating these, he said, is a good first step toward achieving a comfortable, harmonious home — and living happily ever after.
"Mash Up Our Home" premieres Saturday, March 12, at 8 p.m. ET/PT on HGTV.