What Is The Best Whitening Toothpaste You Can Get At A Drugstore?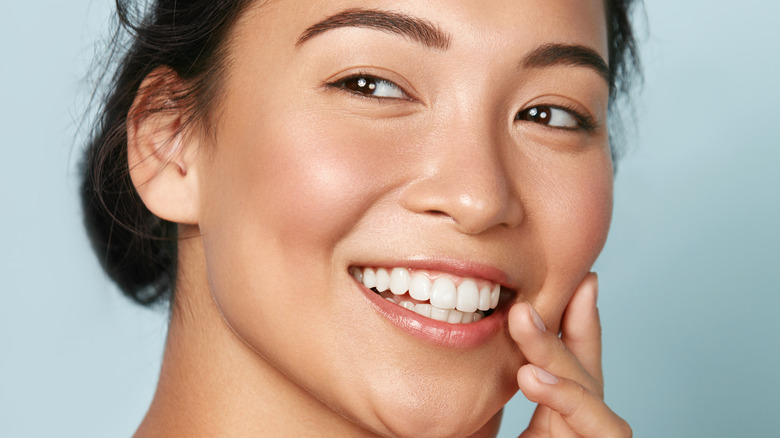 puhhha/Shutterstock
We may receive a commission on purchases made from links.
The emphasis on physical beauty is quite prominent in today's culture. In fact, many spend hundreds or thousands of dollars every year on skincare and beauty products and treatments to help them look and feel their best. While the global beauty market is swamped with skincare, makeup, and hair products, we must remember that having healthy teeth is equally important. Your smile can be one of your most attractive attributes, and a University of Leeds study further revealed that clean, white teeth are a vital sign of good health (via Bustle). Who doesn't want to flash those pearly whites? The importance of beautiful teeth cannot be underestimated, and the Daily Mail revealed that whiter teeth can make you 20 percent more attractive to others, and increase your chances of being employed.
Healthy teeth can also make you look younger. "Anti-aging dentistry is an aesthetic change in the lower third of a patient's face to improve and reverse the signs of aging through veneers," Pasha Hakimzadeh, DDS, of Apa Aesthetic LA, told Coveteur. Sadly, your teeth also age, and you need to take care of them. While it is essential to see the dentist twice a year for oral health, what you eat and drink daily can stain your teeth and make them appear yellow. You can try teeth whitening treatments at the dentist's office or invest in OTC teeth-whitening strips to use at home. However, you also need to regularly use a whitening toothpaste to keep flashing that beautiful smile every day.
Burt's Bees Purely White Toothpaste is a great affordable
Burt's Bees is a brand that has been making quality skincare products since 1984. It picks the best, quality ingredients from nature that are sourced responsibility and are kind to the planet. You probably love their classic lip balms, but they have expanded to toothpaste, which is equally good. Burt's Bees Purely White Zen Peppermint Toothpaste is a fluoride-free toothpaste that helps clean your teeth and removes surface stains to give you a beautiful smile. It has hydrated silica derived from sand to whiten your teeth. It retails for $5.99 at the time of writing, and is available on Amazon.
Byrdie declared it the best drugstore toothpaste to whiten your teeth because, unlike other toothpaste that use fluoride to whiten teeth, it uses silica. It is affordable and has stevia for a delicate taste. Plus, the flavor of peppermint is super refreshing. SkinSAFE Products scored it as 91 percent allergen-free, but it keeps your enamel strong, gives you fresh breath, and makes your teeth whiter even without allergens. Moreover, Influenster raves about this fluoride-free toothpaste, which is effective and works beyond your expectations. Plus, the transparency with the ingredients in the toothpaste makes people trust it more. 
Finally, EWG gives this toothpaste a vote of approval because it doesn't have any ingredients that cause cancer or developmental and reproductive issues. Plus, it is Leaping Bunny certified. However, it contains some restricted or prohibited ingredients in the European Union, Japan, and Canada.