What Mila Kunis Is Teaching Her Kids About Their Ukrainian Heritage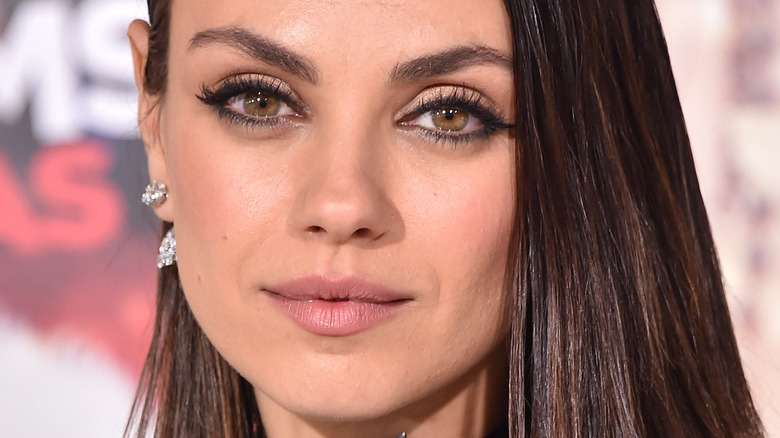 DFree/Shutterstock
The Russian invasion of Ukraine has sparked global outrage, along with support for Ukraine from many prominent figures, including President Joe Biden, Queen Elizabeth II,  Prince William and Kate Middleton, and Prince Harry and Meghan Markle. But for some celebrities, the war is striking a very personal chord. Maks Chmerskovskiy of "Dancing With the Stars" was caught in his native Ukraine at the beginning of the invasion and though he safely made it back to the US, he admitted to feeling "survivor's guilt" over not staying to fight the Russians, according to People. 
Another notable actor has actually reclaimed her identity as a result of the conflict. Mila Kunis was born in Ukraine and moved to California with her family as a child, according to Stylist. Kunis and her husband, Ashton Kutcher, are keeping in touch as best they can with friends who live in the embattled country. They have also launched a GoFundMe campaign to raise money for Airbnb and Flexport's efforts to aid refugees in need of housing and necessities.
But fundraising is only a small part of Kunis's connection to the crisis. In an upcoming interview with Maria Shriver, as reported by TooFab, the "That '70s Show" and "Black Swan" actor says that although she always felt more American than Ukrainian, recent events have had a visceral effect on her. "This happens and I can't express or explain what came over me, but all of a sudden I was like, 'Oh my God, I feel like a part of my heart just got ripped out,'" she says. "It was the weirdest feeling." And now she's teaching her children about their heritage, too.
Mila Kunis wants her children to appreciate their heritage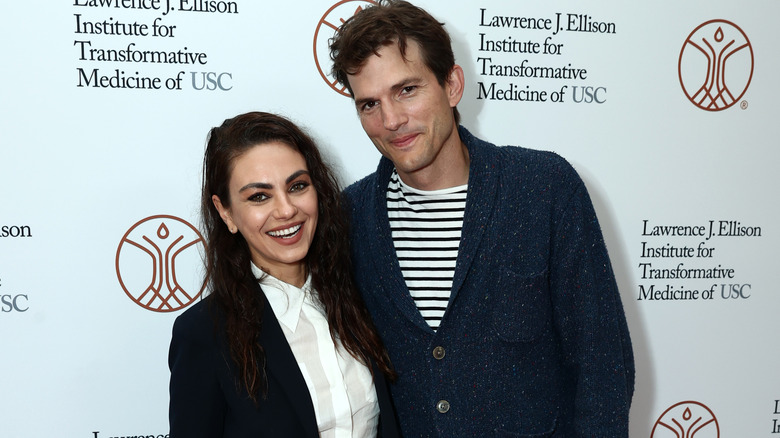 Matt Winkelmeyer/Getty Images
Mila Kunis and Ashton Kutcher have two children together: daughter Wyatt, 7, and son Dmitri, 5 (via Closer). They're too young to understand the crisis between Russia and Ukraine, but the events have prompted Kunis to make them aware of their heritage — even if they can't quite appreciate it yet. "I turned to my kids and I was like, 'You are half Ukrainian, half American!'" she tells Maria Shriver in a "Conversation Above the Noise" interview, via TooFab. "Like, I literally was like, 'Look, you!' And my kids were like, 'Yeah, Mom, I get it.' And I was like, 'No! You are Ukrainian and American.' I was like, 'You are half Iowa, half Ukraine.' And they're like, 'Okay, I get it.'"
Kunis also admits to having taken a lackadaisical attitude toward her birthplace until now. "[I]t's been irrelevant to me that I come from Ukraine. It never mattered," she tells Shriver. "So much so that I've always said I'm Russian, right?" She explains that since not many people know where Ukraine is, it just seemed easier to say she was from the more well-known country. Not anymore. "Well, hell no, I am from Ukraine. Everything's changed!" Kunis says.
With that said, Kunis also thinks that the media isn't doing enough reporting on the Russians who oppose the invasion. "I think that there's now [an], 'If you're not with us, you're against us' mentality. ...I don't want there to be a thing of 'All Russians are horrible human beings,' I don't want that to be the rhetoric."