Is Smashbox BB Cream Worth It?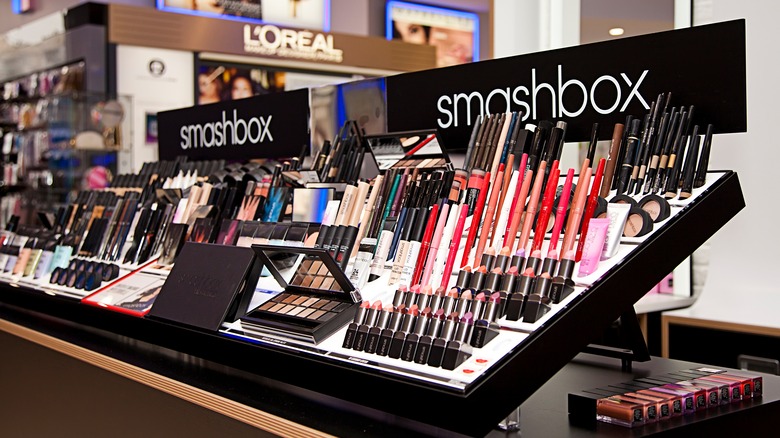 Alex Vog/Shutterstock
We may receive a commission on purchases made from links.
With is hybrid skincare-makeup properties, BB creams — aka beauty balms — are a Korean phenomenon that have become a staple in many skincare fanatics' medicine cabinets. Per the New York Times, BB creams blew up in Korea before making it big in the United States in 2011. As the Fashion Globe reported, German dermatologist Christine Schrammek was responsible for developing the first BB cream as a medical treatment that helped to protect and cover the skin.
But ever since the early days of the BB cream, beauty aisles have been flooded with their own versions of the popular product. That's because BB creams seem to be the perfect one-step makeup solution for those looking for natural-to-medium coverage with skincare benefits. After all, "BB creams are skincare-infused makeup products that conceal small blemishes or uneven tones while also providing hydration, sun protection, or vitamins and minerals that nourish the skin," as dermatologist Annie Gonzalez told Byrdie. Most BB creams also work to moisturize, prime, and protect your skin from the sun. Of all the options available to you on the market, Smashbox has their own BB cream, which promises flawless and natural skin — but is it worth the hype?
Smashbox's BB cream is a 5-in-1 multitasking product
According to Amazon's product description, Smashbox's Camera Ready BB Cream is a multitasking cream with five benefits. It primes, perfects, hydrates, controls oil, and protects you from the sun with SPF 35. Infused with anti-aging peptides, it works to reduce fine lines over time. It is also free of sulfates, phthalate, talc, and fragrance, and comes available in eight shades for $39, per Amazon. 
In particular, Byrdie touts this BB cream as a perfect choice for combination skin, thanks to the fact it hydrates skin while controlling excess oil. Because it contains SPF 35, you also won't need to lather on extra sunscreen to protect your skin. Allure loves this multitasking balm because it provides medium coverage but still feels lightweight. Its thick cream blends well for a smooth finish — and the fact it works to reduce wrinkles makes it a must-have beauty product. (No wonder it won Allure's "Reader's Choice" Award in 2015!) Influenster raves about this 5-in-1 miracle worker because it saves you time doing makeup AND gives you a radiant finish. Because it's also a primer with a tinted finish, it works especially well underneath foundation (for those looking for a little extra coverage). Refinery29 even credited it as "the best of the bunch" — so there you have it! Anyone looking to dip their toe into the world of BB creams can't go wrong with Smashbox's offering.