Pete Davidson's Latest Venture Is Out Of This World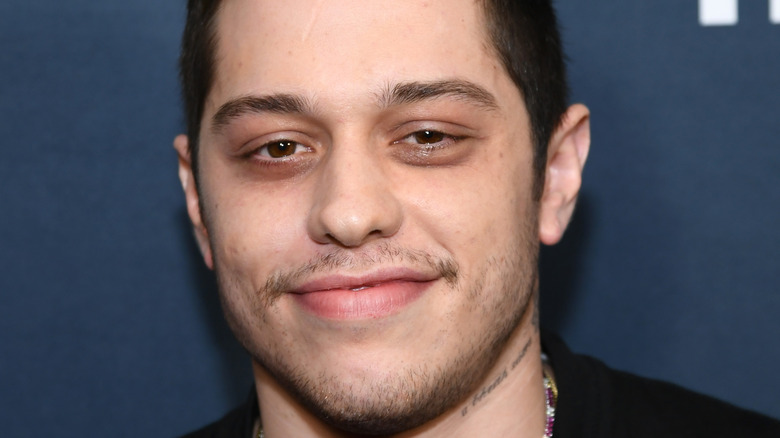 Dimitrios Kambouris/Getty Images
Pete Davidson has been busy making headlines this week. After weeks of tumultuous interactions in a love triangle that consists of Davidson, Kim Kardashian, and her ex-husband, Kanye West, Davidson finally spoke up to defend his new girlfriend. In response to videos that West posted on March 13 criticizing Kardashian for allowing their daughter, North, to post videos on TikTok, Davidson reached out to confront West about his recent actions in a series of text messages. "Yo it's Skete," Davidson said in screenshots of text messages to West authenticated by Page Six. "Can you please take a second and calm down. It's 8am and it don't gotta be like this. Kim is literally the best mother I've ever met. What she does for those kids is amazing and you are so f–king lucky that she's your kids mom. I've decided im not gonna let you treat us this way anymore and I'm done being quiet. Grow the f*** up."
Kardashian made her relationship with Davidson Instagram official on March 11. In a series of photos posted to her Instagram account, the pair appear to be quite cozy and smitten next to one another.
Then, as the dust settled around the drama contained in his relationship with Kardashian, it was revealed that Davidson's fame would be reaching new heights — literally.
Pete Davidson will be headed to space next week
Mario Tama/Getty Images
On March 14, it was revealed that Pete Davidson would be the latest celebrity to embark on a Blue Origin space mission. According to People, this will be the fourth human flight for Blue Origin's New Shepard program. Previously, "Star Trek" actor William Shatner and television host Michael Strahan embarked on short trips to space onboard Blue Origin missions. Blue Origin was founded by Amazon CEO Jeff Bezos, who was onboard the New Shepard's first flight back in July 2021. 
Davidson might have earned a place on the craft's fourth human mission after attending a dinner party hosted by Bezos and his partner, Lauren Sánchez, with his girlfriend, Kim Kardashian. Davidson will be joined by Marty Allen, CEO of Party America; Sharon Hagle, founder of the SpaceKids Global nonprofit; her husband Marc Hagle, president and CEO of Tricor International; Jim Kitchen, a teacher at University of North Carolina; and Dr. George Nield, the president of Commercial Space Technologies, LLC.
Davidson's Blue Origin mission will be launched on March 23 at 8:30 a.m. local time at Launch Site One in Texas. According to CNN Business, the New Shepard capsule will be launched more than 60 miles above the Earth's surface in order to catch incredible views of the planet from space. The entire trip will only take approximately 10 minutes, though the crew will spend a few days prior to the trip training at Blue Origin's facilities in Texas.