Vanities So Nice You'll Want To Spend Forever Doing Your Makeup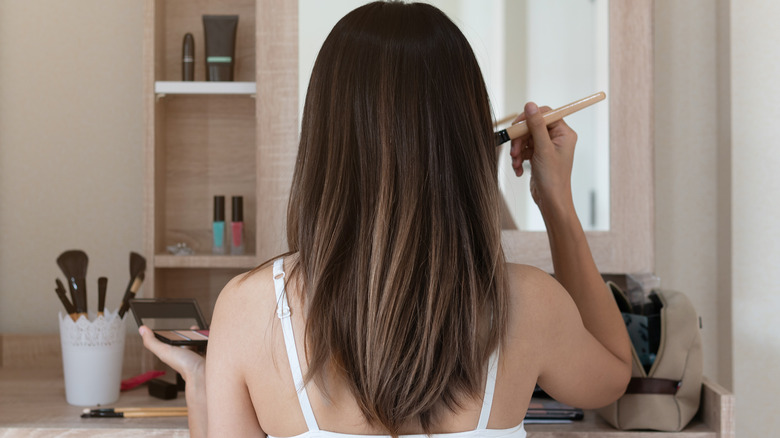 kitzcorner/Shutterstock
We may receive a commission on purchases made from links.
Every beauty enthusiast needs a high-quality vanity where they can sit and relax while applying their makeup for the day. According to The Met, there's quite the history behind the evolution of vanities, which are also known as dressing tables. The original concept for vanities goes back to ancient times, as people used to set up their beauty supplies on highly decorated boxes. These boxes conveniently held all the products they needed, and they were visually appealing as well. Then, traditional vanities became available in Europe during the 17th century. They eventually found their way to the U.S. and evolved into the version that we see most often today.
There are several reasons why you should invest in a new vanity, as it's something you'd likely use every day to help ease the struggles of getting ready that all girls can relate to. Whether you're getting ready for work and or a night out with friends, it's easier to do your makeup when you have an inviting place to sit down, that also happens to be perfectly organized. Romantic Homes explained that vanities help you stick to a specific spot when you're applying your makeup, plus it keeps all your beauty supplies organized, and it adds some stylish character to your space. If you want to invest in a new vanity, we know all the best options!
You can buy impressive vanities through major retailers
While the countless vanity options available online may seem overwhelming, we've found a few that stand out from the rest (via Cosmopolitan). If you're looking for a vanity that practically organizes itself, check out the Arch Mirror Vanity Table from SONGMICS. It features a tri-fold mirror, an assortment of drawers, a mesh brush holder, a hairdryer slot, and a stool with linen fabric and soft foam. The vanity retails for around $175, and currently holds 4.5 out of 5 stars from 17 reviewers on the site.
If you want a vanity that's appropriate for smaller spaces, you can't go wrong with the Mclamb 31.49" Wide Vanity With Mirror from Wayfair. It's similar in price to the SONGMICS vanity, but the petite size makes it work anywhere in your home. If you want something similarly stylish but a bit more high-end, the Vanity Set With Touch Screen Dimming Mirror on Amazon is perfect for you. Available for around $250, this tech-savvy vanity offers three different types of lighting. You'll be able to try out the best makeup trends of 2021 with ease and efficiency!
According to Bustle, some vanities fit specific preferences. If you're looking for a vanity that will fit into a corner, check out roomSmart's Victory Corner Vanity Table. Available on Amazon for under $300, it's designed specifically for corners and it makes a beautiful addition to any room in your home. It's cute and compact but still offers plenty of storage.
These lovely vanities are life-changing
While we adore those gorgeous vanities, there are so many excellent choices that we haven't even touched on yet! The Strategist rounded up the best vanities for specific aesthetic preferences, and we're totally in love. Anyone who enjoys bohemian pieces should check out the Marte Vanity from Urban Outfitters, which features a stylish interlaced cane design. This product's currently available for around $380 and has a remarkable 5-stars from over 80 reviewers. 
If you love classic ethereal styles, you'll immediately become obsessed with the Scroll Vine Inlay Vanity Table from Anthropologie. While this product is on the more expensive side, it has a gorgeous, completely unique design and a perfect 5-star review. It seems to be worth the investment, especially if you use it every day! Life and Style also provided some additional vanity choices that will please makeup enthusiasts with specific tastes. 
The Titoni Vanity Table Set With Lighted Mirror is perfect for anyone with a glamorous style, as the adjustable lights that frame the mirror make this vanity look like it belongs to a movie star. Available at Amazon, we think its a bargain for those who want to feel like they're in the Golden Age of Hollywood. If you're looking for a vanity with extra storage, you'll love the AODAILIHB Makeup Vanity Table With Flip Top Mirror from Amazon. Not only does the flip-top mirror make this a versatile piece, but the drawers feature convenient compartments as well.
Which one are you going to buy?