The Best Non-Comedogenic Concealers Money Can Buy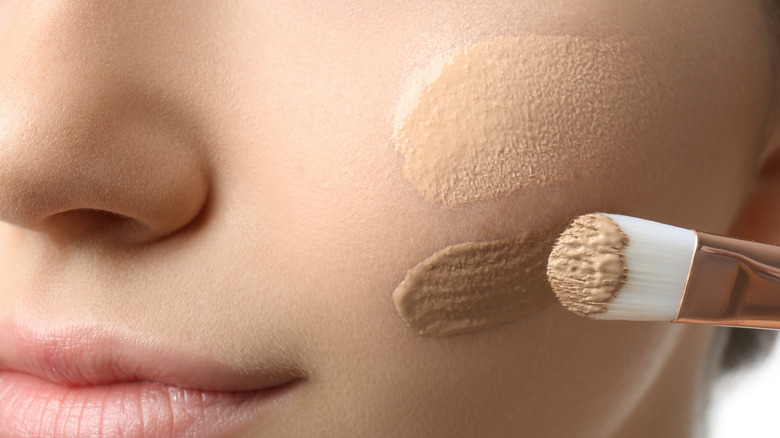 New Africa/Shutterstock
Unfortunately for makeup lovers, certain makeup formulas can lead to skin and pores that are congested and clogged. This can cause breakouts to follow, according to Well + Good.
The formulas of the products you're using can impact your skin, even if you're following a good skincare routine. For less chance of skin that's clogged and congested, opt for a non-comedogenic concealer formula — it's lighter, more breathable, and designed to prevent clogging. 
Dr. Ava Shamban explained to Well + Good why non-comedogenic formulas are beneficial for skin health: "The term non-comedogenic is a term that denotes a skin-care product or a makeup cosmetic has been specially formulated in a way that will most likely not clog pores or cause blockages leading to comedones and pustules other forms of acne breakouts."
According to Elle, clogged pores are caused when dead skin cells and dirt mix with sebum (natural oil from your skin) and clog your pores. This can lead to irritating blackheads and whiteheads, which no one is a fan of.
Dr. Shamban also explains that non-comedogenic formulas are a good option for anyone living with acne prone skin that naturally produces more sebum.
So, what are the best non-comedogenic concealers, and what makes them so special?
What makes a concealer non-comedogenic?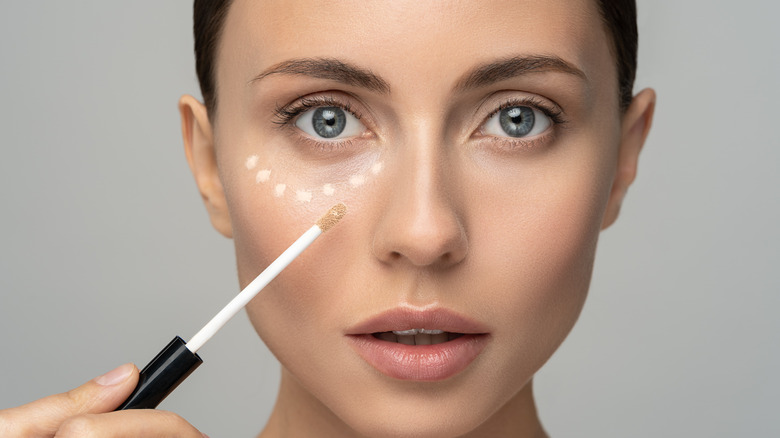 DimaBerlin/Shutterstock
When it comes to determining if a formula is non-comedogenic, your first step should be checking the packaging. Most formulas that are skin-friendly and won't clog pores and congest skin will say so on the bottle or box, so it's worth checking.
Alternatively, Dr. Shamban recommends looking for specific ingredients as a tool for determining if a formula is anti-clogging. She explains to Well + Good that it's best to "look for encapsulated retinol and light acids like lactic acid that help cell turnover and smooth texture, helping to keep acne blemishes from becoming angry."
It's also worth looking for formulas with salicylic acid (which can help to halt breakouts), as well as vitamins A, C, and E that can boost skin moisture, helping to prevent the overproduction of sebum, which can be caused when skin becomes dry.
In terms of oils, some oils can be great additions to concealer formulas, such as squalene, sunflower, and avocado, according to Dr. Shamban. However, lanolin and coconut oil should be avoided because they're comedogenic and may clog skin and pores.
Which are the best non-comedogenic concealer formulas?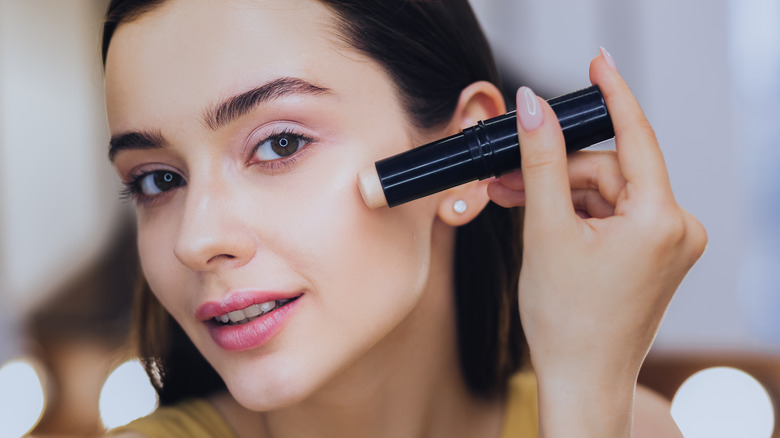 Dmytro Zinkevych/Shutterstock
When it comes to choosing the right non-comedogenic formula, StyleCraze recommends avoiding formulas that contain irritants such as alcohol and synthetic fragrance. You'll also want to pick formulas that contain sulfur and salicylic acid for added skin health.
Per Nubo, for a liquid concealer, Maybelline Fit Me Liquid Concealer is a great option. The formula promises to mask areas of redness, acne-scarring, and dark circles effectively, despite having a light, breathable formula that's non-comedogenic.
Another great option, according to Nubo, is the Clinique Acne Solutions Clearing Concealer, which is spiked with acne-beating salicylic acid, and offers a light, quick-drying formula.
Well + Good recommends Fenty Beauty Pro Filt'r Instant Retouch Concealer, which has a non-comedogenic and oil-free formula and comes in 40 shades. It's described as creamy, easy to blend, and apply.
Or, Well + Good suggests It Cosmetics Bye Bye Under Eye Full Coverage Anti-Aging Waterproof Concealer, which is packed full of skin-loving peptides, antioxidants, and collagen, as well as hydrating hyaluronic acid, and offers a smooth, non-flaking finish.