What Yoga Instructors Eat For Breakfast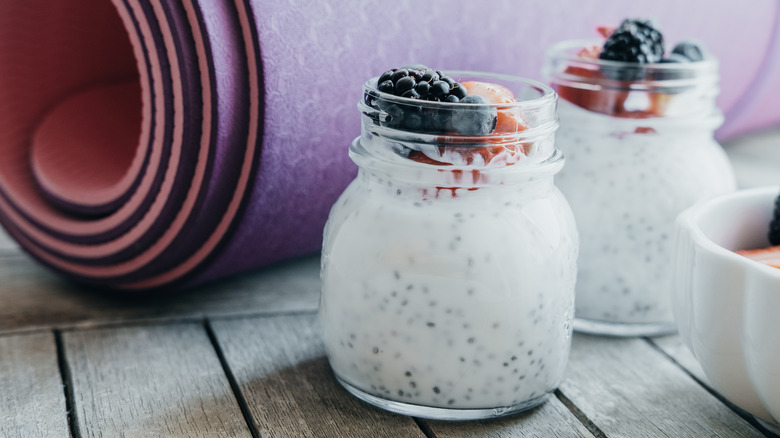 Shutterstock
Yoga can be a major stress reliever and strength-builder. Tons of my nutrition clients include yoga as part of their weekly wellness routine to help them get centered before a busy day or unwind in the evening. What we eat can help foster a calm mindset and keep us energized. I generally recommend starting your day with a balance of protein, healthy fat, and complex carbs for slow-burning energy to get you through the morning. 
Some higher-protein breakfast picks to try: eggs, plain yogurt or kefir, nuts, nut butter, or even protein powder if you need an on-the-go option. Some sources of healthy fats include avocado, oils (olive, sesame, coconut, etc), nuts, and seeds. Fruit, starchy veggies like sweet potatoes, whole grains, and beans, peas, and lentils are all great sources of complex carbs.
Sometimes, though, when you're heading to a morning class before you dive into the rest of your day, you may not feel up for a large breakfast. Who better to ask about breakfast options than yoga instructors themselves? I reached out to several to see how they start their day.
Eggs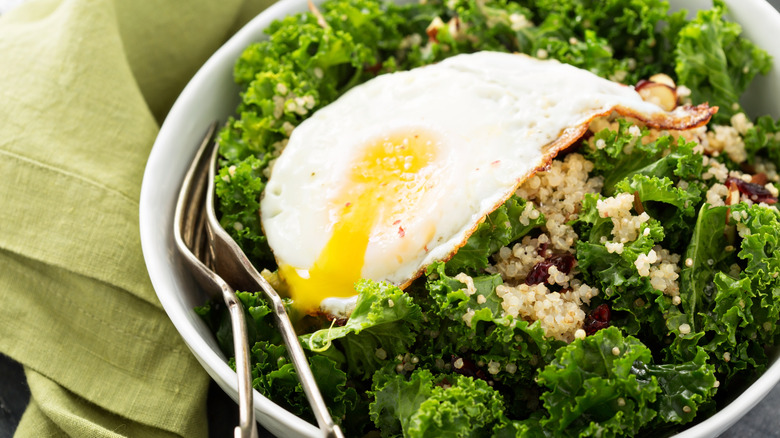 Shutterstock
Eggs were one of the most popular breakfast item among yoga instructors. Eggs are a great choice because they offer a stabilizing mix of protein and fat. A 70-calorie large egg will provide about six grams of protein and five grams of fat. 
Jacqueline Burge of Desk Yogi says, "I'm usually on the run in the morning to get to the office and drop the kids at school. So I have a regular morning routine and I know I need protein and a touch of caffeine to get going and have energy until lunch. I have two soft boiled eggs and a cup of Yerba mate tea. Then I follow that up with a super food green drink powder that I mix with a small portion of apple juice. It has an incredible mix of vitamins and minerals. A few times a week I add an arugula salad with olive oil or apple slices. I love eating clean, healthy, and simple when I am short on time."
James Sklar of Yoga with James (part of the YogaFinder community) found his way into teaching in 2008 after giving up his organic restaurant business. He told me, "I have pretty much the same thing for breakfast every day: grass-fed organic eggs, sunny side up with kale cooked in extra virgin coconut oil, finished with sea salt and cilantro." He also has organic black tea with stevia to start his day.  
Avocado toast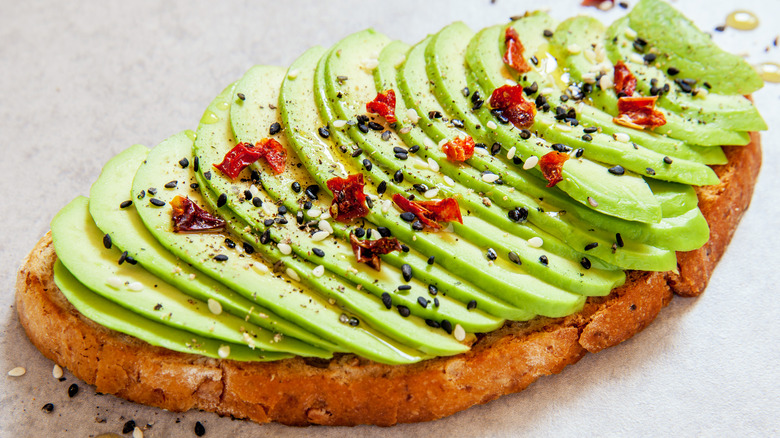 Shutterstock
Avocado toast was another clear winner among the yoga instructors I spoke with. Salt Lake City-based yoga instructor Emily Long has also studied nutrition and worked in the culinary industry, so she knows the importance of that morning meal. She said, "My go-to breakfast is one piece of whole-wheat toast... with half of a smashed avocado and a fried egg. I make the egg with a tiny bit of unsalted butter. I top it with a pinch of salt and pepper. I love this breakfast because it's filling with healthy fats and proteins, low in simple carbs, and incredibly flavorful. It's a really quick weekday breakfast that feels like weekend brunch."
Stephannie Weikert, an instructor and certified yoga therapist of Make Peace with Stress in Baltimore, Maryland, is another fan. "I toast a high-quality piece of wheat or 9-grain bread, put ghee (clarified butter) on it, and half a sliced avocado on top of that with salt and pepper. Then I put two fried or poached eggs on top of that. It's so delicious I eat it nearly everyday!"
Theresa Polley, founder of Retreat in the Pines in East Texas, adds a side of fresh tomatoes, greens, and walnuts with olive oil to her avocado toast and eggs. "It's deliciousness! And filling. It keeps me satisfied until lunch time."
A green smoothie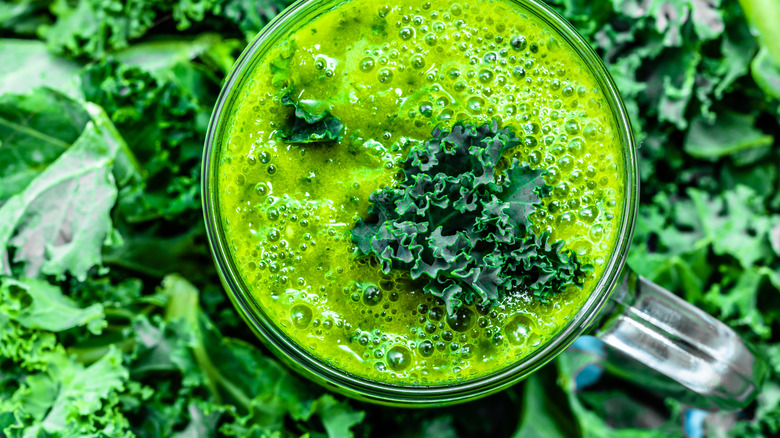 Shutterstock
Renee Kennedy, a yoga instructor in New York City has a no-fail recipe. "I blend up almond milk, banana, avocado, kale, and spinach and pack it in a mason jar," she told me. "Since my days typically start early and include running from studio class to private client, a breakfast that's filling yet light is essential... It keeps me going until lunchtime and inspires me to continue eating healthy throughout the day!"
Eloise Le Santo, a Hatha and Yin yoga instructor based in London also likes to start her day with a smoothie. "I add in some organic, grass fed plain protein powder too, as I find this helps keep me full until lunchtime," she said. "At the moment, my favorite green smoothie is pineapple, spinach, mint, lime, and coconut water. It's such a nutritious and delicious way to start the day and you can keep trying new recipes so I never get bored!"
Oatmeal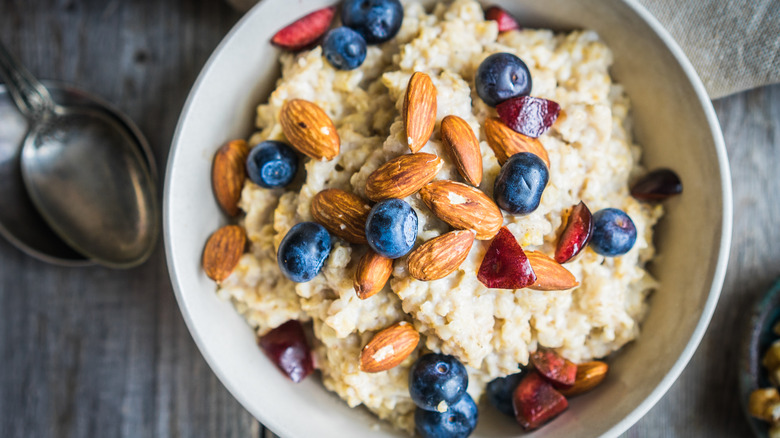 Shutterstock
Yoga instructor and studio owner Crystal Widmann of Y2B Fit in Philadelphia said, "My go-to breakfast is oatmeal with blueberries and an egg. I eat it almost every day!" This meal offers a winning combination of complex carbs, protein, and fat to keep you energized  for hours.
After starting with hot water with lemon and a walk with her dog, Claudia Matles of Yoga, Pilates & Health Counseling by Claudia, sips a freshly-made green juice and follows it with "a yummy bowl of steel cut organic oatmeal with flax or chia seeds, organic raw almonds and walnuts, fresh berries, and a dab of raw honey." 
Rather than traditional sweet spices, Matles likes to add some savory flavors with "a dash of black pepper, turmeric powder, nutmeg, and a pinch of sea salt, along with coconut oil or sesame oil." She said, "It's fantastic and so satiating! Ready to start my day of teaching yoga!"
Chia pudding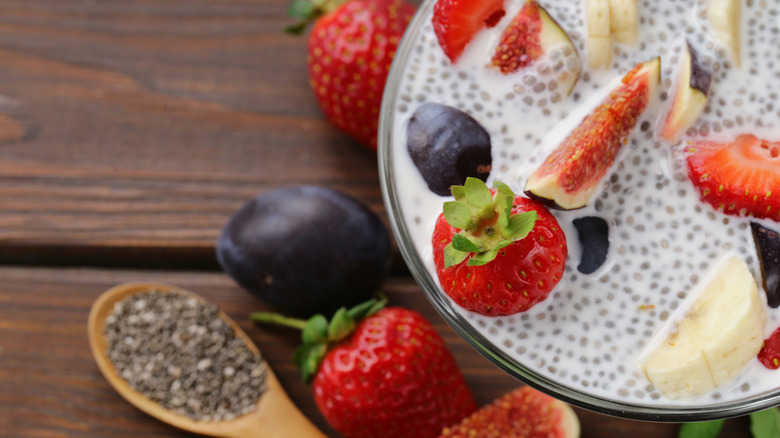 Shutterstock
When she's not starting her day with raw oats from a local organic cafe, Morgan Perry, founder of Yoga Unwined in New York City, loves chia pudding. "Even though they're not massive meals, both provide me with energy for many hours without feeling heavy or groggy after eating them," she said and that's thanks to the combo of nourishing ingredients and high fiber content. She especially loves the superfood boost from ingredients like matcha (green tea powder), maca, and chia seeds, which have all been noted for their variety of health benefits. 
Compounds called catechins in matcha and other green tea, for example, have been studied for their potential to boost brain function, reduce cancer risk, and enhance metabolism. Maca is a root vegetable that is usually used in powdered form. It has been touted for is potential benefit to nutritional health, sexual function, energy, and numerous health conditions. Chia seeds are packed with filling fiber and heart-healthy omega-3 fatty acids.  
Yogurt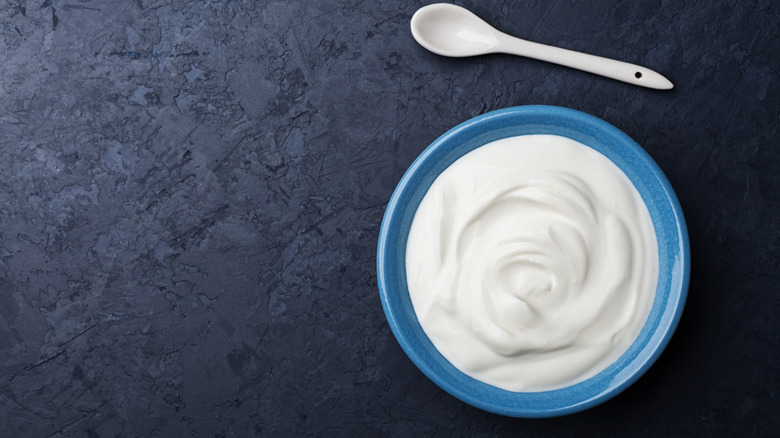 Shutterstock
Erin Motz of Bad Yogi loves a good yogurt bowl in the morning. "I eat plain yogurt with a little spoon of coconut sugar, vanilla extract, a bit of seasonal fruit (peaches are my fave), and a few spoons of low-sugar granola," she told me. "Easy, quick, and filling!"  This combo provides a balance of protein, carbs, and fiber.
After a glass of lemon water with cayenne, Sherrell Moore-Tucker, a yoga instructor from Upper Marlboro, Maryland — who calls breakfast "my favorite meal of the day" — said, "I'll have some yogurt and granola, and maybe an hour later a tall green smoothie made with spinach, mangos, pineapples to keep me naturally energized and alert."
A bowl of cereal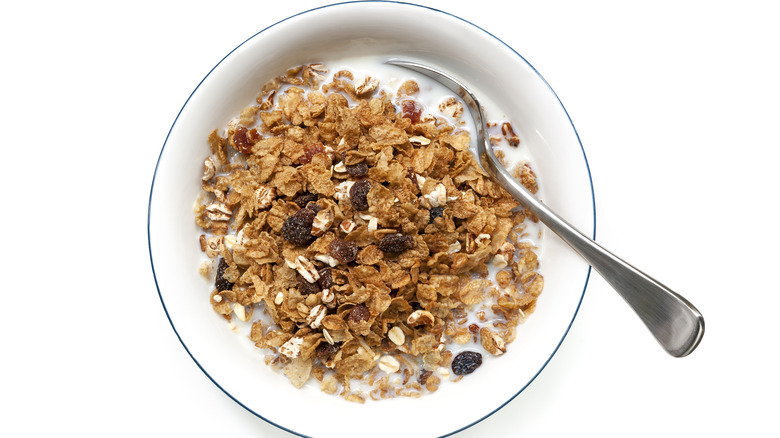 Shutterstock
Gretchen Lightfoot and her husband run and teach at Goorus Yoga, a small yoga in studio in Pacific Palisades, California. Wearing multiple hats at work takes energy. "Because my days are quite long," she says, she eats a bowl of a high-fiber almond flax cereal, which she likes for its staying power and satisfying crunch. "[It] keeps me feeling fuller longer." 
When looking for a healthy cereal option, look for something with less than ten grams of sugar (less than five is ideal), and at least three grams of fiber. Doing one- or two-percent milk will give you a little more staying power than skim, and that little bit of fat can aid in the absorption of certain fat soluble vitamins like vitamins A and D. 
If you're doing a plant-based milk, go for an unsweetened variety and keep in mind that if you do a low-protein option like almond or coconut milk, you may want to up the protein a little by adding some nuts on top of your cereal bowl or planning to have a protein-rich snack mid-morning. 
An English muffin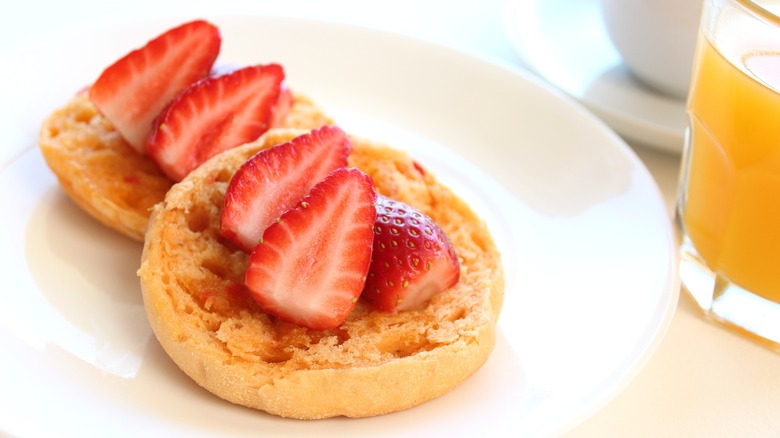 Shutterstock
Jersey Shore yoga instructor and Registered Dietitian Mandy Enright knows the power of a balanced breakfast. "I love a mix of protein and fiber first thing in the morning," she said. "My favorite go-to breakfast is a whole grain English muffin with cottage or ricotta cheese topped with fruit. Simple, quick, and keeps me full through my morning yoga classes because there's nothing zen about a hangry yoga teacher!" Not into dairy? Try nut butter as a creamy, filling spread. 
Breakfast salad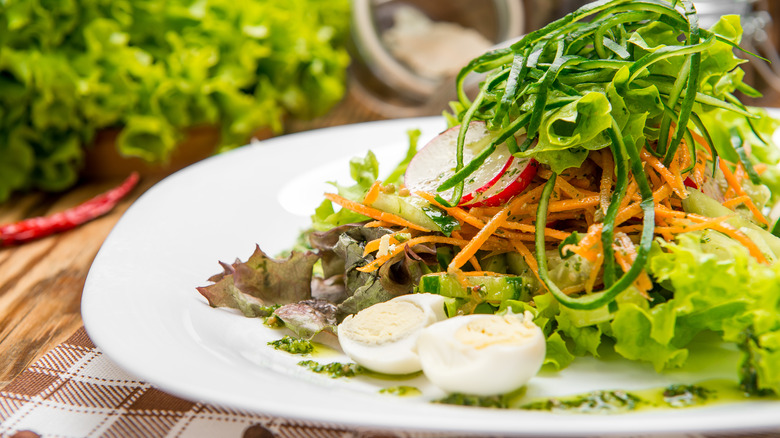 Shutterstock
If you haven't tried breakfast salad before, take a cue from Julie Aiello of Outdoor Yoga SF in San Francisco and give it a shot. 
"If I don't have a smoothie, I usually crave a fresh herb salad. I get the big [five-dollar] box of mixed greens from the grocery store and love it," she said. "It tastes very gourmet and refreshing when I add dill, parsley, and cilantro mixed right in with the greens and two fried eggs on top. I am trying to work my way back to a vegan diet, but I still love eggs for their amazing flavor, nutrition, and solid, grounded energy I feel when I eat them."
Listen to your body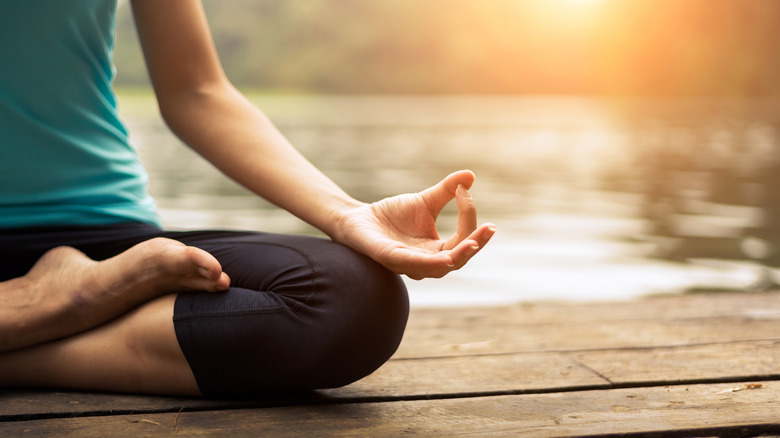 Shutterstock
It can be easy to get caught up in what is the "best" diet or the correct way to eat, but what matters most is that you feel satisfied, stable, and energized both on and off the yoga mat. Pay attention to what works for you and don't worry about what someone else is putting on their plate. The body is smart, so tune in and listen to what it tells you. If you're struggling to find a routine that works for you, make an appointment with a registered dietitian to make sure you're meeting your needs and on the right track to support your health and fitness goals.