Is The Hanni Razor Worth It?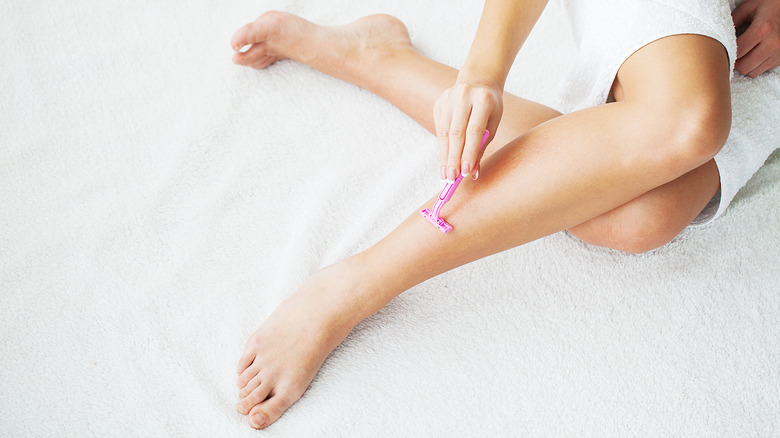 Yuriy Maksymiv/Shutterstock
Disposable razors are quickly becoming a thing of the past thanks to new start-up brands popping up everywhere (via Cosmopolitan). One of the latest eco-friendly blades is Hanni, a weighted razor that has been named the "Best Razor for Ingrown Hair-Prone Skin" by Glamour.
Founded by entrepreneur Leslie Tessler, Hanni was born as a result of Tessler falling down "a straight razor rabbit hole" during a trip to Japan (via Byrdie). Wanting to create something "convenient and functional as possible for the modern woman," Tessler and her team of "beauty industry veterans" launched their weighted razor in May 2021 to major success, per Business Wire. 
A 100% plastic-free razor with 100% recyclable Swedish stainless blades (via Hanni), the weighted razor has totally taken the skincare world by storm and is set to change the women's razor market forever — especially since its 100% plastic-free and reusable. But is the Hanni razor actually worth it?
Hanni's weighted razor is totally worth the hype
According to Byrdie's Amanda Ross, her shave with a Hanni razor was so close that it felt like she'd waxed her legs. Not only that, but she writes that "in the shower, the razor is just as good" noting that the "dolphin-skin feeling it gave [her] is addictive." And as the "weighted razy body applies pressure for you; all you have to do is lazily guide it up your leg." As Hanni notes with illustrated instructions, you literally just have to glide the Hanni single razor against your skin — the body does everything for you.
As Refinery29's Sara Tan notes, the Hanni razor's "extra-long handle with finger indent and grips make it easy to hold and maneuver" meaning you can "shave your underarms and legs without applying any pressure whatsoever." As a result, Tan experienced "the smoothest shave ever — no razor bumps, no irritation, and most importantly, no hair in sight." And if you're a little nervous about using a single blade, Tan writes that the sharpness "gets you a closer shave without dragging against your skin."
Not only that, but Allure's Gabi Thorne says that this sharpness means you don't have "to go over the same spot over and over" resulting in "smooth, nick-free legs" and the concerns that she doesn't think she'll "be going back to a disposable, multi-blade razor ever again."