Donald Trump Is Seeing Red Over This Cancellation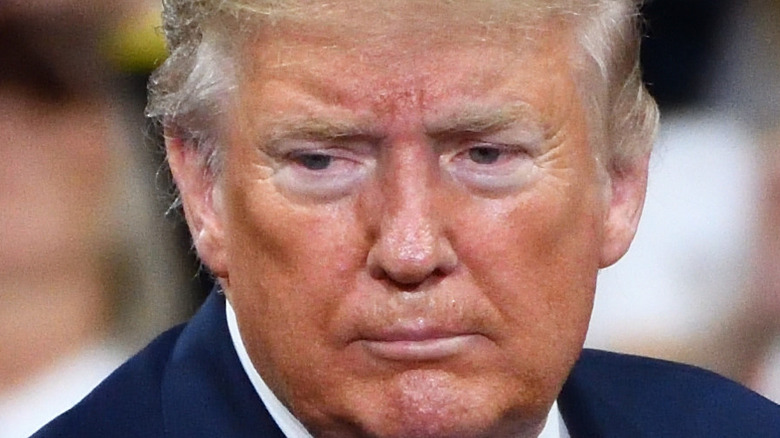 Evan El-Amin/Shutterstock
Former President Donald Trump doesn't have access to speak directly to American citizens or the world like he did when he was in office. After the riot at the Capitol on January 6, 2021, Twitter and Facebook suspended Trump's accounts, leaving him without a direct outlet to post his thoughts (via the BBC).
As a response to losing his Twitter privileges, Trump decided to make his own website and social media platform (via The Verge). The app, called Truth Social, recently launched. It's advertised as a platform that embraces free speech. However, users are already having issues with the app. Many who signed up got a vague error message that didn't explain the issue at hand, but they didn't have access nonetheless. They were unable to use the app whatsoever.
With no Twitter and the struggle with his own app, Trump has resorted to releasing public statements that are then shared through the accounts of his son, Donald Trump Jr. Recently, Trump Jr. tweeted his father's comments regarding the cancellation of one of his favorite networks.
Trump was upset about the cancellation of this news network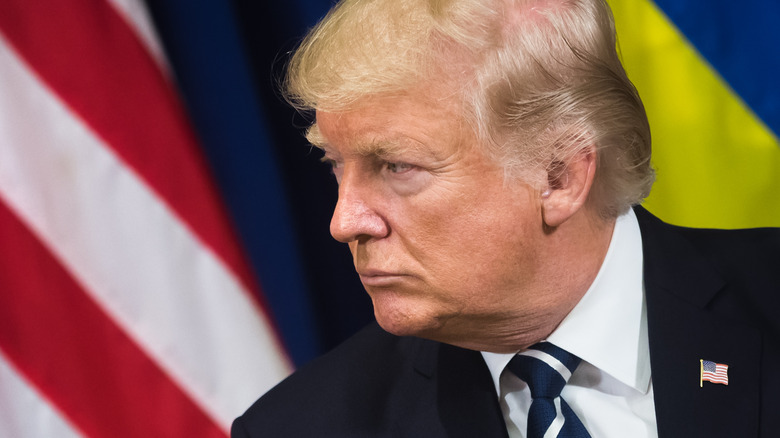 Drop of Light/Shutterstock
Donald Trump made it clear how he felt about the media during his time in the White House. He capitalized the term "fake news" and often used it to describe anyone who disagreed with him (via CNN). "It is amazing what's happening to the discredited media like CNN, MSDNC, New York Times, and Washington Post," Trump said in an August 2021 statement. "Their businesses have dropped off a cliff, which is actually a very good thing for the American people, because they are Fake News (likewise the networks, ABC, NBC, CBS)."
There are a few networks he didn't consider to be fake news, though, and one of them was the conservative-leaning One America News (OAN). According to The Independent, Trump released a statement shared through his son's Twitter account that called for protests against Time Warner Cable and DirecTV, who both chose to drop the network from its services.
"Between heavily indebted Time Warner, and Radical Left Comcast, which runs Xfinity, there is a virtual monopoly on news, thereby making what you hear from the LameStream Media largely FAKE, hence the name FAKE NEWS," Trump's statement read. "It is a very popular channel, far more popular than most would understand, and they are being treated horribly by the Radical Left lunatics running the networks."
His statement concluded with him saying, "Instead of being allowed to grow, their voice is being shuttered. Don't let it happen, cancel DirecTV. If you feel infringed by what this Communist movement is doing, cancel DirecTV!"