How Long Does An Average TikTok Trend Last?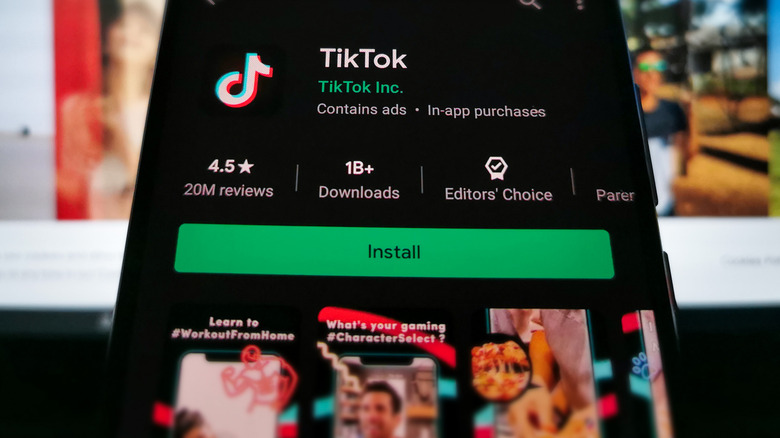 Chi Hin Ng/Shutterstock
Becoming a TikTok sensation overnight may seem simple enough, but there's a lot more to take into consideration. Many TikTokers just so happen to fall into a trend as it's happening, whether that's the "Say So" dance craze that happened after user @yodelinghaley uploaded that routine in 2019 or when Bella Poarch lip-synched to "M to the B," which inadvertently became the biggest viral video of 2020, according to the video sharing site.
While it may have been pure luck that Haley and Poarch managed to create these trends seemingly out of nowhere, there is actually a little logic behind exactly why they pick up so fast. Sometimes it's down to relatively simple reasons, like current events or popular songs, as marketing and analytics site Iconosquare notes. Other trends can originate from challenges that are "easy to replicate," or even just from pure creativity, like the green screen effect.
Evan Horowitz, CEO of Movers+Shakers, explained TikTok's trend-setting abilities during the 2021 Mobile User Acquisitions Show: "The TikTok algorithm is very smart. ... It really does get to know you and what you're interested in." Horowitz added, "So when you're a brand and you're starting a trend, and people start liking, watching your trend, the algorithm is going to show them more things from your trend."
But when a trend starts on TikTok, roughly how long can it actually last for before something replaces it?
Some TikTok trends can last for months if you're lucky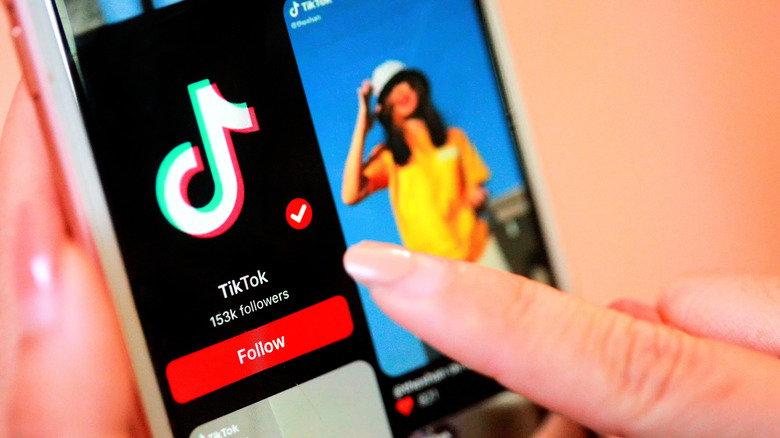 Hareluya/Shutterstock
Longevity and success on TikTok seem to partly depend on the trend. With a popular song like "Say So," the trend lasted for a pretty long time. The song stayed in the charts thanks to re-releases and remixes, as Billboard notes. But with your typical dances, stitches, and challenges, trends tend to last around a week or less, according to online video editor InVideo.
"Trends are going week to week, and sometimes day to day," Evan Horwitz told Bazaarvoice, adding that certain trends might go on for months. "There's a few that are eternal (such as the #SavageChallenge), just like the best of," he continued. "But mostly they're in, they're out. You really have to be close to it to understand what's happening."
There are little things you can do to increase the length of time a trend stays relevant, like utilizing hashtags to an extent that propels your video across the discover tab and onto people's For You pages, as videomaker Boosted by Lightricks notes. As they advise, your chosen hashtags will "depend on your goals, the content itself, and what happens to be trending when you're posting a video."