The Best Personalized Vitamin Subscriptions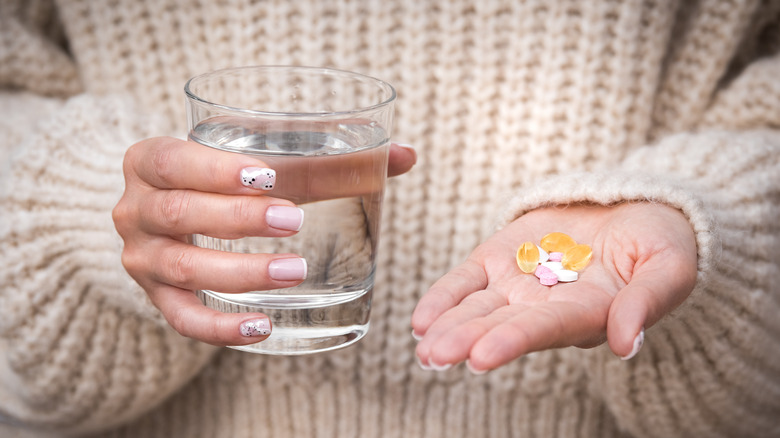 Creative Cat Studio/Shutterstock
We may receive a commission on purchases made from links.
Vitamins and supplements can be an excellent way to optimize your health — that is, if you remember to take them. Luckily, a new niche of vitamin delivery services has arrived on the wellness scene to ensure you are always stocked with your personalized supplements. The convenience doesn't stop there. You'll also get recommendations based on testing, which takes out the guesswork that comes with shopping for vitamins. Bio-individuality, the concept that everybody has unique and different health needs and nutritional requirements, is vital when it comes to supplementing your diet with vitamins. Registered Dietitian of Balance One Supplements, Trista Best, confirms that "with various diet patterns and health needs, most people can benefit from something more personalized" (via Greatist). Therefore, your vitamins should be based on your individual health habits and diet.
With the popularity of the wellness industry and the rise of delivery services comes an overwhelming selection of vitamin subscriptions to choose from. Thankfully, we've done the research for you and found the best, most personalized vitamin services to keep your health on track. We looked through "best of" lists curated by health and wellness editors, along with customer reviews and expert recommendations. In addition, all of our picks are third-party tested and include high-quality ingredients that are backed by research. Read on to learn about the best vitamins that can be delivered to your door!
The best entry-level vitamin subscriptions
Two vitamin subscription brands consistently ranked high on wellness editors' "best of" lists for 2022. The first is HUM Nutrition, which creates non-GMO sustainably-sourced supplements formulated to target specific pain points, such as insomnia, anxiety, bloating, and hair loss (per Healthline). After completing a quick 13-question quiz, they offer a personalized health assessment and vitamin recommendations. If you have follow-up questions about products, your assessment, or just general nutrition, you can contact your assigned registered dietician on the spot (and they'll reply via email in one to two days). Hum's on-demand support from experts gives the user insurance before clicking "check out."
Another excellent option is the women-owned brand Ritual, known for its high-quality vegan, non-GMO, and common allergen-free multivitamins. Verified users claim that they love the brand's transparency and that "everything is sourced with such integrity and responsibility." Byrdie rated Ritual the best vitamin subscription for women in 2022 because of their straightforward selection of science-backed multivitamins that include formulas such as Multivitamin 18+, Multivitamin 50+, Prenatal Multivitamin, and Postnatal Multivitamin. But the company has recently developed essentials for men, teens, and kids as well, so the whole family can reap the convenient benefits of Ritual's multivitamins.
The most comprehensive vitamin subscriptions
For a truly personalized experience, there are vitamin and supplement subscriptions that offer a blood analysis reviewed by registered dietitians before recommending your lineup of supplements. Although this service is more expensive up front, you'll receive highly accurate recommendations, which we think are worth the extra cost for your long-term health. Baze is a front-runner in this category, which utilizes an "at-home blood collection and certified lab analysis for 11 essential nutrients." The company claims to eliminate 73% of nutrient deficiencies in three months by following their supplement and diet recommendations. Users enjoy the additional nutritional tips, sharing, "I love that Baze has created a food guide that educates you on how nutritional supplements and food go hand-in-hand" (via CNET).
In addition to a blood sample and lifestyle data, vitamin subscription brand Rootine also takes info from your DNA to assist in their health analyses. The company is linked with popular sites like 23andMe and Ancestry.com, where you can upload your previous results or take a new test for $99 (per Byrdie). The DNA tests can analyze over 50 different gene variants proven to influence nutrient needs. The advanced technology behind Rootine doesn't stop there. Their microbead nutrient delivery system is clinically proven to get you the exact vitamins you need in the correct dosage. Each customer's personalized vitamins are perfected down to the milligram or even microgram, ensuring you never get more or less than you need.