How To Properly Protect Your Hair From Heat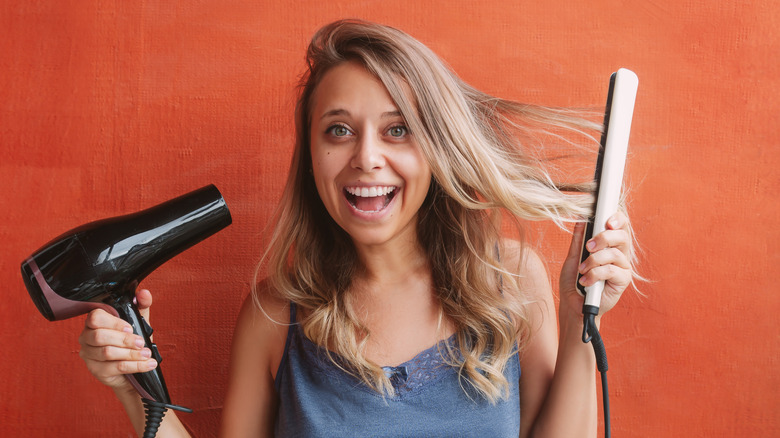 Marina Demeshko/Shutterstock
We may receive a commission on purchases made from links.
Nowadays, it is super easy to change the texture of our hair with simple tools, hair products, and a little skill. Remember the part in Louisa May Alcott's novel "Little Women" when Jo was curling Meg's hair with a hot iron (sounds dangerous) and burned a chunk off? That would be traumatizing for any woman. Thankfully, modern technology has given us safer options to style our hair. Now, with the right flat iron or curling rod, we can instantly change how our hair looks. Born with straight hair? You can add waves, and if you have super curly hair, a ceramic flat iron can give you sleek, straight hair with a couple of passes. You damage your hair with heat, whatever hairstyling tool you use, even a hair dryer. Though you get the hair your heart desires, any hairstyling tool can "dry out your hair cuticle and change the structure of your hair proteins," per Healthline. It doesn't take a genius to notice heat damage because you will notice your hair loses shine and strength, and it looks overly dry and is prone to hair breakage. Of course, if your hair is severely damaged by heat, your only solution might be to cut it all off. But there are ways you can reduce heat damage, protect your hair, and keep it looking and feeling healthy with some useful tips.
Tips to keep your hair healthy despite heat damage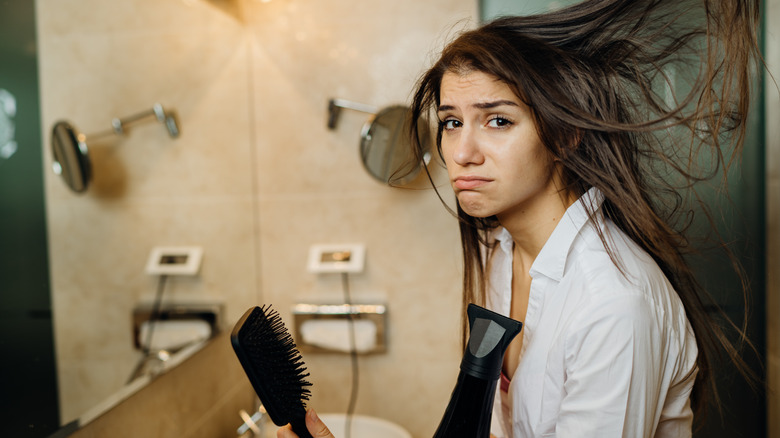 Eldar Nurkovic/Shutterstock
Of course, you could stop using all styling tools to protect your hair from heat damage, but if you don't want to say goodbye to all your favorite hair tools yet, you can try these tips for hair health. One of the most important things is paying attention to how hot you let the tool get. "It's important to adjust the heating settings accordingly," celebrity hairstylist Jennifer Yepez told The Zoe Report. Different hair textures need different heat settings because it is "not a one-size-fits-all," she continued. If you have fine hair, keep it at 250 degrees or lower. Mitchell Ramazon, another hairstylist recommends 250 to 275 degrees for "fine wavy/curly hair," and not go over 350 to 400 degrees for "coarse wavy/curly hair," per The Zoe Report.
Using heat protectant products on your hair before styling would be wise. Allure recommends Redken Extreme Play Safe Heat Protection and Damage Repair Treatment because it has "hair-strengthening plant proteins and smoothing tourmaline" to provide protection "while helping to prevent and lessen the appearance of split ends." It's inevitable that you will damage your hair using heat to style it. Buzzfeed recommends using "a coconut oil hair mask" to prevent heat damage. There are amazing hair masks available in the market for heat damage. Glamour recommends Chi Argan Oil Rejuvenating Masque, a perfect deep-conditioning mask if you have "dry, damaged ends from years of heat styling."