Trevor Noah Responds To The Kanye West Grammy Controversy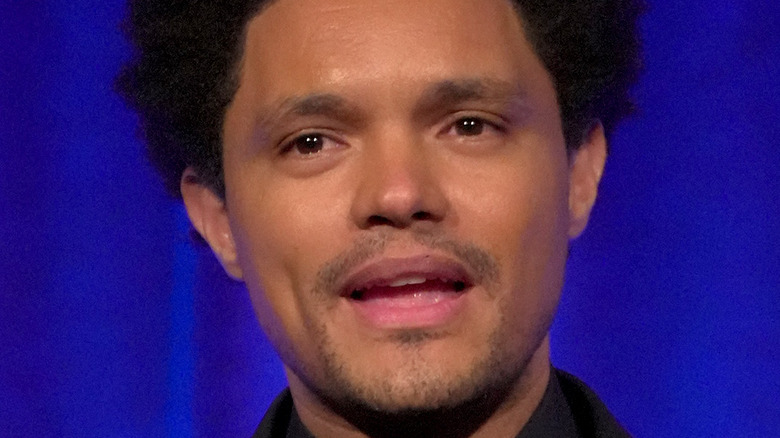 Kevin Mazur/Getty Images
Comedian and talk-show host Trevor Noah is no stranger to trouble. As a child in South Africa, he faced discrimination for being biracial, trafficked stolen goods to earn money for school, and fought with his abusive stepfather, per Biography. But even he probably could never have imagined the day he'd earn the ire of a legendary rapper.
During the March 16 episode of "The Daily Show With Trevor Noah," the host took time to comment on the ongoing drama surrounding Kim Kardashian and Kanye West. Noah explained that the situation had gone from mere tabloid entertainment to something far more troubling, citing Ye's mental health issues and his persistence in shading his ex-wife and her new boyfriend, Pete Davidson. West's behavior, Noah asserted, borders on domestic violence, a subject he knows well. His stepfather tried to kill his mother and she fled. "Kim likes publicity. Kim is also being harassed. Those things can be happening at the same time," the host said. "And all I'm saying is, if Kim cannot escape this – Kim Kardashian — then what chance do normal women have?"
This public call-out didn't sit well with West, who responded by creating an Instagram post with Trevor's image and a caption with racial slurs. The offensive content cost him a day's suspension from the platform, according to TMZ, plus an even bigger shocker — The rapper was scheduled to appear at the Grammy Awards, but Variety he was pulled him from performing "concerning online behavior."
Trevor Noah didn't want Kanye West taken off the Grammys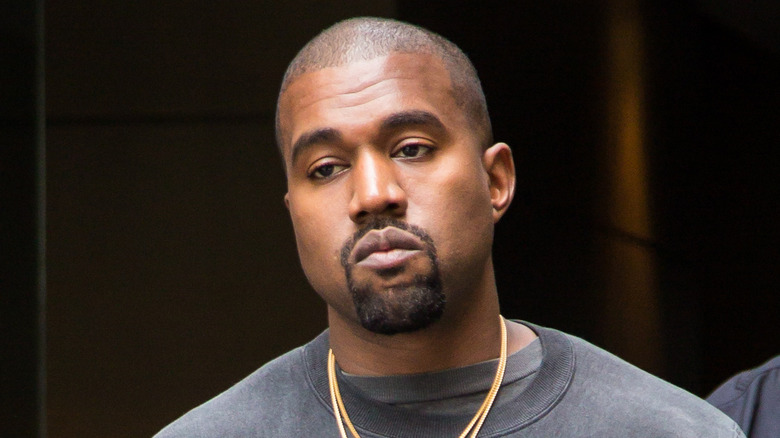 Liam Goodner/Shutterstock
Kanye West's offensive online slap at Trevor Noah was part of the reason producers decided to take him out of the 2022 Grammy Awards lineup. But Noah doesn't agree with that decision. On March 20, Noah posted to Twitter, "I said counsel Kanye not cancel Kanye," he wrote.
Noah had expressed his concern over the rapper's state of mind during his "Daily Show." Referencing West's now-infamous "Eazy" video that portrays Pete Davidson being buried alive, Noah said, "Kanye West has told us that he struggles with his mental health. So I get it. You want to have art as therapy. But, with Kanye, we don't know how to feel, we don't know how to worry. He goes, 'Oh, leave me to create my art.' Yeah, but Kanye, you told us you have problems. Now when we worry about that, you say we shouldn't worry, because it's not problems? Or it is problems? Which is it?"
Noah's followers had mixed opinions about his tweet. One thought the Grammy producers' decision was fair. "Counsel yes, but punishment for dangerous behavior isn't being 'canceled.'" It's accountability," one remarked. "Performing at the Grammys is not a fundamental right." One of the fans siding with Noah said, "It's amazing to me that in this age of reduce, reuse, and recycle, we are all so quick to throw away a human being."