How To Style A Short Wedding Dress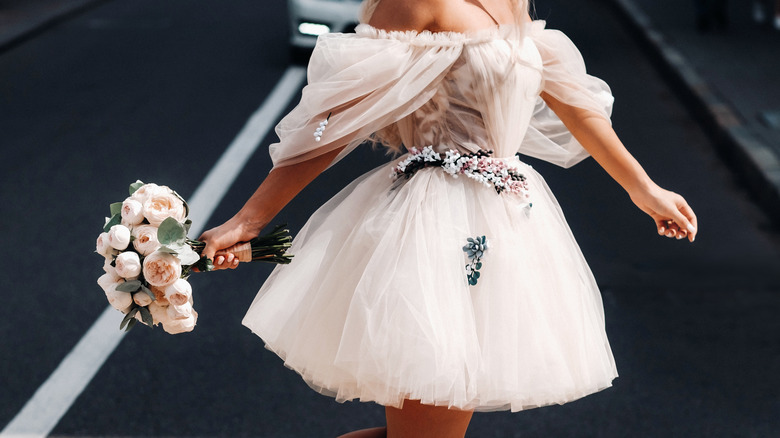 Lobachad/Shutterstock
Fashionistas know that mini dresses are on-trend right now — and they're not going anywhere anytime soon. According to The Zoe Report, miniature versions of everything in fashion are currently trending, and even name brands like Chanel and Versace have taken inspiration from this fad. We've seen mini dresses in every color and pattern you can think of, which means there's one for every occasion. In fact, the mini dress has even made its way to the bridal industry, as brides are increasingly choosing shorter styles over more traditional long gowns.
Some of the most stunning wedding dresses you'll find are short and stylish. While a short wedding dress may not be the ideal choice for a more conservative wedding, Inside Weddings reports that there are some benefits to rocking this fun, modern style. For example, shorter dresses make it easy to dance and walk around, so you won't have to worry about tripping over your dress on your big day. The outlet also notes that shorter dresses tend to be cheaper than their longer counterparts, and are appropriate to wear to other celebratory occasions beyond weddings. So, if you're considering a short style while wedding dress shopping, keep scrolling for some of the best options around.
There are short wedding dresses for everyone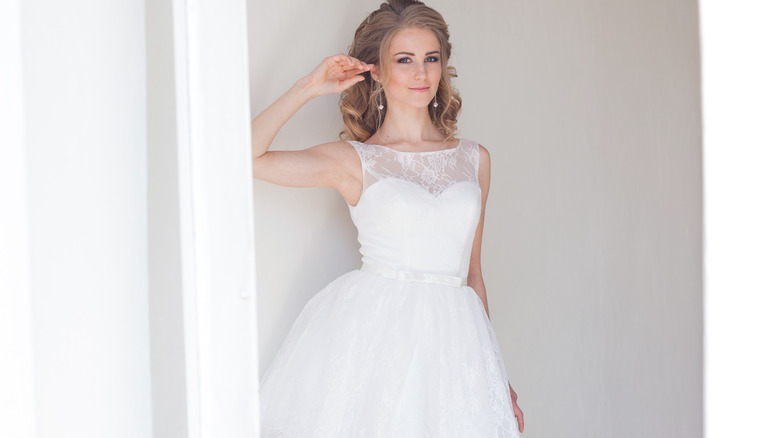 DMITRII SIMAKOV/Shutterstock
Short wedding dresses are so cute, and the styling options are endless, as noted by Martha Stewart. For example, short dresses are typically sexier than long gowns, so why not lean into that sexiness with a partially sheer wedding dress? Self Portrait sells a variety of charming styles, making it a great place to start your search. Alternately, brides who love the fit-and-flare style might prefer a more sophisticated, modern version from the likes of Oscar de la Renta.
But with so many shorter wedding dresses available to you, what's the best way to style the look? Per Brides, those with a bohemian, whimsical flair might opt for something like the Pixie Silk Mini Dress by Watters. The dress is currently available at Anthropologie for $260, and its open back and front bow combo are sure to make you look like a magical fairy on your big day. While some people may think of short dresses as provocative, there are plenty of sophisticated ways to rock the look. For instance, balance out your bare legs with extra coverage on top. Net-A-Porter's Huishan Zhang Reign feather crepe mini dress comes complete with a high neckline, opaque white fabric, and long, embellished sleeves — offering a mature vibe without too much stuffiness. Also available at Net-A-Porter is a dress for brides who want to sparkle: Retrofête's Claire belted sequined chiffon mini dress. With its plethora of shiny sequins, this sexy dress calls for dancing and fun times.
Some of our favorite short wedding dresses have plenty of personality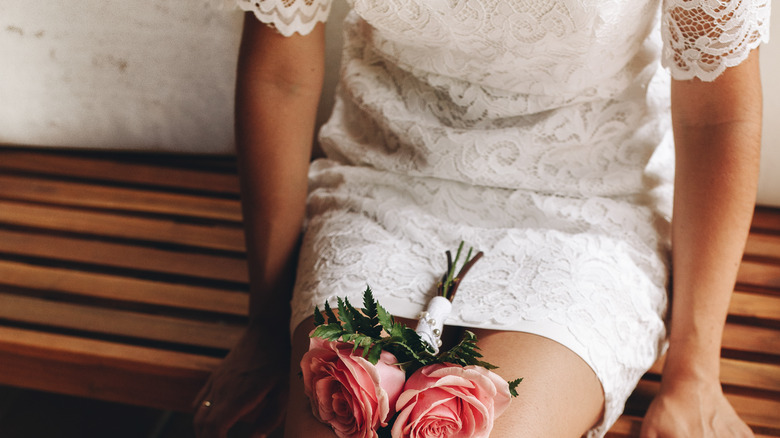 EGHStock/Shutterstock
If any of the above options aren't your style, Harper's Bazaar has no shortage of gorgeous short wedding dresses. For example, anyone obsessed with bows will love Emilia Wickstead's Drusilla bow-detailed cloqué mini dress. With its huge bow on the back, the piece is perfect for brides who want to make a statement. Another way to leave a lasting impression is with the Kira stretch-cady mini dress by Alex Perry, which features a seductive back cut-out. And for those brides who tend towards the theatrical, there's the Vampire's Wife's Anastasia ruffled Leavers-lace mini dress. This vintage-esque dress is currently on sale for $756 at Matches Fashion — and we're obsessing!
That's not all. Brides who enjoy lace and cropped dresses can get the best of both worlds with the ASOS EDITION Gigi crop top lace mini dress. Anyone on the hunt for a minimalist style is sure to love Galvin's white satin halterneck mini dress, which is currently available at Net-a-Porter. (Bonus: it's also perfect for a rehearsal dinner dress!) No matter your preference, there's truly a short wedding dress for everyone.