Kate Middleton Shows Off Her Flirty Side In New Video From Belize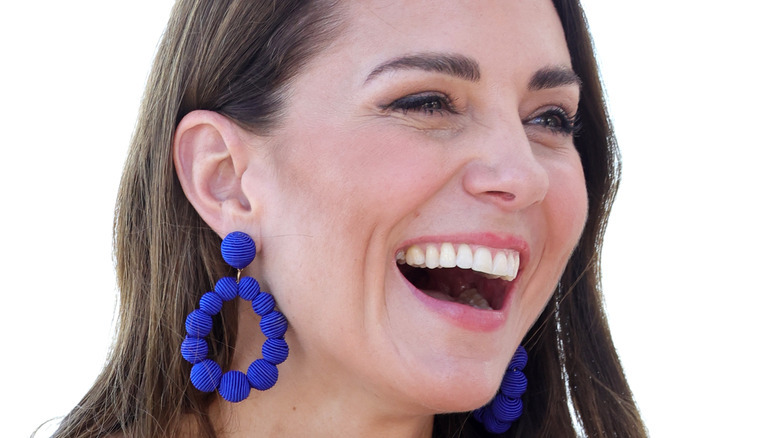 Chris Jackson/Getty Images
The Duke and Duchess of Cambridge are making a splash on their Caribbean excursion. After over two years of the COVID-19 pandemic so far, this trip marks a much-anticipated royal return to travel. Besides honoring 70 years of Queen Elizabeth's reign as part of the monarch's Platinum Jubilee, the tour is also Prince William and Kate Middleton's first joint appearance overseas in two years (via Town & Country).
"As well as thanking the people of Belize, Jamaica, and the Bahamas for their support, across this eight-day tour, the Duke and Duchess's program will focus on celebrating the rich cultures that are unique to these three countries," palace spokeswoman explained, per People. 
So far, these learning experiences have included a visit to a cacao farm, a Garifuna cultural exhibition, and a meeting about conservation and protection of the barrier reef in Hopkins, Belize (via People). The royal couple's visit has been full of fun. In fact, besides impressing the world with her breezy, beautiful style, Middleton is also generating headlines with her dance moves.
Kate generates buzz on the dance floor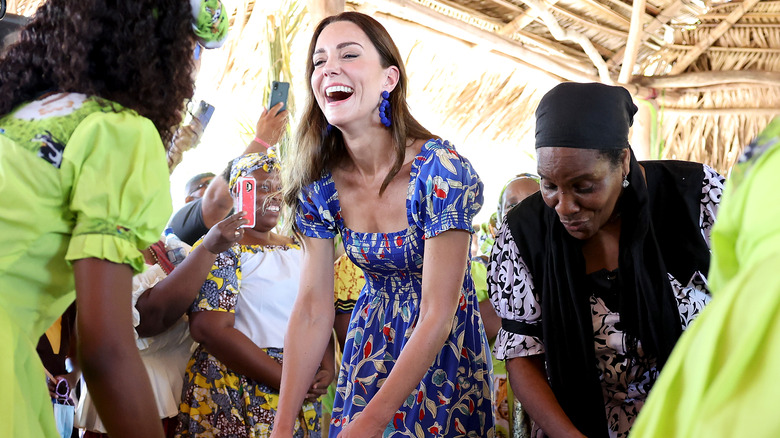 Chris Jackson/Getty Images
Prince William and Kate Middleton impressed the residents of Hopkins, Belize ,with their dancing. As part of their visit, the Duke and Duchess of Cambridge were introduced to punta, a type of Garifuna music and dance that features a blend of drums, maracas, and singing (via Island Expeditions).
In a video posted to a royal fan account on Twitter, Middleton is shown sashaying over to her husband at the Garifuna Cultural Centre, while her summery dress dances and floats with her. The video generated a lot of enthusiastic comments. "This is both super cute and super funny, they are a perfect match," one fan said. Other fans speculated about the possibility of another royal baby. Another fan observed, "Looks like they had a great time, and of course fitted in very well and much enjoyed by all whom they visited."
The royal couple is known for making a good impression wherever they visit, and this time was no exception. According to People, Cynthia Ellis-Topsy, the Garifuna nation's ambassador at large, took Prince William's hand and got out on the dance floor. Middleton was a little nervous initially, but she received encouragement from the Light of Hopkins dance group, a troupe of teens who were participating in the event. Laura Cacho, one of the event's hosts said, "[The duke and duchess] really know how to dance. They took the culture from me and I didn't need to teach them. They're so good at it."