Jenny And Dave On Their Brand New Rock The Block Experience - Exclusive Interview
HGTV's "Rock The Block" has returned for Season 3, with four pairs competing for the best home renovation. This season, the contestants are renovating identical properties in Greater Charleston, South Carolina, with a $225,000 budget. Judges select a winner for individual spaces each week, with an overall winner at the end of the show gaining bragging rights and a street named after them. The competitors include Leslie Davis and Lyndsay Lamb of "Unsellable Houses," Keith Bynum and Evan Thomas of "Bargain Block," Egypt Sherrod and Mike Jackson of "Married to Real Estate" and Dave and Jenny Marrs of "Fixer to Fabulous."
In conjunction with the new season, Dave and Jenny Marrs sat down for a chat with The List. During their exclusive interview, the couple discussed the differences between "Rock The Block" and their show "Fixer to Fabulous" and what their experience was like in the competition. They also shared details on their new HGTV series, "'Fixer to Fabulous: Welcome Inn."
Why they said "no" to a TV show at first
HGTV
How did you two first start renovating homes together?
Dave: I started a construction company in Arkansas here in 2004, and about 2010, I realized that I was terrible at design. Jenny, she'd been designing all of our projects, designing other things, and combined forces. Since 2010, we've been working together. We got this amazing show opportunity ("Fixer to Fabulous") in 2017, and yeah, it's been one episode at a time from there.
When you first started, did you ever envision that it could lead to you getting your own show or going on this "Rock The Block" competition?
Jenny: No.
Dave: Not at all. We actually said no a couple of times when asked to do the show, and then finally kind of thought about it, prayed about it, and decided, "Hey, let's try this," just not thinking it would ever really go anywhere. And yeah, here we are, getting ready to start Season 4. So it's been very humbling. It's been very fun, very exciting, a lot of new people, and yeah, it's just been a great experience.
Was there any particular reason at first why you were hesitant to start it?
Jenny: Yeah, so many. Once you put yourself out in the public eye, you're opening yourself up to scrutiny and all of the people's opinions. Really, we were most concerned about protecting our kids, making sure that ... We didn't want anything that would interfere with their childhood. We wanted to be really careful in making that decision, because it's not just something we were doing, it would also impact our children and our family. We wanted to make sure it made sense for us, and we had the right production company, and we felt really good about the work that was being done and being put out in the world.
What it was like relocating to South Carolina for Rock The Block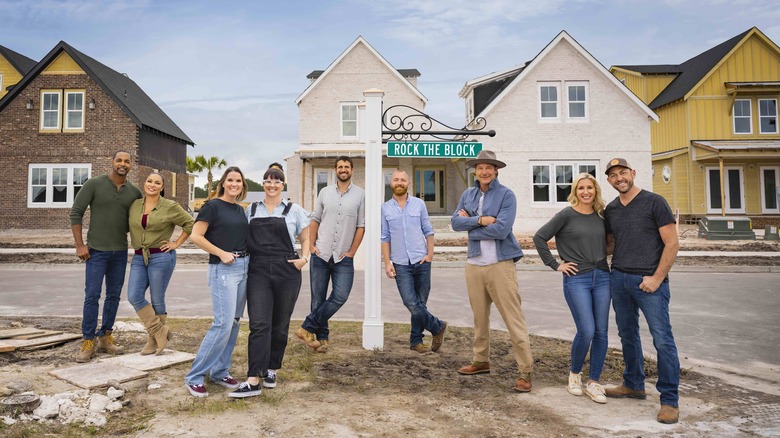 HGTV
With your kids, for this "Rock The Block" show, you guys had to relocate for a while to South Carolina. What was that like?
Jenny: Yes. Oh, it was –
Dave: It was hard.
Jenny: It was hard. We actually brought our kids with us, and they did virtual school. Their school was amazing, and they worked with us, and they helped us to make that happen for our kids. We brought our sitter with us as well, because they're comfortable with her. She was there with them for our super long days of filming. They had a great time because they would go to school, they would do their schoolwork, and then they'd get to go to the beach or explore.
They really had a lot of fun. We were pretty much working at the house all the time, but we did have some days off. When we did have time off, we went to the beach a lot; we went to the aquarium; we explored in downtown Charleston. We really had a really fun time together there, and we loved it. We loved the area. We loved getting a chance to live somewhere else for a little bit of time. It's something we looked at as a once in a lifetime opportunity, and we tried to really soak it up and enjoy it.
The biggest differences between Rock The Block and Fixer to Fabulous
With this show, "Rock The Block," did you feel like there were any big difference between filming that versus "Fixer to Fabulous?"
Jenny: Everything.
Dave: Everything was so different. Number one, you're out of your comfort zone. Here in Arkansas, even though Jenny and I, we physically do a lot of the work and we are the contractors, we have our network. We have our subcontractors; we have our people that we can call if we need something done quickly or done a certain way. In Charleston, it was just us. You know no one, and you're trying to figure out all of these things that we can do in our sleep in Arkansas, trying to figure them out in a new town.
Jenny: Where to even get furniture, everything. You didn't have your workshop. Also, we weren't designing the house for a specific homeowner like we normally do at home. We were designing this house, and it was very different in the sense that the show is based on appraisal value, where for us, we only are concerned about making a home perfect for a family that lives there. That's what we do in real life. We don't care about appraisal value as much because these are forever homes that we're creating.
Jenny: It's a very different mindset, and not necessarily one that we liked, because appraisal value has no soul. The appraisal value is square footage. To us, we were like, "Oh, let's not really worry as much." We really went into it not worried as much about the appraisal value. We were really focused on creating a really beautiful, well-built home that someone could really move into and love. That was our top goal the whole time.
Their relationship with their competitors
[With] the competition element of the show, did that kind of change how you approached it at all?
Jenny: Yeah, it was hard.
Dave: I'm a really competitive person. I feel like we're both, we want to win. And-
Jenny: You more so.
Dave: Me more so. When we started this competition, I didn't realize that there were other people that were just as competitive, if not more competitive than me, on the block. It was tough, and it's hard. I guess we get judged by the homeowners that we finish these houses off for, but it was a different kind of judging. This was our baby. This was something that we worked on day and night. To have someone come and say, "Eh, I don't really like the color. I don't like this or that," you're like, "You better not be talking about my house like this." It was very different.
Jenny: It was hard.
You said that there were some teams that were just as competitive as you. Did you feel like there were specific ones who were really going for it?
Dave: Oh my gosh, yes. Egypt and Mike are super competitive. Mike and I, right off the bat, we had a little competition going between the two of us.
Jenny: But in a friendly way.
Dave: Then Egypt surpassed all of us. She was like, "I want to win this. I've got this."
Jenny: Yeah, but I think towards the end of it, it really didn't take long, a couple of weeks in, we had all become really good friends, and we respected one another so much because everyone was there working really hard. It also became hard because we wanted to win, but we also wanted everyone else to win. We were so genuinely happy when someone else won, for them, because we knew how hard everyone was working. When we won one time, [with] the kitchen, we're like, "Oh, but everybody else's kitchen was great, too. Sorry guys." It built on that every week where we all genuinely respected one another and really were cheering each other on. Even though we all individually wanted to win, we were also very happy for one another.
Dave: It was really good. Before the final reveal, we got to, as teams, go tour all the other teams' houses. That was like a full-circle moment where you're like, man, the same houses when we started, all four of them are so different but so unique and creative in their own ways that I have so much respect for all of the other teams.
How they started Fixer to Fabulous Welcome Inn
Youu guys also just had a new series premiere, "Fixer to Fabulous: Welcome Inn." What made you guys want to take on another huge project on top of everything else you're doing right now?
Jenny: It wasn't very smart.
Dave: We're not very smart. That's it.
Jenny: We actually found the house. We just, earlier last year, found out about this house, and we fell in love with it. We were like, "We've got to renovate this house." We didn't know when we would do it. We were going to figure out a time, and we made the mistake of mentioning to our producer that we were going to renovate this house. She was like, "Oh gosh, we have to film it. Let's do it." We were like, "Well, no, no, no. We were going to do it quietly on the side, but okay." They ended up coming along for the ride with cameras, and it created this whole other thing that we really did not at all plan for. It happened naturally and organically.
Dave: We've only seen the first episode. We don't get to see any of these episodes before they air. I was hoping [for] what I saw in the first episode, that it's a deeper dive into ... We're professionals in this. We've been doing this for a long time, and we still make mistakes all the time. We misjudge how much work something's actually going to be. I think this show follows ... You know, everyone sees these homes that we do for homeowners in a 43-minute episode that really takes us six to eight weeks to do. This is not something that is like a weekend warrior thing. It takes a long time. This gives a more in-depth look at what really goes into these remodels.
The biggest challenge on their inn remodel
In that first episode, you guys found out there's a bee infestation. Do you feel like on a lot of your home renos, there's kind of a surprise like that which you didn't see coming?
Jenny: Not all the time. Typically, it's in an older home, usually you're going to have something go wrong. You will. You know that it's part of it. This house in particular, and some other houses that we've done, had been sitting empty for many years and hadn't been cared for. We knew there would be issues. We had an inspection, but you don't know. We had no idea because until you open up the column, or the walls, or whatever it may be, you don't know what the extent of the damage is until you open that up. You don't do that during an inspection. You're taking a chance anytime you're working on a really old home that, has not been cared for as well. That's a double whammy.
Dave: I'm going to tell you upfront, had I known that the bees were that big of a problem, I'm pretty sure we would not have bought it. I thought buying it that, okay, we'll remove the bees, we'll take care of infestation, and we've got a structure there, and we've got columns there. We were so close to losing the entire roof of that house and everything collapsing. I'm so thankful that we didn't and that we got everything fixed and taken care of. It was more than I ever thought it would've been.
Watch Dave and Jenny Marrs in "Rock The Block" Season 3 airing Mondays at 9 p.m. ET/PT on HGTV and streaming on discovery+.