Twitter Has Some Thoughts About Barron Trump's Sweet Sixteen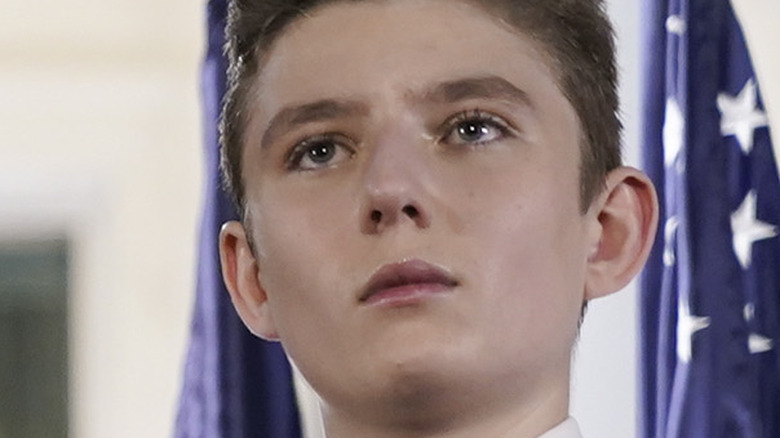 Bloomberg/Getty Images
Though Donald Trump is no longer in the White House, he and his family are often in the headlines. Trump, who is a father of five, has had his children along for the ride throughout his entire political career (via Business Insider).
His eldest children, especially Ivanka Trump and Don Jr., have become media fixations in their own right. Working alongside their father while he was president, the pair have even been ordered to testify in a fraud case against him. (via People).
Of Trump's children, his youngest, Barron Trump, has spent the most time out of the spotlight. He was young when his father became president, therefore, many outlets wanted to keep his name out of the press (via The Wrap). As he's gotten older, though, more people seem to think that criticizing him is fair game. 
Twitter had a lot to say about Barron's reaching the milestone age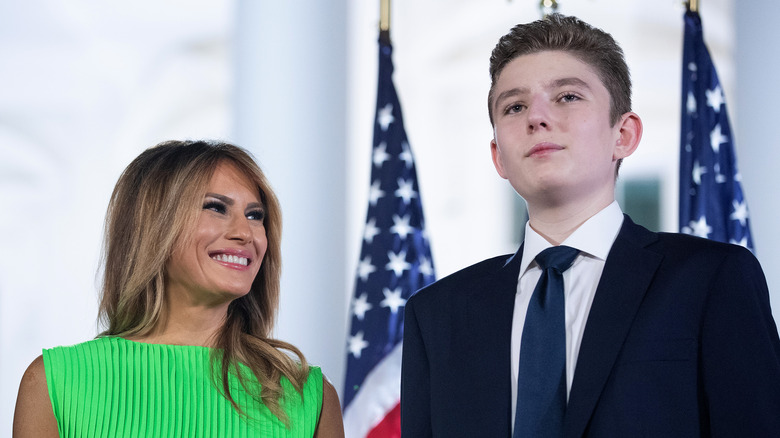 Chip Somodevilla/Getty Images
Last year, the former first lady and Barron's mother, Melania Trump, sent out a photo on Twitter of balloons in the shape of the number 15, and the caption read "Happy Birthday BWT" with a few emoji hearts (via People). Twitter users weighed in quickly, both criticizing the post and defending the Trump family. This year, for his sixteenth birthday, a similar reaction could be seen.
There were mixed opinions surrounding the youngest Trump's birthday on Twitter. Some fans reacted cheerfully, having watched Barron grow from a child to a teenager (via Hollywood Life). "Happy 16th Birthday to Barron Trump!" author Nick Adams shared on Twitter with a photo of Barron and Melania. "Happy Birthday to a fine young man," replied one person. 
However, not everyone on Twitter was celebrating the former president's son. One Twitter user wrote, "It's Barron Trump's birthday. Obviously, he will grow up to be a 'normal', well-adjusted, and positive role model like his siblings" paired with a photo of him as a baby surrounded by gold. Another person quote tweeted them, writing, "Poor Barron. Unfortunately, we don't choose our parents."