Mike Cabellon Reveals What Drew Him To Audition For Mr. Mayor - Exclusive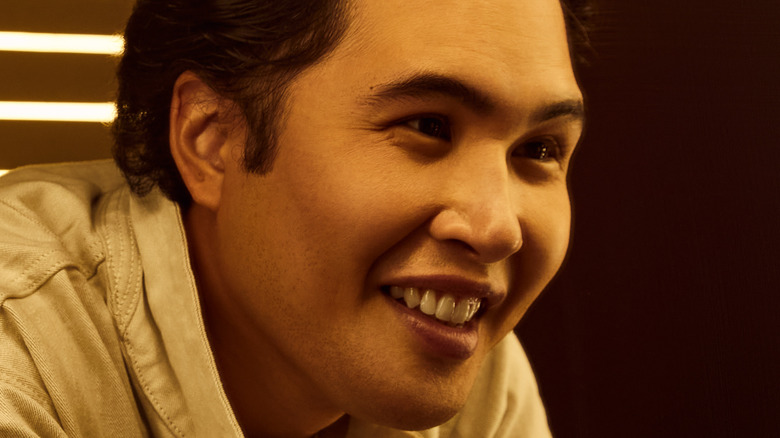 Storm Santos
Mike Cabellon, co-star of NBC's "Mr. Mayor," wears a lot of hats in Hollywood. Besides his role in "Mr. Mayor," he's part of the award-winning sketch comedy team GEIL, does occasional solo stand-up comedy performances, and writes, produces, and performs for the award-winning children's entertainment collective Story Pirates, according to NBC. In short, he's made a name for himself not just for his comedy chops but for his versatility — he's just as comfortable and creative behind the camera as in front of it, and as known for his live performances as for his online and TV presence.
But his role on "Mr. Mayor" — his first regular prime time TV role — has given him his highest-profile role yet, and he's enthusiastic about the show's second season. Like every rising actor in Hollywood, Cabellon sees a lot of scripts and roles he can potentially audition for, and not all have a lot of promise. But "Mr. Mayor" immediately caught his attention. Here's what drew him to "Mr. Mayor — and why he knew the show was exactly the opportunity he'd been waiting for.
Mike Cabellon relished the chance to work with — and learn from — top comedians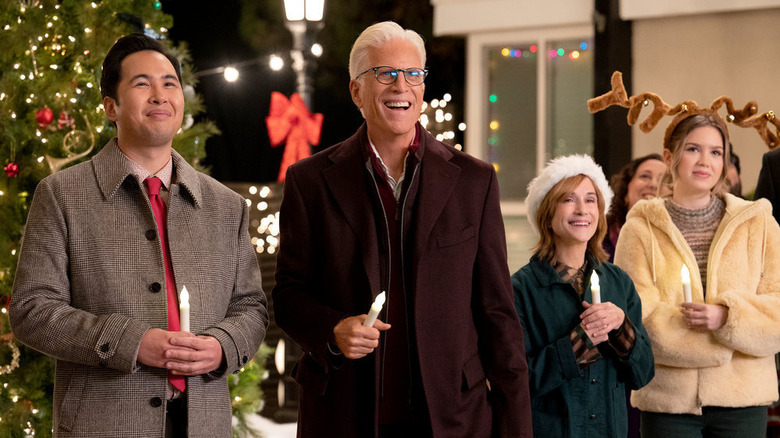 Colleen Hayes/NBC
When Mike Cabellon first saw the script for "Mr. Mayor," the high-powered names on the first page immediately jumped out at him. "You get a script and on the front page it says 'written by Tina Fey and Robert Carlock,' and you're like, 'Well, I'm already in.' And then they're like, 'And with Ted Danson, and Holly Hunter, and Bobby Moynihan.' And it's like, 'I would've agreed to play anything in the show,'" he said. "I just wanted to work with these people."
Once he got the role, he was surprised and delighted at how easy and pleasant it was to work with his famous fellow cast members — and how much he's learned just from working with them. "I think, pretty immediately, like when we were shooting Season 1, all of that fear and apprehension I had about acting with them kind of went out the window because they went out of their way to make me feel welcome and comfortable right off the bat, because that's who they are as people," he said. "They're both just so generous with their time. And they're great scene partners. Acting with them is a masterclass."
He loved that his role in Mr. Mayor challenged his skills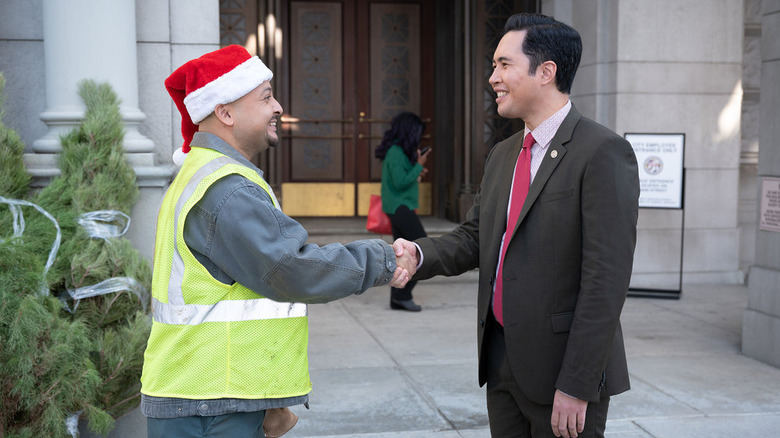 Colleen Hayes/NBC
As an accomplished comedian and lifetime connoisseur of comedy, Mike Cabellon has little interest in stuffing his resume with mediocre roles. But after reading too many meh scripts, Mike Cabellon found the writing and humor in "Mr. Mayor" really stood out. "I enjoy that it's a smart comedy, if that makes sense," he said. "For someone at my point in their career that I don't have a ton of leeway with which roles I can choose, and so sometimes you get a script and you're like, 'Oh, this is a comedy, but it's not funny.' Or it's a comedy, but it's low hanging fruit. And so Tina Fey and Robert Carlock obviously have this long resume of wonderful, great, smart comedies."
He also liked that the writing in "Mr. Mayor" challenged him to not only do his very best work, but further develop his skills. "To get a script and be like, 'Okay, there's a hundred jokes on this page. I've got to figure out how to land this plane' is the kind of professional challenge that I think anyone in any field would relish," he said. "It's like, 'Okay, this feels like an appropriate thing that I am going to enjoy trying to tackle.' So I like that I get to be funny in a way that is also engaging to me."
New episodes of Season 2 of "Mr. Mayor" air on Tuesdays 8:30/7:30 Central on NBC.