Inside The Queen's Latest Eyebrow-Raising Business Venture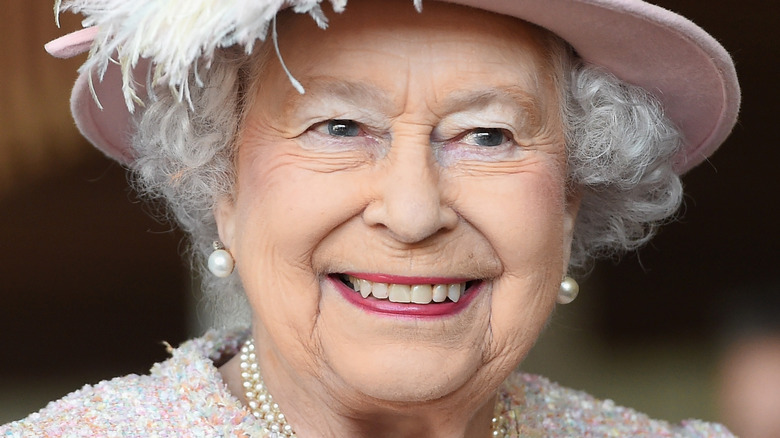 Stuart C. Wilson/Getty Images
While Queen Elizabeth is used to being treated like royalty and lives an insanely lavish life, insiders say that her majesty is actually down to earth in many ways. For example, with the exception of her annual televised Christmas speech, Elizabeth does her own makeup every day. And when she travels from Buckingham Palace in London to her beloved home in Sandringham, the queen chooses to take public transportation — and even pays for her own ticket (via Us Weekly).
In her downtime, Elizabeth enjoys spending time with her beloved dogs, collecting stamps, gardening, and riding her horses (via British Heritage Travel). But her main focus is on spending time with her family, including snapping photographs of them throughout the years. In fact, the pictures are so dear to her that she travels with them. "Her monogrammed leather navy albums of the pictures she has taken of her travels and her family and pets travel with her wherever she goes," a source told Express. "They are packed up by her senior page, Paul Whybrew, and taken to all her homes, even to Balmoral, where she goes over summer. The only time when they are not accessible to her is when she goes on a State visit to a foreign country."
But while her hobbies are pretty typical, some might still be surprised that the queen also enjoys doing certain household chores on her own, including washing dishes. And now she's turned it into a business endeavor.
Queen Elizabeth is selling her own dish soap inspired by Sandringham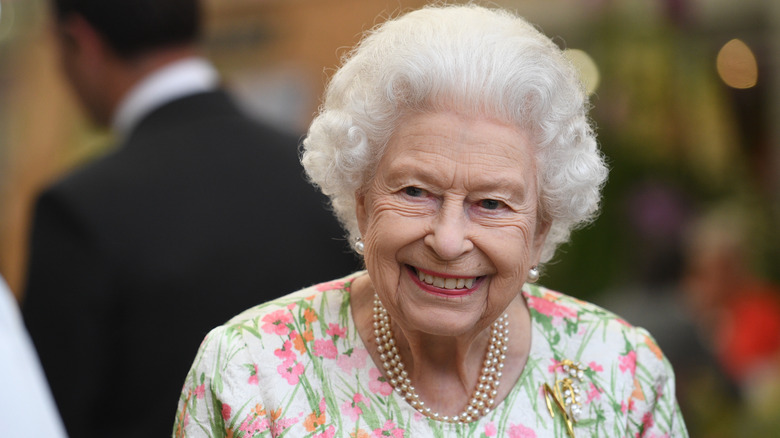 Wpa Pool/Getty Images
Queen Elizabeth has released her own line of dish soap inspired by her Sandringham Estate. According to Vanity Fair, the "natural dish wash," which comes in a 500 ml bottle, is available at the estate's gift shop for £14.99 a bottle. "Inspired by a shared passion for protecting our environment, we have collaborated with Norfolk Natural Living, to create our dish wash just 10 miles from the estate, using the finest botanical ingredients," the dish wash's bottle explains (via Vanity Fair). The soap's scent is inspired by the nearby ocean.
The news comes after Paul Burrell, a former butler for the royal family, told The Secret podcast about Elizabeth's affinity for washing dishes. "[The Queen] does like to go on picnics but the food is all prepared. She likes to wash up," he said. "She puts on the Marigolds [dishwashing gloves] and when she goes out to the log cabin at Balmoral she is stood there with her Marigolds on and she washes up and the lady in waiting dries."
"She likes to get her hands wet in the sink, that's something she does," Burrell concluded. Now, anyone who visits Sandringham Estate can wash dishes just like the queen herself.