Here's Who Dolly Parton Wants To Play Her In A Musical Biopic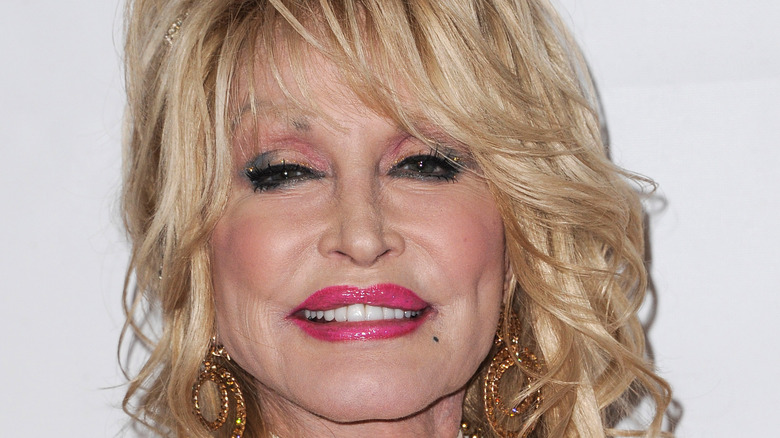 Tinseltown/Shutterstock
Country music legend Dolly Parton already gave fans one made-for-TV movie about her life when "Dolly Parton's Coat of Many Colors" aired on NBC in 2015, per IMDb. Based on her 1971 song "Coat of Many Colors," the film centers on Parton's childhood growing up in the mountains of Tennessee with a loving family who supported one another through all of life's ups and downs. According to Country Thang Daily, Parton served as both executive producer and narrator for the film, which also starred Alyvia Alyn Lind (of "The Young and the Restless" fame) as a young Parton. 
Now, the iconic singer is ready to tell her entire life story, and she already has a few ideas in mind for who should play her. As Parton explained during a recent appearance on "Mr. Nashville Talks," the project has loosely been in the works since before the start of the COVID-19 pandemic. Now that life is beginning to get back to normal after two years, Parton is bringing it back to the table. And while she definitely seems to want this biopic to be a musical, she's not sure what form that will take yet.
Dolly Parton isn't sure how to approach her musical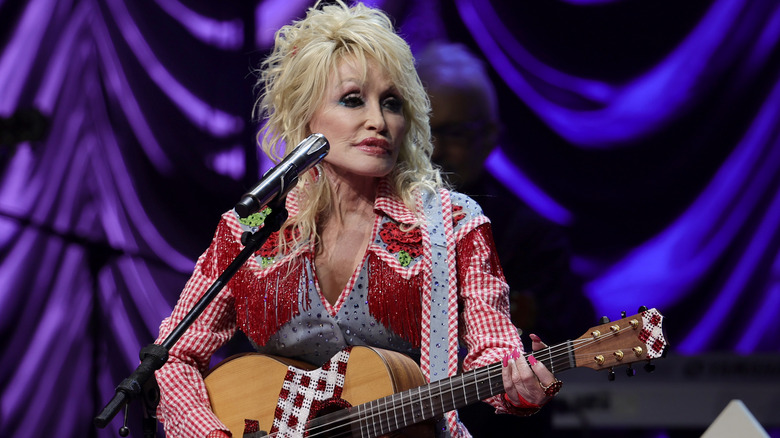 Michael Loccisano/Getty Images
Though Dolly Parton is excited about the potential of an upcoming musical about her life, she's quick to admit that the COVID pandemic threw a wrench into her plans — and she's not sure where to go from here. "I've been talking about doing my Broadway musical and we were really, really way out ahead of that, and then COVID hit and that changed my mind about a whole lot of things," the singer told host Larry Ferguson on "Mr. Nashville Talks." As a result, she's unsure whether the biopic would live on Broadway or the big screen. "I do intend someday to be on Broadway, but I'm thinking now that I might do my life story as a feature," she added, via "Mr. Nashville Talks." "Maybe possibly even a musical feature, so we're in talks about that."
Although a potential Dolly biopic is still a work-in-progress, Parton might be on fans' TV screens sooner than they think. Per the Tennessean, her collaboration with author James Patterson resulted in the novel "Run, Rose, Run," which follows Rose, a young woman with secrets who heads to Nashville with dreams of becoming a big music star. The outlet reports that a film adaptation may be in the works. Whether or not Parton will play Rose in "Run, Rose, Run," she certainly has an idea of who she wants to play her in a musical biopic.
Dolly Parton would love for Kristin Chenoweth to star in her musical biopic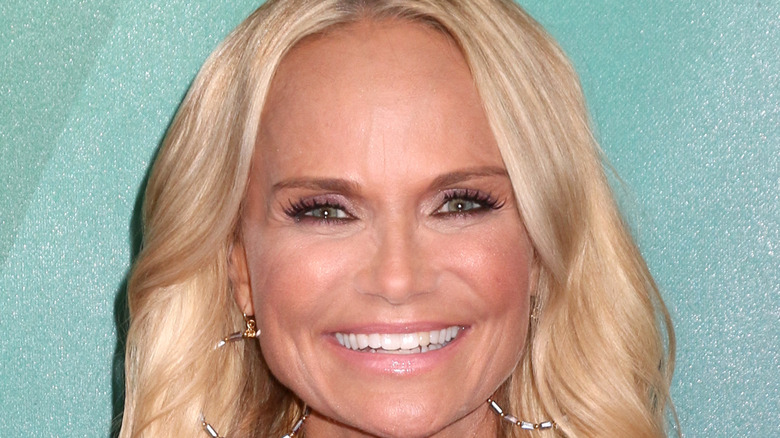 Kathy Hutchins/Shutterstock
During her conversation with Larry Ferguson on "Mr. Nashville Talks," Dolly Parton revealed that she already has someone in mind to play her. That said, it all hinges on the timing of the project. "It depends on when I get it done," she explained. "Most of them age out. I've been wanting to do this for years." During a 2021 interview with Southern Living, she also shared that the project would need several women to portray her over the years. "We'd probably have to have — as long as my career has been — like, a little Dolly and a middle Dolly and then the older one," the country music star said.
However, she's had at least one singer-actor in mind for almost as long as she has wanted to undertake the project. "I love Kristin Chenoweth," Parton told Marie Claire of the star who made a splash in the hit Broadway musical "Wicked." "She's just absolutely fantastic." And it seems Chenoweth is down for the idea too! During an appearance on "The Kelly Clarkson Show" in 2021, she discussed the possibility with host Jay Leno. "Dolly, hurry up! I'm ready," she joked, before launching into a few impromptu lines from Parton's classic songs, "Here You Come Again" and "Jolene." "Come on, I can play Dolly," Chenoweth added. Clearly, she can!