Kim Kardashian Has A Surprising Fashion Critic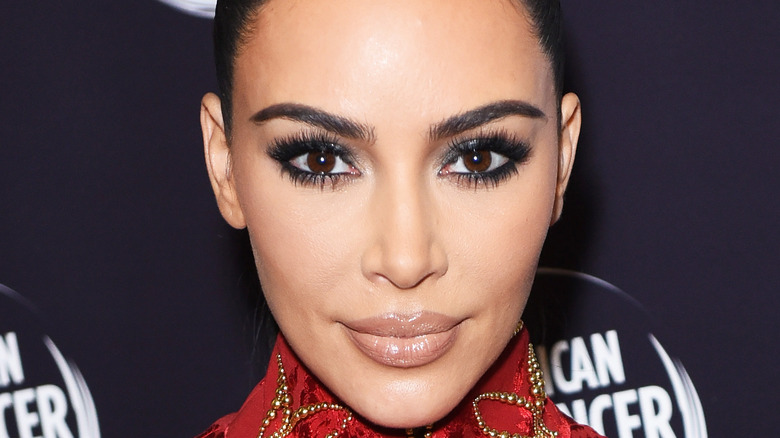 Presley Ann/Getty Images
When Kim Kardashian filed for divorce from Kanye West, fans worried that she was about to become the most famous fashion victim in the world. Per The Daily Mail, the controversial rapper infamously told Kardashian she had "the worst style" when they first got together and made over her closet on "Keeping up with the Kardashians." Although the KKW Beauty founder was clearly distraught about losing all her favorite clothes, West ultimately remade her in his image, fostering lucrative partnerships with the likes of Givenchy and Balenciaga.
During the 2018 Business of Fashion West summit, Kardashian revealed that, after the rapper's clear-out, she was left with just two pairs of shoes and, understandably, "I cried." However, West built her closet back up, filling it with high-fashion designers she'd "never heard of," who have since become staples. Thankfully, any concerns about how Kardashian's style might suffer in the wake of her split have turned out to be utterly unfounded. In fact, fans are gushing on social media about how fantastic she looks. 
Many people even believe the change is for the better, with one Twitter user arguing, "It's like she's not dressed as grandma anymore. I'm sorry hated that monochrome, PVC and all the bs she wore. She's glowing." Kardashian was a fashion icon before West came along, of course, but the reason she's stayed on the straight and narrow since they broke up might have more to do with a pint-sized fashion critic working hard behind the scenes.
North West ensures her mom looks chic at all times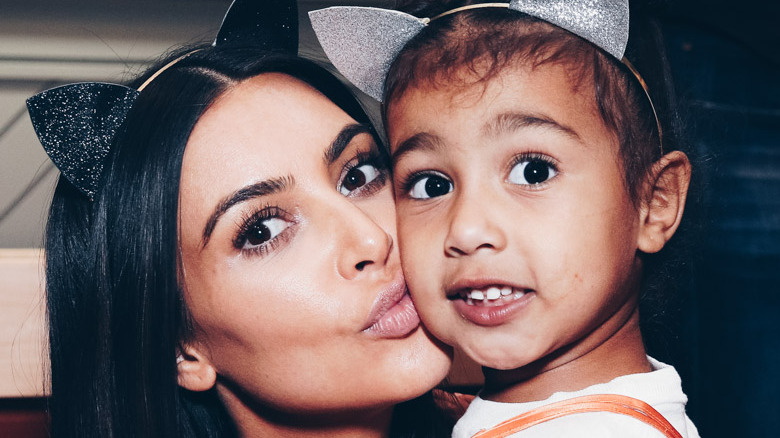 Handout/Getty Images
For those who thought Kanye West was being too critical of Kim Kardashian by redoing her entire wardrobe from the ground up, consider that the couple's daughter, North West, might just be a fashion maven in the making. During Vogue's recent Forces of Fashion conference, the Skims founder revealed, "North is very opinionated when it comes to what I'm wearing. She'll always complain when I'm wearing too much black," possibly referring to her recent rash of slick Balenciaga looks, which included the instantly iconic Met Gala outfit.
According to Kardashian, North was so thrilled when she dressed all in pink to pick her up from school on Valentine's Day that "she ran over and hugged me." Unfortunately, the savvy little girl then "opened my coat, saw the black lining, and says, 'Mom, you're still wearing black.'" The reality veteran recently admitted, in an interview with journalist Bari Weiss, that nobody intimidates her like North — not even the politicians Kardashian frequently goes up against while fighting for prison reform. 
Her daughter's apparent hatred of the KKW Beauty founder's ultra-dark style chafes against recent comments Kardashian made during an appearance on "The Ellen DeGeneres Show." Discussing her eldest, the reality star described North as "a full goth girl," who loves to shop in Hot Topic, per The Daily Mail. Maybe she just doesn't want her mom stealing her look?