The Heartbreaking Death Of Madeleine Albright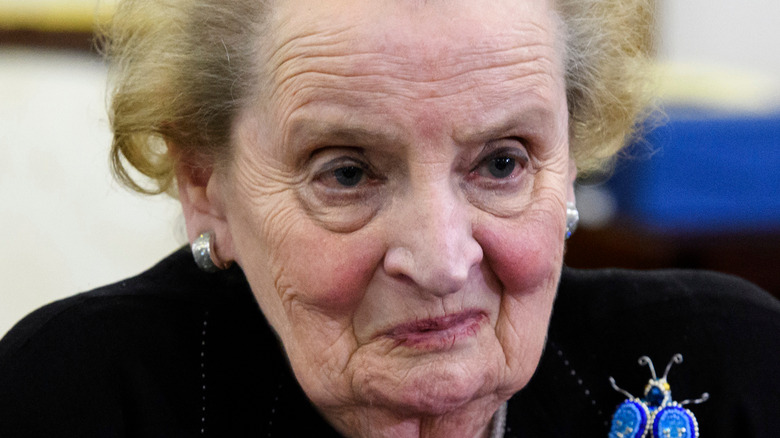 paparazzza/Shutterstock
Former secretary of state Madeleine Albright has died at the age of 84, confirms CNN. She was the first woman to hold this high-level cabinet position. USA Today reports that the Czechoslovakia-born stateswoman had cancer. Her death was announced in a tweet by her family. "She was surrounded by family and friends," the tweet said in part, adding the family lost "a loving mother, grandmother, sister, aunt and friend."
The announcement went on to say Albright was "a tireless champion of democracy and human rights" and named some of her many of her accomplishments, including that she won a Presidential Medal of Freedom in 2012, served as a professor at Georgetown University until her death and founded the Albright Institute for Global Affairs at Wellesley College, where she went to school.
Albright served under former president Bill Clinton, first as ambassador to the United Nations and then as secretary of state (via NBC News).
Countless admirers of the accomplished leader took to Twitter to pay tribute to her, with Senator Mark Warner calling her a "legend" and a "trailblazer," a sentiment shared by many on the social media site.
Madeleine Albright was a lifelong champion of women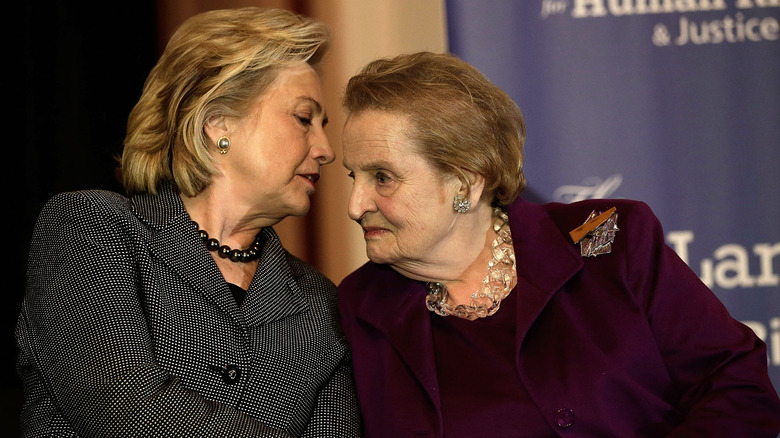 Win Mcnamee/Getty Images
Albright was known for many inspiring quotes, with people sharing several on Twitter upon hearing the news of her death. Among the quotes that stand out for countless people is this one: "It took me quite a long time to develop a voice, and now that I have it, I am not going to be silent."
Of course, the Prague native was a huge champion of feminism, with one of her most famous quotes being, "There is a special place in hell for women who don't help other women" (via USA Today). As she joked in 2020 when asked who helped pave the way for her success, "​​Obviously the ultimate man that paved the way was Bill Clinton, with a lot of help from Hillary."
Albright was married to Joseph Medill Patterson Albright from 1959 until they divorced in 1982. The couple shared three daughters (via The U.S. Sun).