The Heartbreaking Death Of Hank Williams Jr.'s Wife, Mary Jane Thomas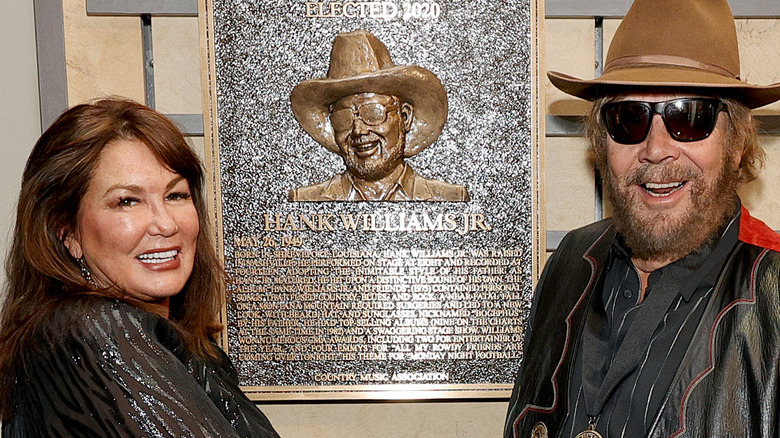 Jason Kempin/Getty Images
Mary Jane Thomas, the wife of country singer Hank Williams Jr., died on March 22, 2022, in Jupiter, Florida. According to TMZ, Thomas reportedly experienced complications resulting from a recent medical procedure. No official cause of death has been announced, though the outlet believes Thomas may have been dealing with a blood clot. She was 58 years old.
While details relating to Thomas' death have yet to be revealed, initial reports indicate that the local police department was contacted by the Jupiter Beach Resort & Spa on the evening of March 22. From there, Thomas was taken to a nearby hospital and was pronounced dead shortly thereafter (per TMZ). She had been married to Williams Jr., a prominent figure in the country music community, since 1990. The pair met in 1985 following one of Williams Jr.'s concerts (via Outsider).
Thomas' death is the latest tragedy to strike the Williams family, as the couple's daughter, Katherine Williams-Dunning, died in a car accident in 2020 (per Taste of Country). 
Mary Jane Thomas was a private person
Hank Williams Jr. is a notable member of the country music community, and he was recently inducted into the Country Music Hall of Fame in November 2021 (via popculture). His wife, Mary Jane Thomas, reportedly led a more private life (per TMZ). She was a grandmother to three grandchildren, and she celebrated her 31st wedding anniversary with Williams Jr. in July 2021 (via Outsider). Not much is known about Thomas due to her desire to remain private, though TMZ reports that she was a suntan lotion model for Hawaiian Tropic when she was younger.
Williams Jr. has not released an official statement following the death of his wife. Thomas and Williams Jr.'s son, Sam Williams, previously spoke about the loss of his sister, Katherine Williams-Dunning, after she died in 2020. At the time, Sam said he was "at a complete loss," and that "Life will never be the same without Katie Williams" (per Tennessean). 
A family member reportedly told TMZ that "they'd like privacy at this time" as they process the heartbreaking loss of Thomas.